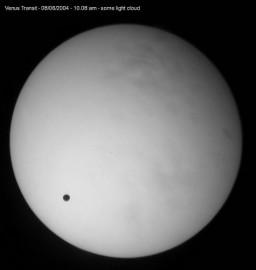 An image from the 2008 transit seen from Brighton. Photo credit: Howzey
The background
On 5 and 6 June, the planet of Venus will appear from some locations on Earth to pass in front of the Sun. The transit, where Earth, Venus and the Sun line up, is one of the rarest occurrences in the Solar System. If you miss it, you'll have to wait 105 years until the next one. The BBC has said that the movement of Venus is the "most anticipated planetary event for 2012."
What happens?
During the transit, Venus will be passing between the Earth and the Sun. Although astronomers wait years for transits to occur, they appear in pairs around 6 months apart when they do appear, with one in June and another in December. Iafrica reported that there was a transit in December 1882; the next one was in June 2004, which will be followed this year on 5-6 June, depending on the dateline; astronomers will then have to be patient until December 2117, which will be followed by another transit in December 2125.
The transit will be visible in North and Central America on 5 June, and in Europe and the Middle East at sunrise on 6 June.
Historic occasion
iafrica quoted Claude Catala from the Paris Observatory saying that "for centuries, the Transit of Venus has been one of the great moments for astronomers," and that 2012 will be a one-off opportunity for many. The site reminded that only six transits have ever been recorded in historical records, as there was no equipment available to view it before 17th Century mathematician Johannes Kepler predicted it. The Christian Science Monitor noted that the discovery of the transits allowed scientists to learn more about the Solar System: namely, measuring the Solar System and the distances between the Earth and the Sun by triangulating the position of Venus from Earth.
The Christian Science Monitor advised would-be astronomers not to look directly at the Sun to witness the transit.
It's now or never
If you miss the transit of Venus this June, you'll have to wait until December 2117 to witness the next one. Unfortunately, for those in Britain, the news for seeing a clear transit aren't good: The Guardian's Alan Pickup says that the conditions for 2004's transit were good, but "we need to wait until 2247 for an equally-favourable one."