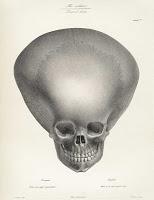 Yesterday, I saw a 2 year old patient with a really huge head that shaped like a guitar pick

, I apologize but patient really does look like a baby alien. Two eyes were already blinded. 
What caused the huge gigantic deformed head?
It's called hydrocephalus. In other words "Water in the brain". 
It is due to cerebrospinal fluid (CSF), that does not get absorbed into the blood properly. Too much CSF that surrounds the brain will damage the skull, tissue and brain itself. 
For this patient, the surgeon said even after the VP shunt is implanted into the patient to drain out the excess CSF, the condition of this 2 year old child will most likely to be irreversible. If only the parents were to bring this child for modern treatment way earlier than to seek traditional malay treatment, the eye sight, hearing, cognition and life can be saved. If only.. but there's no if only..