I recently had a rare trip up to London for recreational purposes that did not involve the Chelsea Flower Show.  As I was sitting on the train I realised that in a usual year I go there for work and for Chelsea, rarely anything else.  Anyway, the day started off at Tate Britain where we had gone to see the Pre-Raphealite exhibition which was pretty much as I expected, a crowded but pleasant experience.  There was then some general wandering around the galleries, a very minor bit of gift shop purchasing (cool calendar, see below) and then we wandered outside to see what else we could do with the day.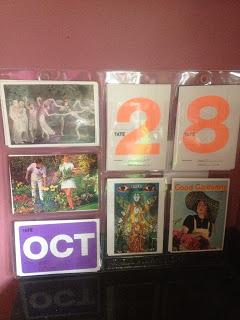 After a bit of touristy sitting on a bench, looking at a map and studying the phone app, I realised we were a short walk from the
Garden Museum
.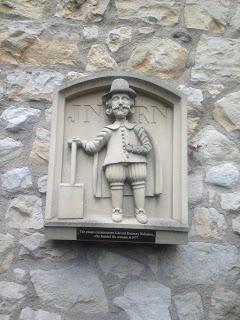 I had first heard of the Garden Museum several years ago, when it was then the Museum of Garden History.  I remember driving past it on a bus after visiting a community garden somewhere in Lambeth (a great community garden, sadly I have no idea what it was called as it was part of a garden tour and we sort of whizzed in and out). Anyway, we drove past the museum and I thought it looked interesting and that one day I would visit.  That was probably about eight or nine years ago.  So we wandered over the bridge and into the museum.  I have to say, from the outside it looked shut.  It was a cold and a bit rainy day so most things seem to get that 'out of season, we're shut' sort of look.  It wasn't shut, we went in in the hope of some lunch.  We failed, lunch had been and gone so I had a slab of rather nice chocolate brownie for lunch.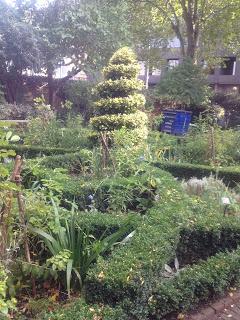 Following the cakey lunch, we went outside.  The knot garden is of course far superior to my meagre effort in my front garden.  It was nice to see how it could look with some proper care and attention, but I got distracted.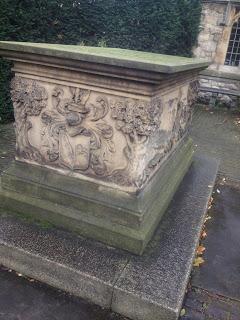 In the garden there are a variety of tombs, there is of course the
Tradescant
Tomb around which the museum is based.  It is a very fine tomb, if I wanted a tomb (and I don't), then one like this would probably be my choice.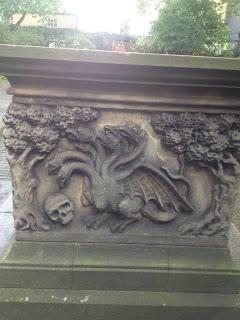 I really like the hydra and skull effect, very apt for a visit just before Hallow e'en.  I also liked the idea that if you dance around the tomb twelve times Big Ben strikes midnight that a ghost appears.  I imagine that consuming alcohol might help in this endeavour too and I have no intention of trying it.  I am one of those people who get worried about walking around thing 'widdershins' just in case someone grabs you by the shadow.  I have digressed.....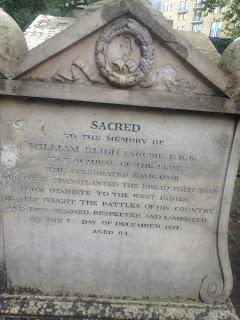 Then I got distracted by this tomb, the family tomb of Admiral Bligh of the 'Mutiny on the Bounty' fame.  I found this rather impressive as I had not expected to find this there (not that I was looking for it).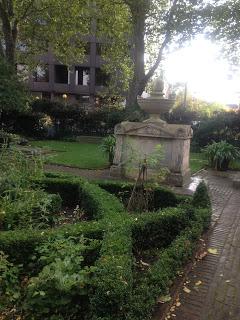 But most of all I liked this: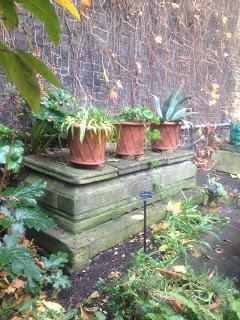 There were other tombs in the garden, where I could not find names,  but were also serving as plant stands.  Now as previously said I have no wish for a tomb at all, but to be plant stand seems to  me to be a noble calling and one that I could subscribe to.  To be useful and decorative, what more could one ask?
and I have found that thinking about this has made me sing this a lot - so I decided to share: