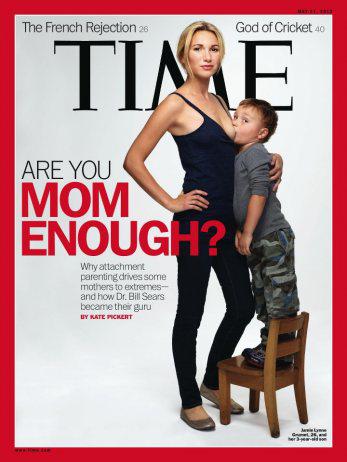 What better way to get people buzzing than featuring a hip blond mom breastfeeding her child?
Breastfeeding babies in public causes a stir. People have an issue with nursing in public even with an infant. Here they portray a 3-year-old child when most children are weaned between 6 months and a year.  People are up in arms simply because it depicts such an intimate act between a mother and child, - and even more commotion breaks lose when it's a hot blonde.
Time magazine's May 21 cover features a proud mother breastfeeding a three-year old boy. There's bold red text saying "Are You Mom Enough?" as the headline. The boy, who looks old enough to ride a bike without training wheels, is looking straight at the camera with a breast in his mouth, as if daring you to judge.
I'm sure by now some of you have scooped your jaws off the floor and are wondering who in their right mind would volunteer to take this picture for the whole world to see?
Journalist Kate Pickert reports on the rise of attachment parenting, a set of techniques popularized by Dr. William (Bill) Sears in "The Baby Book," his 767-page treatise published in 1992. In the article, Pickert explores who Sears is and why controversy surrounds his theories — specifically baby-wearing, extended breastfeeding and co-sleeping — but it's TIME's photographs of real mothers breastfeeding their toddlers that has everyone talking.
The breastfeeding mom is Jamie Lynne Grumet, a lithe blonde 26-year-old California mom, breastfeeding her 3-year-old son. TIME photographer Martin Schoeller also shot other families on the same day. The other two mother and children were Jessica Cary and her 3-year-old daughter, and Dionna Ford with her 4-year-old son and 5-month-old daughter.
The usual questions that come up when mothers are called out for breastfeeding in public (which happens often) include:
Is breastfeeding indecent? Or natural? Most doctors would recommend that all mothers breastfeed for a full year — or longer if the mother so chooses, so how can we shame women who are just following the advice of their doctors?
There is no doubt that the TIME cover strikes the public as shocking.
When you see the magazine, women would wish they looked like her and men, well, I'm disgusted but not surprised to read comments out there on the world wide web along the lines of, "Damn, I wish I were him." (Gross.)
I also feel terrible for the kid! Why? Because this photo will be around forever, and one day he's going to be a teenager and his life will be hell. He will no longer be just the kid with the hot mom, but rather the kid who was photographed nursing at age 3 for all the world to see.
Nothing could be more divisive than publishing this exact cover at this exact moment in time. And certainly the editors of TIME are more than aware of this, as it will inevitably incite another debate between women all over the world…and no doubt we will take the bait. But oh how I wish we wouldn't!
It's classic link bait. Put a sensational picture, and say something as outrageous as possible to inflame as much debate as possible.
Breast milk is the most natural, perfect and best way to nourish children, but will such a cover encourage breastfeeding as a norm, or would people see this as a freaky attitude?
Breast-fed infants have a lower risk of sudden infant death syndrome. They suffer fewer illnesses such as diarrhea, earaches and pneumonia, because breast milk contains antibodies that help fend off infections until their own immune systems become robust. They're also less likely to develop asthma, or even to become fat later in childhood.
Moms can benefit, too, decreasing their risk of developing breast or ovarian cancer.
How old is too old for the child? The pediatricians' guidelines say breast-feeding should continue along with solid foods to age 1 — "or as long as mutually desired by mother and infant."
The World Health Organization recommends continuing "along with appropriate complementary foods up to 2 years of age or beyond."
Toddlers sometimes make clear that they prefer a cup, but if both mom and child are comfortable, there's no harm in going longer than average.
Still, the clear nutritional benefit wanes as youngsters start getting most of their nutrition from solid food.
The cover, as well as the story, has drawn many critics on social media, and from noted celebrities and other personalities. The controversy stems from the graphic nature of the photo, and from concern from some that the child in the picture is too old to be breast-feeding. Some have tweeted that they feel the cover "is exploitive and extreme."
"To me, the whole point of a magazine cover is to get your attention," Time's managing editor, Rick Stengel, said in an interview. "From the moment that we started talking about this story as a cover possibility, it was like I couldn't get out of the meetings. There was so much opinion and passion about it and discussion. What that told me is, boy, this is a story that people care a lot about."
The online community has made fun of the cover and has made their own versions and memes, and I'm sure more would come out soon.