Oh my! I am having a hard time getting into the summer groove this year. Don't get me wrong - I love the layed back atmosphere with no school or other events. BUT- I am trying to keep my two kids entertained, be creative, run my
Etsy
shop, be social, keep my orders up to date and not to mention my husband has been on vacation for the last two weeks. I love it all but I need to come up with a different time schedule for the summer. So if I have been sparse on
Twitter
,
Facebook
and here on my Blog - give me a few weeks I will get it back in shape.  In the mean time I have created a
new blush pink fascinator
, finished a gorgeous bridal sash for a client - it was made with the lace from her mothers dress. So Cool!  and I have shipped out a lot of orders. See I told you - I'm getting there! Here is a peek at the
fascinator
and custom sash.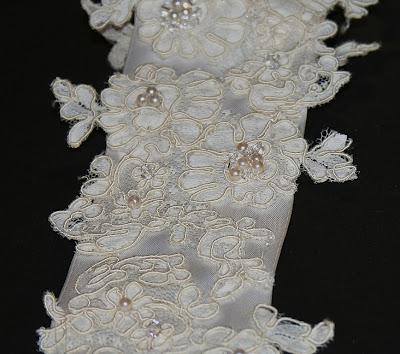 Custom order Lace Bridal Sash with mothers wedding dress