Adam writes…





Last Saturday I wandered round the route of my forthcoming Pink Floyd walking tour, doing a few last minute tweaks and adjustments. 

On earlier walks around the route I had been very much "in my head" – concentrating on best vantage points, details, facts, cuts and edits. The practicalities of a walking tour.

Saturday was different. I guess the opposite of being "in my head" would be "out of my head", but that creates another picture altogether (!), one that will have to wait until AFTER the walk on Saturday. 

On Saturday the psychogeography of the route leapt out for the first time. 

It was there all along, of course. 

But with my head up and eyes open I was delighted to see that the route I had chosen was no mere accident. Of course the route was dictated by locations and events, that's what a walking tour is all about. But the purposes of the locations we visit all changed long ago and the events are long past. Yet the subject matter had left marks or portents, poetic coincidences, clues or good omens at every step and stop.

We'll be cutting though Cecil Court on the way to Middle Earth in Covent Garden. And in Cecil Court, two of the themes of my walk, two of the recurring themes in the work of Pink Floyd, swirl all around us: childhood and war.

One of the running themes of English psychedelia (the period in which the tour begins) is second childhood. The period was made by creatives who had been war babies robbed of a childhood idyll. A theme to which Pink Floyd's principal writer Roger Waters returned again and again in his work - from Corporal Clegg on A Saucerful of Secrets right up to his masterpiece The Wall and on to The Final Cut. As we pass through Cecil Court, military memorabilia, uniforms and medals flash in our peripheral vision…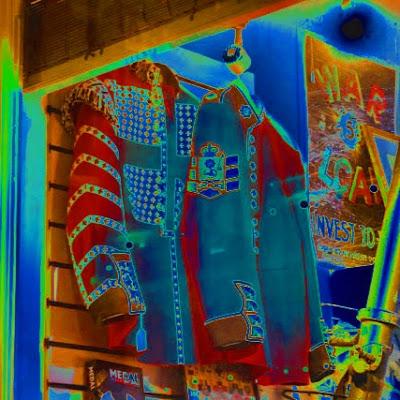 Childhood literature looms large, too. At Marchpane book shop, Alice In Wonderland is always to the fore, just as it was in underground culture in '66 and '67, a favorite book of both John Lennon and Syd Barrett…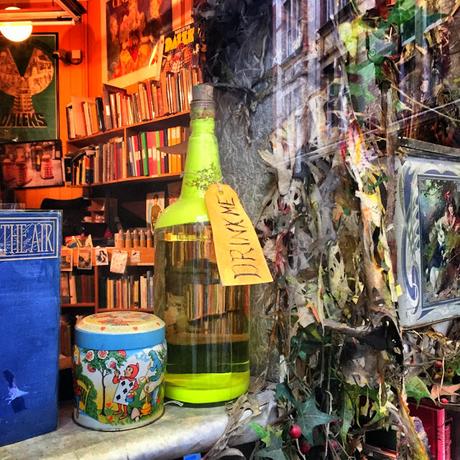 At Marchpane, I treated myself to a lovely edition of The Wind In the Willows…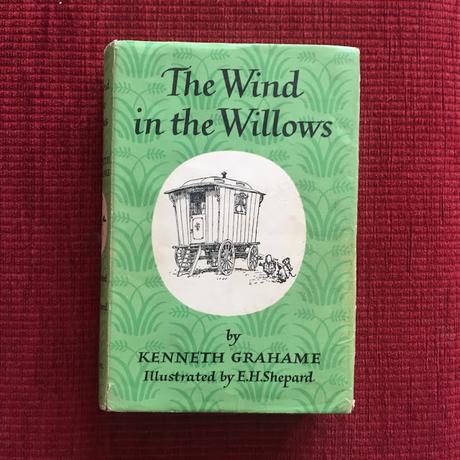 … the book that inspired Syd to name Pink Floyd's first album Piper At The Gates Of Dawn, 
after a chapter in Kenneth Grahame's famous book.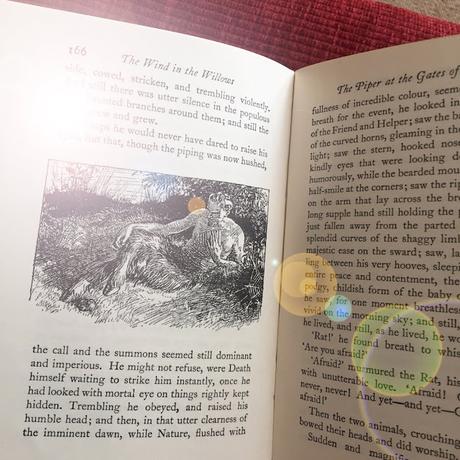 And – curiouser and curiouser – the album loomed into view in the window of
 Pleasures of Past Times/Intoxica Records, also in Cecil Court…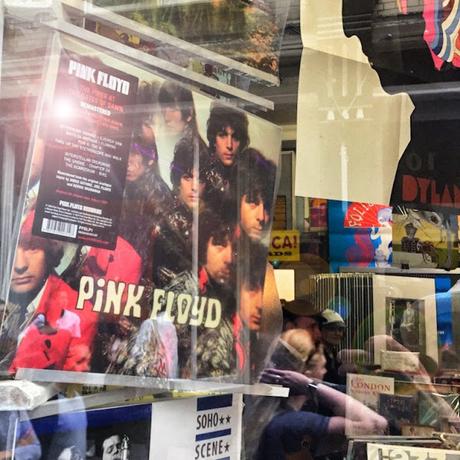 When I got to the building where Middle Earth club was once housed in Covent Garden I was delighted to find a temporary installation in the basement in keeping with the themes above…
… we'll have a nose around on Saturday. Then it was on to Syd's flat in '66 and '67. The building itself was demolished in the '80s, but hard by stands the specialist gaming shop Orcs Nest with this hippie fingerprint in the window…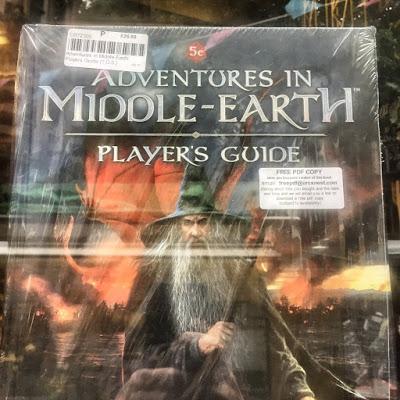 The nearby Odeon cinema features in our tour, adorned with a frieze that includes scenes from theatrical history, including that most trippy of Shakespeare plays, A Midsummer Night's Dream…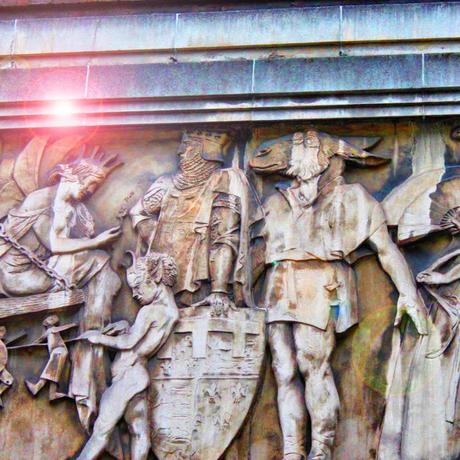 Denmark Street is next. Was it mere coincidence that the building where the designers of Floyd's album sleeves worked had a 1968 Fender Telecaster on display? 
The Telecaster was, of course, Syd's guitar of choice in his Floyd heyday. Even the architecture chimes in. The architect behind the Odeon mentioned above studied his art at Regent Street Polytechnic – where three members of Pink Floyd first met (we call in there, too). Henry Flitcroft's St Giles in the Fields is the architectural dot in the exclamation point of Denmark Street…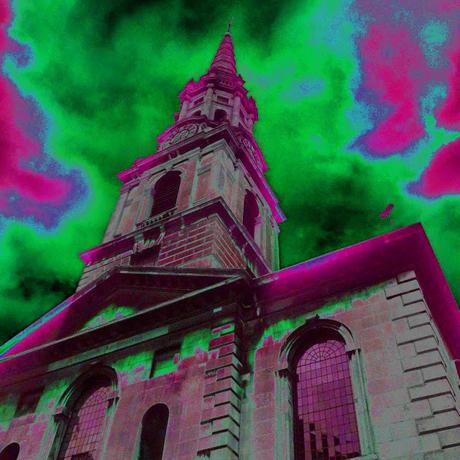 … and a young Nick Mason, before he became famous as the drummer in Pink Floyd, channelled Flitcroft by drawing his St John at Hampstead church for an architectural sketch project at Regent Street Poly. You can see the sketch at the Pink Floyd exhibition Their Mortal Remains at the V&A. We even get a guest cameo from Giles Gilbert Scott, designer of Battersea Power Station, beloved of Roger Waters and all Pink Floyd fans from the sleeve of 1977's Animals. Gilbert Scott also designed the facade of the Phoenix theatre, along our route…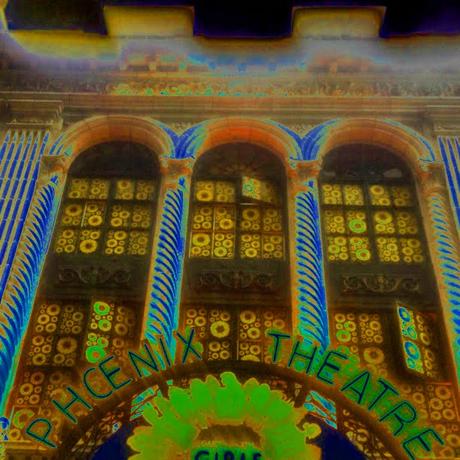 Join me on Saturday at 10.45am for the Pink Floyd In London Walk meeting at Leicester Square tube (exit 1)…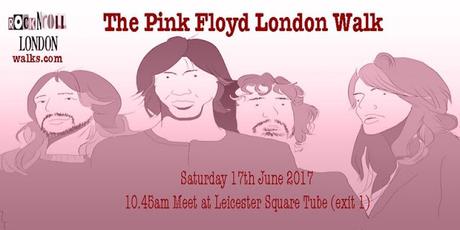 Online booking is available for this walk…
A London Walk costs £10 – £8 concession. To join a London Walk, simply meet your guide at the designated tube station at the appointed time. Details of all London Walks can be found at
www.walks.com
.