Tree Houses are attractive to all generations. They offer such lovely experiences and many more. These houses are exciting even by the mere mention of the phrase. Let us check out the top five tree houses in India.
Tree House Cottages, Manali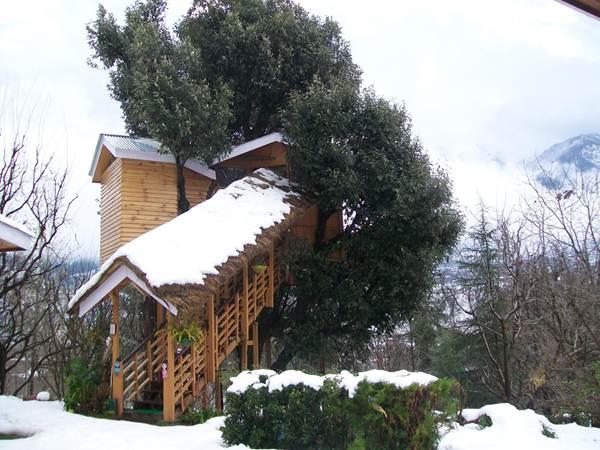 Tree House Cottage in Manali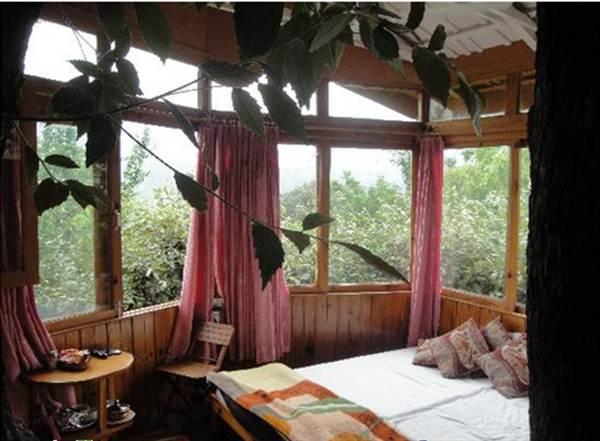 Rooms - Tree House Cottage
Manali in Himachal Pradesh is a popular destination in India. And adding to its tourism potential, is this property very close to the main town: Tree House Cottages. Run by a very hospitable family, you have a choice of staying in a tree house, a tent and two regular cottages. The tree house offers a 360 degree panoramic view of the mighty Himalayas from the top of a sturdy Oak tree. The food is home-cooked and its yummy!! Snow trickles down the sloping roofs in winter, while you snuggle up under a quilt inside.
Tree House Hideaway, Bandhavgarh
Tree House Hideaway in Bandhavgarh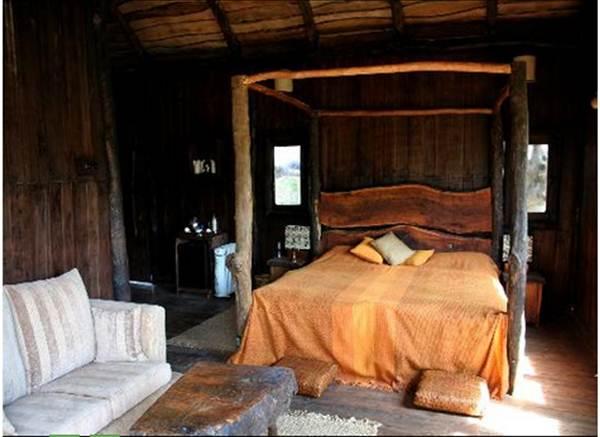 Rooms - Tree House Hideaway
Luxury reaches its peak in this resort overlooking the huge Bandhavgarh National Park. Five tree houses, designed in rustic, earthy charm, have large decks that are ideal for bird watching and catching a glimpse many an animal, including the tiger. The resort is equipped with all modern facilities such as air conditioning, power backup and running hot water round the clock. Mosquito nets have been provided as a safety measure.   The cottages blend into the wildnerness smoothly, giving you a real-life experience of life in a forest. Wake upto bird calls while you enjoy the facilities of this five star resort.
Tree House Resort, Jaipur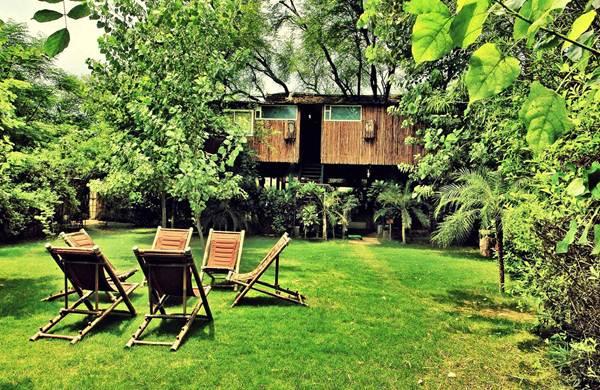 Tree House Resort in Jaipur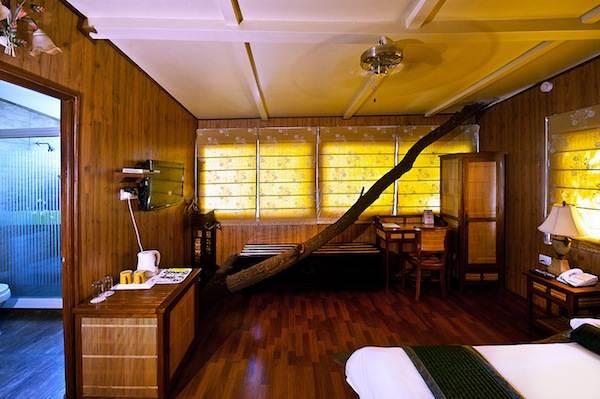 Rooms - Tree House Resort
This is another luxurious resort in the picturesque Syari Valley, at a stone's throw distance from Jaipur, the capital city of Rajasthan.  There are a number of tree houses here, and their design is evolved with the tree trunk piercing through them. Rabbits scurry all around the resort. You would get all modern facilities in the exclusive units, while you enjoy nature outside. You may borrow a bicycle and ride around the resort, relax in the swimming pool, enjoy the night safari for a never-before experience.
The Machan, Lonavla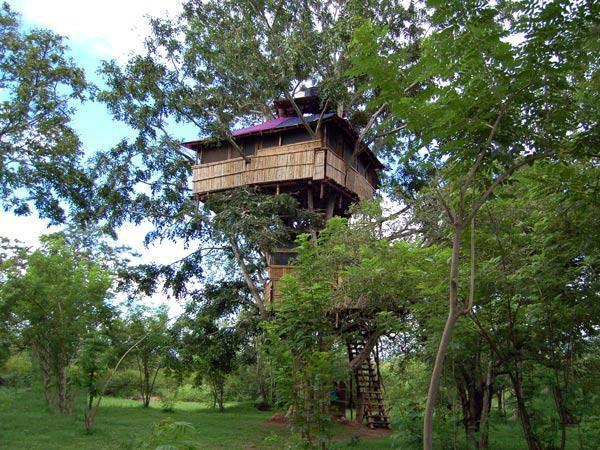 The Machan, Lonavla (Photo: Silicon India)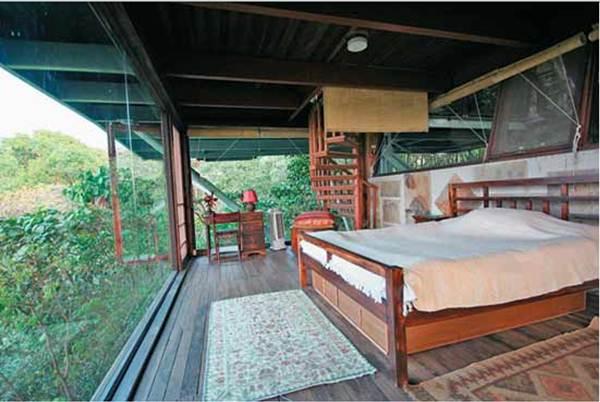 Rooms - The Machan (Photo: Outlook India)
Lonavla is a popular getaway from Mumbai and Pune. And what can be better than staying in this tree house in Jambulne, Lonavla with your family or friends? Yes, this property is perfect for large groups, with three luxurious bedrooms, split levels, modern facilities and overlooking the breathtaking view of the tropical rainforest of the Western Ghats. The house juts precariously over the cliff, adding to the charm of the property. Enjoy long walks in the exclusive walking track and explore the forest. A stay of minimum two nights is mandatory, but you would love to stay on longer!
Green Magic Nature Resort, Kerala
Tree House in Green Magic Nature Resort, Kerala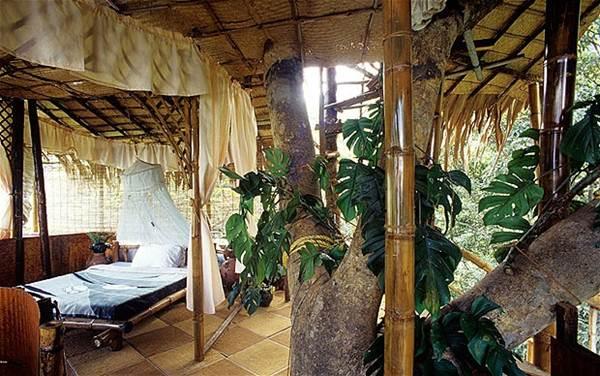 Rooms - Tree House in Green Magic Nature Resort
The incredible natural beauty of Kerala makes it an ideal spot for tourism, honeymoons, hiking trips and much more. When you land up in Wayanand district, do check out this resort near Calicut where tree houses are accessed through cane-pulley and hydraulic style lifts and rope bridges.  There are three units tucked over cardamom and pepper plantations, with a rustic and traditional feel in its lantern-lit interiors. The bamboo decor is exquisitely finished.  The location is so remote that there is no mobile network coverage. So, just break away from the mundane daily life and emerge yourself in the exquisite bio-diversity of Kerala.
If this excites you, contact us at The Other Home. We have exclusive tree house properties in our booty to make your holiday memorable.
If you want to be notified next time, subscribe to the RSS feed or say hello via Twitter @theotherhome. You can plan your dream holiday with us, visit The Other Home.
0