I'm currently enrolled in Dave Ramsey's Financial Peace University. I've thus far learned about setting up an emergency fund, creating a budget, paying off debt, and eliminating credit. In the next few weeks, we will cover mortgage, retirement, education, and charity. While watching the DVD and taking notes this past week, I realized something profound; something I already knew, perhaps, but an idea previously undefined.
Across all careers, religious beliefs, locations, it seems to me that those who are financially successful in life have the following in common:
They follow their intuition and often go against the majority, despite criticism. Americans are in debt over their heads, vying to have the best of everything and putting it on credit if the money isn't there. Those who set a budget and pay cash tend to buy only what the need and, ultimately, end up with more money to spend on nice things. People who are dissatisfied with their work may complain incessantly and spend their weekend "unwinding" to forget; those with a bit more initiative may spend their free time devising business plans, enhancing their skills, and networking in attempts to create a better situation for themselves.
They don't spend money they don't have. How do you expect to acquire wealth if you have a $400 car payment each month, as the value of the car decreases at the same rate? Think about your priorities. Would you rather save for a trip to Hawaii or go out to eat twice a week? Would you rather send your kids to college and have a nice retirement fund or update your big screen TV every other year? Don't go into debt over "wants" and figure out how to budget your needs.
They set goals and follow through. In everything I've seen – from business and entrepreneurial, to psychology and personal development, and popular cultural fads – there is the pervading idea you can achieve any goal if you have a plan. Set your intention on that ideal circumstance, and then do everything in your power to reach it until that effort becomes habitual.
They are hopeful and believe in themselves. Success often follows a succession of stumblings. It takes tenacity to work through hardships and maintain confidence in you path, but that perseverance can pay huge dividends.
Of the financially successful people, you've met in life, what common traits and habits have you noticed?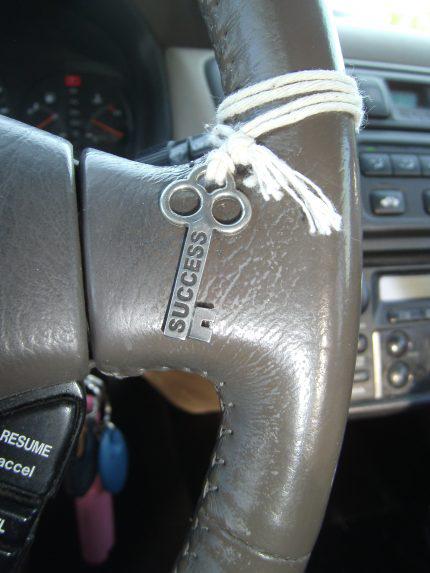 Yes, I have "The Key to Success" on the steering wheel of my car.