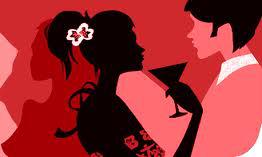 Sometimes shit happens! That's the best phrase I could use to describe the life of a dater. When I think of dating the phrase "always expect the unexpected" comes to mind, which I'm sure I've used before in my previous post. From years of experience, I have learned that some of the mishaps that happen are unavoidable. Whether something embarrassing happens or maybe your date is not what you expected. It's important in any case to have an escape plan or some type of classy way to deal with these incidents.
I'm not what anyone would call a klutz but I've had some moments on dates when you would've thought I was starring in the sequel to Good Luck Chuck. It mainly involves me knocking shit over on the table or on my date. Not to mention, spilling food on myself, and a few stumbles here and there. Let's not forget the dates from hell, when you're so turned off by their demeanor that you literally want to run for the border or hide under the table. In the past, I generally would sit through a bad date and basically wait for it to be over. As a result of these situations, I have developed a good sense of "dating knowledge" to basically get my ass out of any situation.
First, I've learned to speak up and take control over which restaurant we eat at. I no longer eat food that I'm not accustomed to after I suffered tummy trouble from eating food I wasn't familiar with. I'm sure my stomach is very happy with this decision. Sometimes, after having a dating drought we'll go with the flow and agree to do things we're really not interested in doing or we'll eat food we normally don't eat. I've learned to laugh at myself and not go into a full blown panic attack if I spill food on myself. I make fun of my klutziness and then excuse myself to go get the stain out. That's why I love black as my favorite go to color, it hides stains well. My choice of shoes is also important, I can't believe the number of women I've seen on picnics or at an amusement park with 5" heels on struggling to make that next dreadful step (what exactly were they thinking). Dress appropriately for the occasion; you will have a great time if you're dressed comfortably and if your feet are intact. I understand the need to look cute; nothing screams sexy more than a woman in heels. Invest in those cute little foldable purse flats just in case a nice romantic stroll is in the works. Your feet will thank you!
There have been times when I've had to bail out and excuse myself from a date gone wrong. Nothing turns me off more than someone who is loud and embarrassing. I simply don't like that much attention! Complaining, nagging, telling me how you think I should live my life, or asking multiple questions about my weight despite the fact you don't know me that well, will also drive me to leave. I've come up with the SMS plan (Save My Sister) that involves me having a drafted text that says "Save Me" that goes to my sister should I need to leave. She gives me 10 minutes and calls me with her emergency. Some people may think I should be honest and say it's not working out and I agree. Unfortunately, we live in a world where we can never be 100% sure of someone's mental state and how telling them "it's not working" will affect them. So I chose to use this method rather than find out the hard way that someone has 8 different personalities living inside them and with my luck, I'll meet the crazy one. As a result, I drive on my first few dates and never tell anyone where I live until I feel 100% comfortable. Honesty may be the best policy but you should insure yourself at all cost.
How do you deal with embarrassing moments and how do you escape the date from hell?