Obsessive Compulsive Cosmetics Nail Lacquers
One of my favorite booths at the IMATS show is the OCC (Obsessive Compulsive Cosmetics) one. It's like a wonderland of color. As far as the eye can see are amazing pigments for eyes and cheeks, Lip Tars in the most delicious colors and oodles of nail polishes. You can't help but stop at their booth, that is if you can cut through the crowds that feel the same way. While I can drool over the beautiful colors online, it's not often I can see them up close and play with them. Unfortunately for me though IMATS is not in my plans this year and OCC is one of the reasons I'm so sad about that.
Luckily I have a few of the newest OCC products to console me but it isn't enough. For spring/summer 2012 they've created a beautiful collection called The Garden. This garden is unlike any you've seen before. The ordinary, though beautiful, pastels you are used to are injected with triple doses of color to make them more vibrant and appealing than ever.
In The Garden there are 6 new Lip Tars, 5 new pigments AKA Loose Color Concentrate, a new glitter, and 6 stunning Nail Lacquers. They've updated their packaging on Lip Tars and Nail Lacquers for more precision in applying.
LOOSE COLOR CONCENTRATE ($12):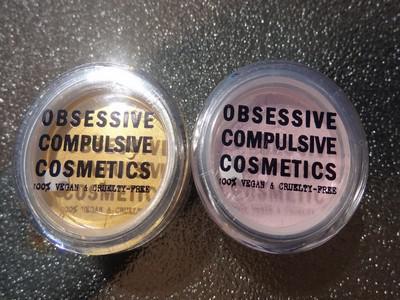 pictured Triptych and Datura
The 5 new shades are Datura (opalescent pink lavender), Foxfire (silvery lime-green shimmer), Acacia (yellow with blue green duochrome), Triptych (sleek regal gold), and Mimosa (orange with strong gold shimmer). I'm sharing Datura and Triptych with you.
The first thing I noticed when swatching and then using these loose concentrates is the fine texture they have. They feel like silk and apply that way too. Each pot is 2.5 grams and comes with a shaker top that's covered with sticky plastic. When I use a pigment I only peel off a small corner of the cover so that I won't get spillage. I then either put the loose color in the top of the container or even better in my Minerals Mate for application.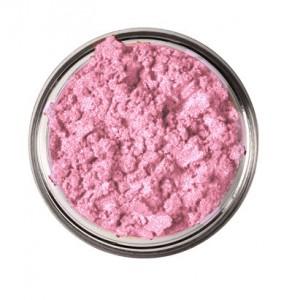 Datura from occ.com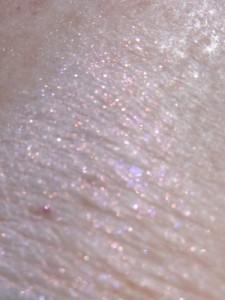 Datura swatched up close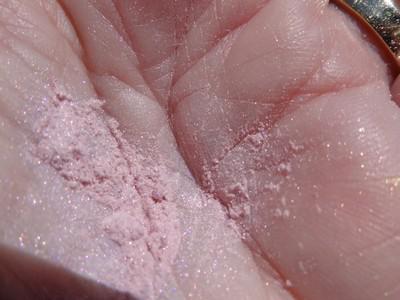 Datura is an absolutely gorgeous pinky lavender that is very sheer. It gives just a glimmer of color but as you move your head you can see the opalescence it has. It's beautiful as a soft shade alone on your eyes or as a highlighter. It can be used dry or wet but I prefer it dry. My favorite way to use Datura is to use it over another eyeshadow to soften the color and bring an iridescence to it. It also looks amazing mixed in with a lipgloss or Lip Tar. It was hard to get a picture of the beauty of this because it's so delicate but on your eyes you'll definitely see what I mean.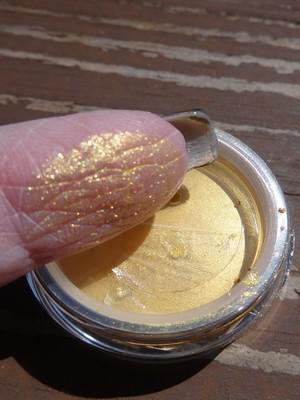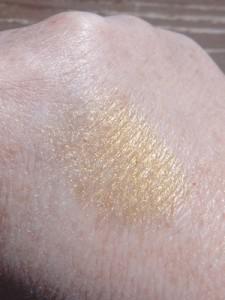 Triptych
Triptych on the other hand is intense. There's no getting around the color on this. It's like a day in the sun with its strong gold pigment. It's a gorgeous shade that will especially look beautiful on someone with a tan (hopefully a faux tan ladies!!). Besides using this on your eyes, think about mixing a little with your body lotion to bring a sparkle to your arms, chest or legs. It's summer personified.
LIP TAR ($14):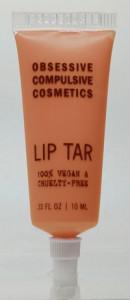 Kava Kava Lip Tar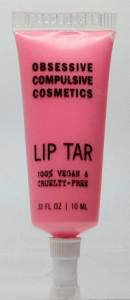 Ophelia Lip Tar
Lip Tars are unique to Obsessive Compulsive Cosmetics. These one of a kind products are not for the faint of heart. I was terribly addicted to Lip Tars at one time and like a mad scientist made creations out of them that were fun but a little outré. My husband used to shake his head and wonder what I'd come up with when I'd take a little of the black (Tarred) and start mixing away. One of the most important things to remember about Lip Tars is that a little goes a long long way! Minerals Mate Mixing Tray is perfect for mixing shades and then keeping the colors ready for next time. I bought a lot of small plastic pigment jars on ebay so that when I'd mix I'd be able to take the color with me. Another way to bring those creations is to load up your covered lip brush and use that.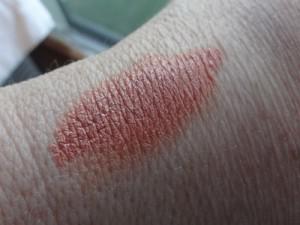 Kava Kava indirect light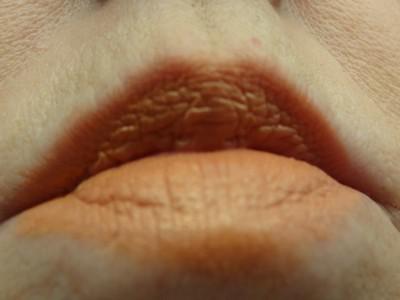 The new Garden shades are Belladonna (ultra violet), Digitalis (pink tinged lavender), Penny Royal (roasted peach/brown), Chlorophyll (teal) and the two I have Ophelia (pure petal pink) and Kava Kava (true peach neutral). A simple, elegant formula that contains Hemp Oil, Peppermint Oil and Vitamin E, OCC Lip Tar feels as good on the lips as it looks!
I love their new packaging because it dispenses the product much more slowly and I can easily put it on my lip brush for application. While the outside doesn't look different from my previous Lip Tars, the tip is better. Both Ophelia and Kava Kava are easy colors to wear though they are intense. The texture of a lip tar is that of a thick liquid lipstick, it's not loose though, it's very concentrated which is why a little bit of Lip Tar goes a long way. They go on very slick but they dry to an almost matte texture. I like to be sure my lips are well moisturized before wearing Lip Tars. Kava Kava is the easier one of the two for me to wear. I prefer a light lip color and this has the perfect depth. There's a definite peach tone but it's not neon looking like some of my past attempts at Lip Tars. Ophelia is a beautiful, slightly darker pink shade than Kava Kava. Both wear amazingly long on me. I'm a lip biter and I find that in spite of that I still have color long after I expect it to be gone. As you can see by my pictures, these apply lighter than they swatch.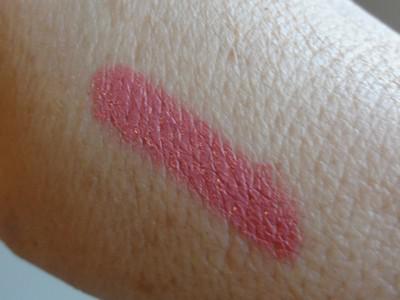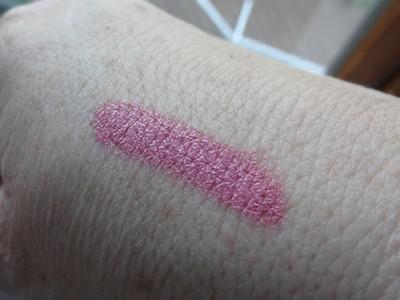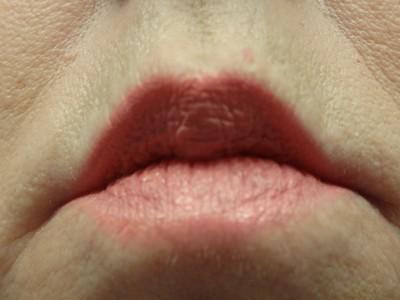 NAIL LACQUER ($8):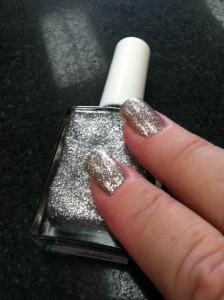 OCC Arsenic
I love the new packaging on the Nail Lacquers. The bottle is so much more sleek but the quality is still the same. The 6 new shades are Kava Kava (crème beige neutral, semi opaque shimmer), Copperhead (brilliant copper glitter, semi opaque glitter), Phantasm (pastel blue metallic, opaque metallic), Chimera (pastel mint, opaque metallic), Chlorophyll (vibrant teal/green, opaque satin) and Arsenic (brilliant silver glitter, semi-opaque metallic).

Arsenic
I received Arsenic to test and it's pretty amazing. As pretty as it is for summer, it's going to be outstanding on New Year's Eve. It applies beautifully because the color is so saturated. I've found with most OCC Nail Lacquers that you can get by with one coat if you want to and Arsenic was no different. It dried quickly though so a second coat made it look even better. OCC polishes are long lasting and don't chip on me.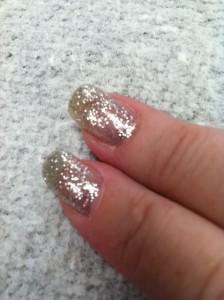 Arsenic
All OCC products are 100% Vegan and Cruelty Free. It's a company that you feel good about buying from.
Even if your garden is already planted and shining in the June sun, you can still take advantage of Obsessive Compulsive Cosmetic's Garden with these beautiful new shades. — Marcia
*pr samples