10/02/2011- by Natasia Langfelder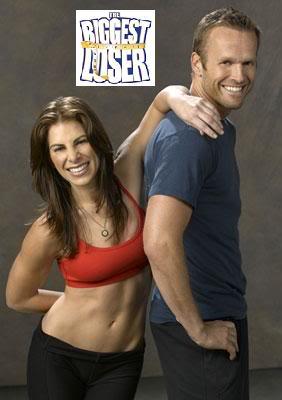 Hellllooooo Trainers!
NBC's "The Biggest Loser" isn't known as a gay show. It's famous for both changing the lives of it's overweight contestants with a little light humiliation and reality TV drama thrown in. While 98% of the contestants have been straight, there have been a few queers in the mix. For example, there was one guy who seemed gay once. And there was one lady who was married to a man while on the show and then later married a woman. But it's not the queer contestants that have made "The Biggest Loser" gay, it's the trainers.
When The Biggest Loser started, trainers Bob Harper and Jillian Michaels seemed…well…they seemed super gay. Like both of them. Gay gay gay gay. Amirite? This wasn't clear to NBC's targeted demographic audience for the show. But to the LGBT community, it was clear as crystal.
Bob has denied being gay, despite appearing in the fitness video "Queer Abs" and just giving us all crazy gay vibes. [Source] He also claims he is engaged to a woman. Remember when Ricky Martin tried this same strategy? Right. Just sayin.
Jillian Michaels actually came out of the closet while she was still on the show, but nearing the end of her run.  She gave an interview to Ladies Home Journal (Weird? Yeah.) saying:
"Let's just say I believe in healthy love. If I fall in love with a woman, that's awesome. If I fall in love with a man, that's awesome. As long as you fall in love…it's like organic food. I only eat healthy food, and I only want healthy love!" [Ladies Home Journal] (Source)
But this wasn't a huge surprise, as most WeHo lesbians had seen Michaels out and about with a number of women over the years. Michaels is no longer on "The Biggest Loser." Which means I've lost a major part of my TV eye-candy.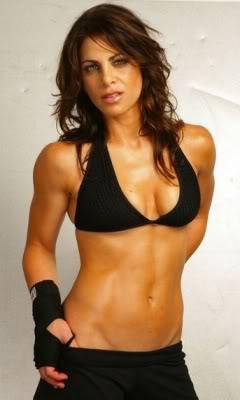 What have you done today to make you feel like a big lesbian?
Last season, NBC tried out two new trainers. One of them was bisexual Cara Castronuova. The show didn't address Cara's sexuality but for those of us who know, Cara dated MC God-des of popular lez band God-des and She. She was also once featured in GO Magazines "100 Women we Love," which is basically just a list of almost famous LBQ women. Cara was everything the show needed- passionate, sexy and dedicated. Did I mention sexy yet? Oh yeah. Anyway, this year Cara is gone. Gone without a trace.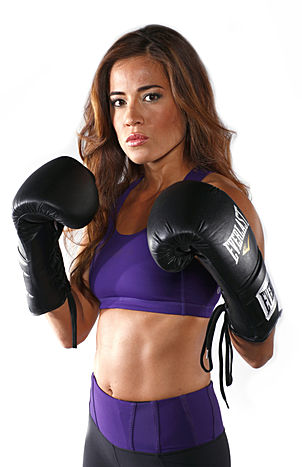 Boxing: It's pretty gay. Especially if you eat them.
She's been replaced with the beautiful and super-hetero tennis superstar Anna Kournikova. Do I like Kournikova? Yes. Do I miss getting my queer hot trainer fix every week? Hell yes! This sucks. NBC never exactly embraced having queer female trainers on the show. In fact, AfterEllen wrote an amazing article where they investigated whether or not NBC let their queer trainers speak to the queer press at all. Spoiler alert: They don't. [Source]
Without Jillian or Cara, my interest in the show is waning. There is less authenticity, a feeling of a slate being wiped clean, glossed over and repackaged for the middle American masses. Lesbians? There are no lesbians here. There never were.