Yesterday, I made my first follow up call. Back in May, I had an interview with a company. Afterwards, I sent my thank-you email and waited. They said they would call me in about two weeks about the second round interviews because they still had to interview other prospective candidates. So I waited, trying my best not to become a modern day
Dorothy Parker in "A Telephone Call"
. By the fourth week, mom was pushing me to be more assertive and call them to find out if I was still being considered and let them know that I am still interested even though a neighbor, whose daughter had already been through the hiring process, told us that when a company says "we'll get back to you in a week or so", they really mean "we'll get back to you in a couple months".  I, too, wanted to know and after talking with one of my middle school teachers, I made the call yesterday.
The good news is I'm still being considered, but the HR Manager did say that I should still continue my job search . . .
Hurray?
I wasn't quite sure what to do with myself for the rest of the day as I kept going over if I should have done something differently (different major, perhaps?) or have taken a different approach to my job searching. Finally, I settled with something that I haven't done in an incredibly long time.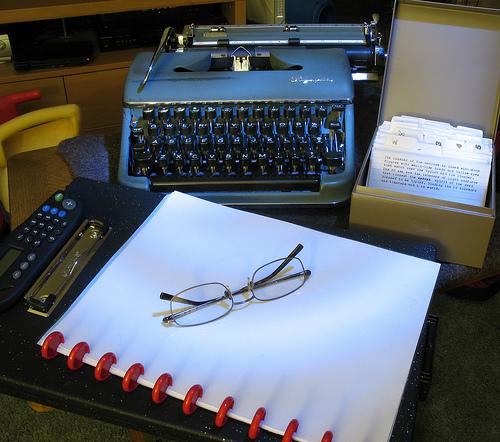 Courtesy of mpclemens via Creative Commons
I sat down and starting writing. A lot. Then I typed up what I had and kept typing beyond what I had written. By 11:55 pm last night, when I did a final word count before turning in for the night, I had typed up 5,144 words. It's been about five years since I have written 5,000 words in one day. It felt good and I made a huge dent in my new novel project which is now up to approximately 23,500 words.
Maybe I'll take part in Six-Sentence-Sunday and give you all a little tidbit of it.
(If you have any questions or constructive critiques, feel free to leave a comment down below. You can also follow me on Twitter @TheWritersExpt.)