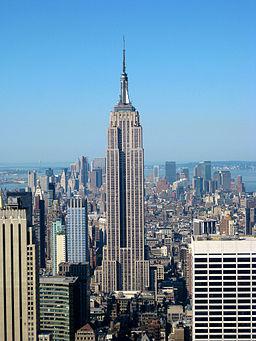 The Empire State Building in New York City. (Photo credit: Wikipedia)
When it comes to learning English language, especially for those who want to pursue learning abroad, there are various destinations you can really choose from. United States alone has lots of places you can go to. In Europe, well, you also have a large number of cities where excellent English language schools are established. In some Asian countries, especially those countries that recognize English as a second language are suitable also for English language learning.
But if you are looking for a place where most people—it may not be all—but I tell you, most people are interested in going to, I bet you are attracted to go to New York City.
Who would not want to choose to learn English at language school in New York? The city in itself is a remarkable place for travel, pleasure, vacation, work, and every personal agenda you can name of. It's a beautiful place indeed, with tall buildings that will shock you for real, particularly the Empire State building, full of busy and happy people, and lots and lots of social features that you will want to experience. This is one city that never sleeps and if you want to really get immersed with how life is being lived here, you will really enjoy it the most!
And of course, our language school in New York features excellence and credibility when it comes to English language learning. You can't miss your excitement with every English class you will encounter. You will tackle basic learning but what's exciting is that you will be stretched out to speak your learned language for constant practice. It will be hard at first, but with the help of your teachers along with your classmates and soon-to-be friends, it will be easier for you. No need to think about cultural shocks because the school, adapted by how the city lives, is versatile in terms of cultural aspect. Almost all kinds of people from different races around the world live here. It's going to be exciting, that is one guarantee.
So don't hesitate to look forward for incredible English language learning in one of the most crowded cities in the world. As for the details of our language school, feel free to browse more in our site.