Hi my lovlies!
I'm sitting here on the back porch with my amazing family.  The breeze is blowing, the sun is setting and Scarlett is running around in her diaper playing with the water.  I am so thankful.  We just came home from sitting down at the picnic table outside our front door.  It is on this pretty green grassy park that we can seriously skip to.  We ate delicious pizza, and before that, we had a dessert of Orange Leaf yogurt.  Life is good.
I wanted to sit here and type out a little thank you.  Thank you for the Top Baby Blog votes.  It really does mean a lot to me.  I am currently sitting at #2, but I know as soon as some of the more established blogs make their call for votes, I will fall a little.  But that is okay with me.  My goal is to just stay on the front page.  I like Top Baby Blogs, because it means I get to meet new friends!
I have never officially sent out a sponsor call, but I thought I would run a little speical for June. All sponsor spots are BOGO, buy one month get one month free.  
This means..
A small spot is $5 for two months, $10 for four months and so on and so forth.
A large spot is $10 for two months, $20 for four months and so on and so forth.
Sizing reference..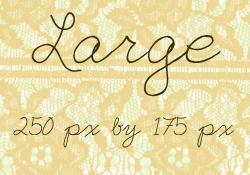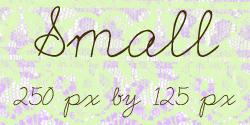 I refer to my sponsors as friendships, and the link for the information is here.
You can e-mail me for this offer anytime in the next couple weeks! 
All revenue is reinvested. 
Please contact me at friendships[!at]hottlt[!dot]com if your'e interested in snagging a spot.
Love y'all,
<3xojo
[if you haven't yet today.. top baby blog vote link]