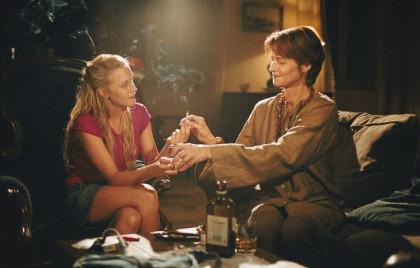 Charlotte Rampling's Sarah Morton is a famous British mystery writer, think P.D. James, who professionally has reached a creative stalemate moment in her career and needs inspiration. With the help of her publisher, John Bosload (Charles Dance) she takes what is hoped to be a rejuvenating combination of vacation and work at his villa in France. Sarah gets to shop in the local village as well as revitalize her creativity. She is living the solitary life she craves with only the local caretaker roaming the grounds during the daytime hours.Her quiet, isolated world is soon disrupted by the unexpected arrival of Julie (Ludivine Sagnier) Bosload's sexy, outgoing French daughter. The rigid and serious Sarah is annoyed by the gregarious, bold young woman who thinks nothing of sunbathing topless by the pool and bringing home men for her sexual pleasure.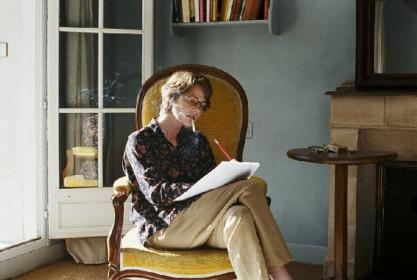 Sarah is appalled yet intrigued by Julie's activities and lack of propriety. She coyly spies on the young woman from the window of her bedroom and eventually sneaks into Julie's room and reads her diary, parts of which she begins to incorporate into her novel.

The women are opposites: young vs. older, prim vs. permissive, detailed vs. carefree. Even in their dress, the two women's different personalities are reflected. Sarah proofreads her work in progress by the pool dressed in slacks and a long sleeve shirt while Julie sits nearby topless annoying Sarah with questions.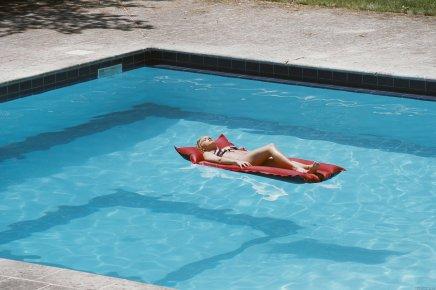 While Julie is freely exploring her sexuality with men, Sarah meets a waiter in town which appears to have the possibility of becoming a romantic relationship for the older woman. But he too becomes another conquest for the young and spiteful Julie. For Julie, men are pawns to be used, not just for sex but to entice, torment and use as bargaining chips between the two women.

The film continues to spin toward darker venues with twists and turns in directions leading to murder and unexpected bonds, none of which I will reveal. I will tell you the two women eventually bond in an uncommon and unexpected way despite the early antagonism toward each other.

Charlotte Rampling has been an actress who throughout her career has been willing to be bold and daring in her choice of roles (The Night Porter). There is one scene in this film where Sarah uses her repressed sexuality to navigate the caretaker away from a location near the pool she would rather have left unexplored. The scene is audacious, revealing and reaffirming. Rampling's performance is subdued, stern and icy with an undercurrent of underlying sexuality. The film itself is moody and controlled. Director Francois Ozon reveals a series of red herrings leaving it up to the viewer to determine how much of what we see is real or is in Sarah's mind.

While no credit is officially given, the film is based on or at least is similar enough to, from I have read, the 1969 Jacques Deray film La Piscine that starred Alain Delon, Romy Schneider, Maurice Ronet and Jane Birkin.  

Swimming Pool is an erotic, sophisticated, Hitchcockian style suspense film with a stimulating French twist.

Advertisements