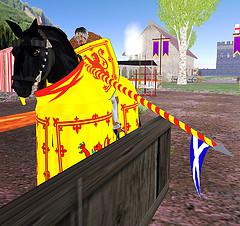 photo : Verde Ostaared
As the world watches, the summer Olympic Games are played amid a mountain of bricks and mortar in the wet weather of England (2012). Whilst amid the Austrian Alps the sun shines, as the chivalrous competitions of centuries ago provide summer sports at Sommeregg Schloß!
Sommeregg Schloß
Built in 1187, Sommeregg castle was a fantastic fortification that at one time belonged to the old Austrian noble family of Von Graben von Stein. In the 14th century they took the Styrian title of 'Burggraf of Hohenwang' and in the 16th and 17th centuries they were known as the Viscounts of Styria.
Around the time the castle was built, Tournaments (or tourney's) were gaining popularity as spectator sports events. The contestants were generally drawn from the noble lines and Knights of the Court – who fought not in the spirit of hostility, but to display their prowess in horsemanship and arms.
Sommeregg Schloß is still the setting for such displays of summer games. For several successive years, the castle has dedicated 3 weeks of the summer season to Medieval Tournaments with:
magical, mystical, medieval theatre
archery activities
ancient handicrafts
flaming fire shows
and mud slinging stalls.
With Knights, horsemen, acrobats and many a fair maiden to be rescued, the castle turns time back to the days of the tourneys!
Lonc Sejor
Just as modern times sees the Olympic Games holds the avid attention of communities throughout the world over 3 long weeks, so the medieval masses enjoyed their 12th and 13th century equivalents – the 'lonc sejor'.
Hundreds of foreign Knights flocked to the Tournaments during the 'lonc sejor', where team and individual sporting events took place. At the start of the games there was a general 'melee' – basically a fighting 'free for all' – with lots of charging about on horses, wielding weaponry, screaming and shouting until they were all exhausted. Or the light faded, whichever came first!
Then team events – a bit like the relay races of the Olympics – took place. These were called the 'hastilude' (lance games, but not jousting). And when the team events had finished, the 'gold medal awards' for successful young Knights were opportunities to joust and demonstrate their individual prowess.
Jousting involved the 1:1 competition of riding against an opponent bearing a lance. Sometimes the objective was to dismount the opponent and in alternative variations, to actually break the lance. The jousting contests were so fierce, that by the 15th century barriers had to be introduced between the fighting factions to avoid collisions between the opposing horses and riders!
Interestingly, Sommerberg Schloß now houses a museum of torture – a bit like watching 3 weeks of the Olympic Games really!
So if you fancy a field day at the medieval equivalent of the Olympic Games this summer, why not saunter across to Styria and visit Sommeregg Schloß.?
You'd be most welcome to stay in Stadl throughout this 'lonc sejor'.