All girls will most often be honored to be given the opportunity to play the part of the bridesmaid at the wedding of any good friend but with some of the tacky outfit choices that bridesmaids have had to put up with – as portrayed in the movie "27 Dresses" – some girls find themselves at a crossroad when deciding on whether to take up the role or not. As a bride, you definitely have the power to put your fellow bridesmaids out of this dilemma and the misery of being torn between fulfilling one's task as a friend and having to stand in a rather embarrassing outfit while putting up with the weird looks of the more critical guests.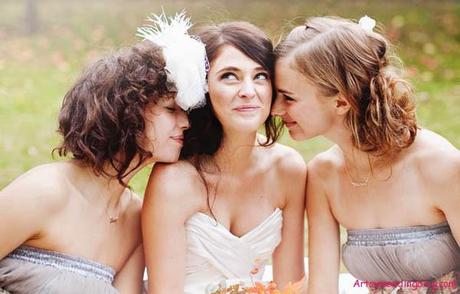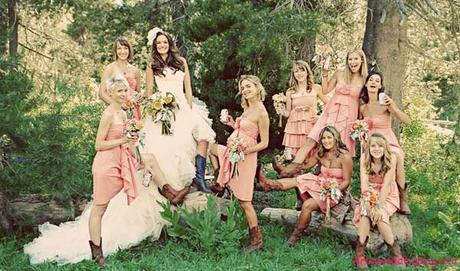 When putting together a look for your bridesmaid, take the theme of your wedding into consideration, just as you would with your own look. Unless your special day happens to be an all white affair, have the color of your bridesmaids' dresses compliment that of the theme colors that you have decided or planned to go with on your big day. Pick just one color instead of piling on all the colors into one dress because even though color-blocking may make regular appearances on trend reports, having the same multi-colored dress on multiple bridesmaids is a recipe for fashion disaster. On the other hand, a neutral color palette will accentuate a white wedding perfectly.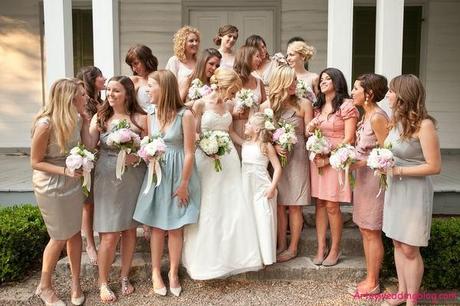 Most bridesmaids dresses come in not only the same color but also the same cut. There is absolutely nothing wrong with that but do take note that unless your bridesmaids are all of similar sizes and body shapes then having uniformity in the cut of the dresses may not be a very flattering decision. Different body types pull off certain designs better than others. For example, a pear shaped figure would be suited best with a dress that comes with an A-line or tulip skirt whereas an hourglass figure will be further accentuated in a figure hugging outfit. Petite-sized bridesmaids will be overwhelmed by too much fabric and a bridesmaid with a boyish figure can have her figure enhanced by a waist cinching dress.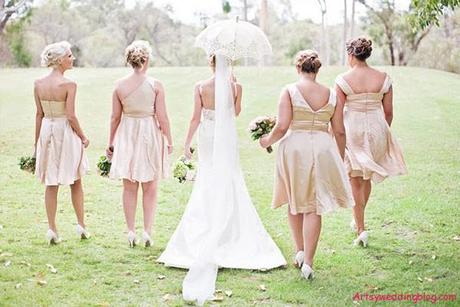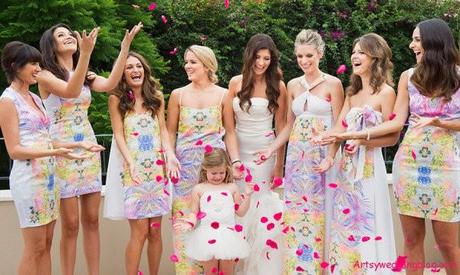 Accessories-wise, keep things to a minimal. This way your bridesmaids will still be prettified but not to the extent that their over-accessorizing causes you to be overshadowed at your own wedding. Have statement necklaces of slight differing patterns adorn the necks of your ladies-in-waiting or perhaps a mini version of the floral wreath that you've decided on for your big day.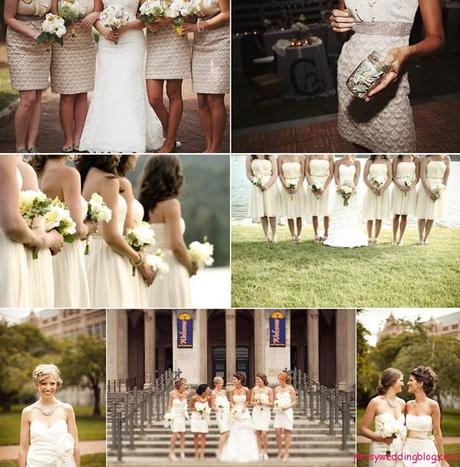 Most importantly, remember that your bridesmaids are around to lend you a helping hand and because they more often than not comprise of your clique of best friends forever, assign them with the task of hunting for their own bridesmaids dresses with your concept in mind. With them knowing their own body types and style preferences better than you do, you will not only have more time to sort other equally important wedding-related things out but to let them have a little more control over what they get to grace your wedding in.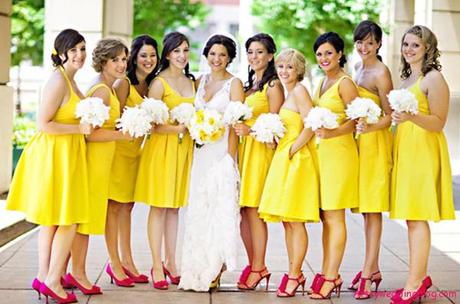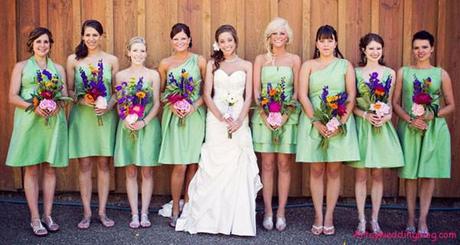 While a happy bride makes for a happy wedding, happy bridesmaids will also serve to make this occasion all the more joyous and merrier!