Ever since Pantone named Turquoise the
2010 Colour of the Year
, I have been seeing quite a lot of it's cousins - deep teal and peacock blue - cropping up in blogland.  Like a more grown-up version of turquoise, it adds depth and class to a room.
(Side note, I'm seriously lusting after that amazing chandelier...)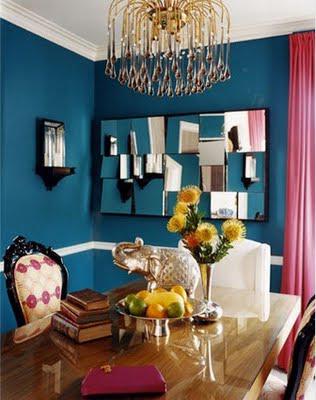 Although I would say that 'peacock blue' has a bit more blue in it and 'deep teal' has more green in it, they seem to be used quite interchangebly in many of the posts I'd seen.   Whatever you want to call it, it looks great paired with white which just pops when the two are paired.
Need more convincing?  Well, read on...
This feature wall really brings the dining room to life.  And I seriously heart the shape of that mirror.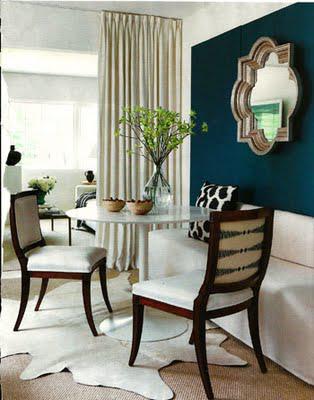 via Young House Love
I like the electic style of this room although I'm not entirely convinced by the pattern on the sofa.  Still, the deep rich tones in the wood and the black lamps strike a nice balance.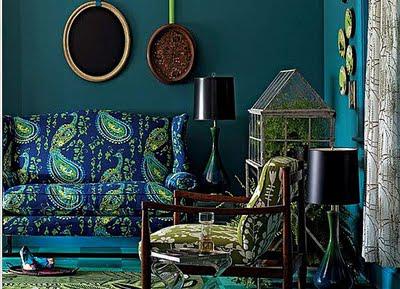 via
The accents of gold and orange also look pretty fabulous against this color too.  Those built ins are to die for as well in this eloquently appointed living room.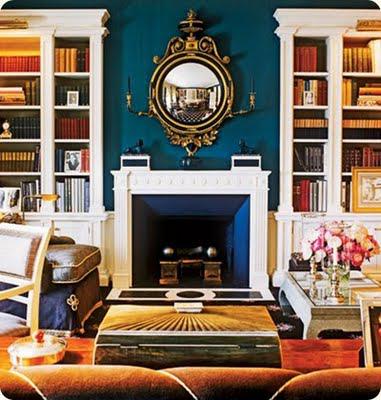 via
The dark gallery wall looks amazing with a veritable cocophany of interesting bits and pieces.
And I featured this lovely dark teal dining room when I talked about some gorgeous rooms in
Trad Home.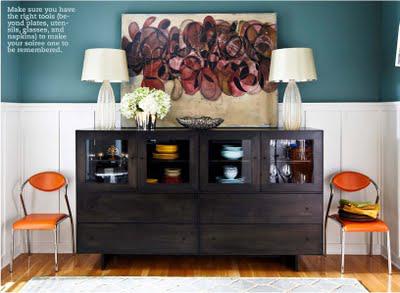 via Trad Home
So now that you can see why I am loving this gorgeous rich color which works in pretty much every room in the home, I decided to go with it in one of mine.
Here's my paint choice...

More details to come...  Intrigued?  Mmhmm, I thought so.  I'm all about the tease me.
Saying that, those who are friends with me on Facebook or following me on Twitter will already know which room I painted so if you want to be in the know, then come and join the party by clicking the links either here or on my sidebar.