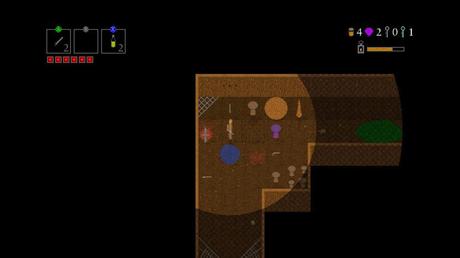 Title: Perdition // Format: XBLIG // Release Date: 06-07-2012 // Publisher: Amalgation Softworks // Developer: Samuel H. Potter // Price: 240 MS Points // Violence: 3/3 // Sex: 0/3 // Mature Content: 3/3
Samuel H. Potter gave me the impression that he played the daylights out of Amnesia. I say this because his top-down hack-and-slash, Perdition, takes on the same themes of hopelessness and fear. You play a criminal who may or may not be guilty of a list of ambiguous crimes, but regardless is sentenced to an underground labyrinth known as Perdition (or Hell). Your forsaken protagonist must navigate his way through the nine levels of Perdition in order to do what no other prisoner has been able to do: escape. 
The overall theme of this survival horror title is extremely powerful in weaving itself into the playing mechanics. The story boils down to a simple concept: you're doomed, and any thought you have of escaping is futile. The developer, Samuel Potter, does this well by giving you hope in the form of a single item you can choose from a sizable selection at the beginning (extra keys, ink and quilt, lantern oil, a map) that makes life easier for a while, but quickly robs you of that hope kicking up the number and power of enemies, and taking away the locations of traps and keys from the lower levels on the map.
 
 Everything is working against you: your lantern is constantly running low on kerosene, traps are tightly packed together to constrict your movement patterns and force you to wander through damage-inflicting obstacles, and teleports disguise themselves well, so if you're running along too fast they'll sweep you up and drop you in the middle of a slaughter-fest. Poison becomes a pressing concern and monsters become harder to hit. By the time you reach the seventh level, you'll be feeling of two ways: resigned to rot in Perdition, or even more determined to rise above adversity and keep marching against all odds. Regardless, panic will become commonplace. How quickly can you outrun a boulder or a troupe of painful flashing lights? How long can you keep up your health before you find the next campfire to save and refuel your life bar? When will you see the next poison-eradicating mushroom? How long before the madroot gives way after you've taken maximum damage? Few games have managed to recreate the same atmosphere of panic and hopelessness. Because of the graphic limitations, Perdition isn't necessarily scary on the surface, but the game play successfully captures the essence of a survival horror adventure.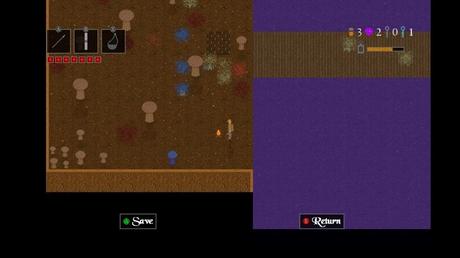 Perdition combines a hack-and-slash combat system with Zelda-style exploration mechanics. Your character progresses to the next level by locating the right items and finding the correct switches. For example, the sixth stage requires that you find both a rope and a hook, and then locate the manhole from which to lower down the rope. In order to reach those items, however, do you find yourself hunting down keys to doors and chests, and blowing up cracked walls with sticks of dynamites. In spite of being able to choose extra keys early on, the developer gave you an ample supply of both keys and explosives to ensure you didn't dead-end yourself unless you wasted your dynamite on monsters. Exploration remains interesting throughout the game, and becomes more self-guided as you no longer have the locations of items readily available to you on your maps of the harder stages.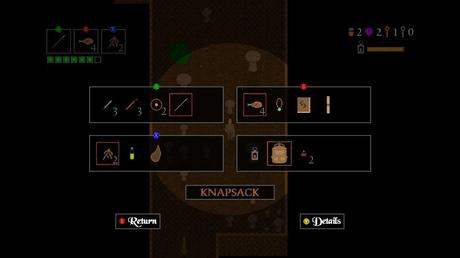 Traps and enemies felt nicely laid out in spite of giving you plenty of headache. Their vicious tactics ensured that you used the supplementary items given to you such as the antidote, the waterskin, the enemy lure, and the amulet. Oftentimes you felt like saving those items for bigger and grislier situations near the end of the game, but by the time you reached the fifth stage, you were already burning through your inventory just to stay alive. You receive some excellent upgrades, like the more powerful javelin that replaces the standard dagger, or the molded cheese which your character eats to lengthen his health bar. But your enemies also use poison more often later on, and camp fires become fewer and farther between. The overall challenge is, therefore, the heart and soul of Perdition's fun factor.
But rest assured that this neat little survival horror game also has its shortcomings. Movement feels stiff and blocky. Your protagonist cannot move diagonally, so he must move and attack up, down, left, and right. This wouldn't be so bad except for the fact that there is a delay between him turning and then throwing a knife, and given that enemies have no trouble with moving and attacking in a blistering sequence, the combat system can occasionally become a chore. Also, impassable sprites don't just include walls (obviously), but they can also extend to shadows of those walls on the ground. I don't know why your character can't walk on floors with a shadow (perhaps he's afraid of them?), but this design error forced me to walk through pools of acid and take unnecessary damage. The layout of certain items also made me gnash my teeth at the developer. I came across an apple AND a quilt, the first I found in the game, with my life bar nearly depleted. Not only did the apple restore my health, but the quilt went hand-in-hand with the ink pot and journal that I'd found earlier, allowing me to save without the need of a camp fire. So I saved and healed myself, thinking I was in for the long stretch, only to find that the next room I entered just so happened to harbor a campfire within. Huh...probably would have been wiser to have placed those items within the same room as the campfire or in the hallway after, don't you think?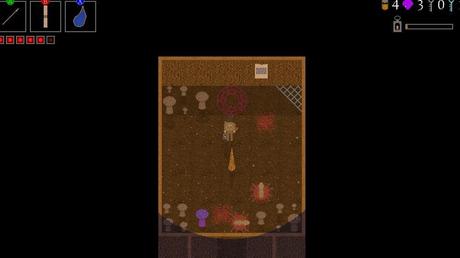 But overall, Perdition splashes onto the indie gaming scene as a fresh reminder of the olden days where horror game creators relied mostly on game play and less so on graphics to inspire fear in a player. Developers of these small gems often just want their talent as designers to be recognized and worthy of the market. But Samuel Potter surprised me with his careful stage construction and layouts. Here's a developer with a bright future and a worthy entry in Perdition. If you own an XBox 360, then I highly suggest you download this title for the bargain price of 240 MS points and feast your eyes on Potter's nine frightening tiers of Perdition...or Hell...with the lights turned out...
S&S Rating: 8.0