S&S Indie Review: Chompy Chomp Chomp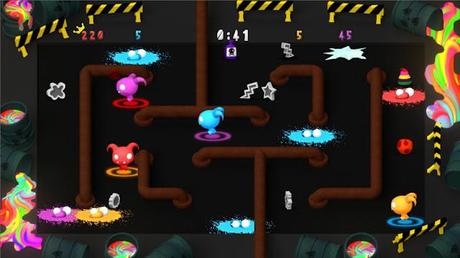 Title: Chompy Chomp Chomp // Format: XBLIG // Release Date: 24/05/12 // Publisher & Developer: Utopian World of Sandwiches // Price: 80 MS points // Violence: 0/3 // Sex: 0/3 // Mature Content: 0/3
In today's gaming climate of highly competitive multiplayer shooters, it's nice once in a while to kick back and enjoy a deathmatch game that doesn't have the occasional side effect of you launching your controller across the room whilst vowing the disembowelment of all the opposition players.
Nope, in Chompy Chomp Chomp the game reverts the player back to the innocent days of good old fashioned cannibalism- think if Pac-Man had three hungry rivals to battle against.
Although it might seem much more chaotic than it is with the four characters at the same time, you only ever have one target to chase- and one target chasing you. It's a fascinating game of cat and mouse where you are bearing down on your prey one moment only to run like away like a little girl the next once your predator comes galloping around the corner.
This is something I didn't fully grasp on my first match (and ended up getting massacred for it). The game is surprisingly tactical. A preferred method I used to avoid digestion was to lead my chaser towards his own nemesis and watch with amusement as he was devoured before I went off to find my own meal.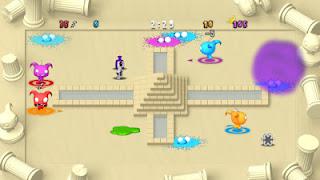 These unofficial alliances with other players lead to something almost akin to a team deathmatch style game that will help to have you ahead of the competition. These alliances can quickly lead to back stabbing/eating when your target changes and your former comrade in arms (horns?) quickly turns on you and murders your poor little creature.
You have to be quick during matches, as the very limited spawn protection will grant you around a second to gather your senses before you're attacked. Confusion can be your worst enemy at times, as the target 'helpers' can sometimes disorientate the player into thinking that the Chomp with the red circle is you.
Big mistake you realize as your character becomes a splat on the environment.
Speaking of which, the level design varies. The non cul-de-sac maps work well where you frantically navigate your way around the arena, but the two out of the five maps that do have dead ends can be really frustrating as you get helplessly cornered.
The power-ups are a fun addition to avoid making the match repetitive, but making the button to attack the same as using a power bonus can be irritating, especially when you are about to eat your target only to teleport away right into the jaws of a hungry opponent.
At least the music and animation style will keep you entertained, even during the times when you can't get out of your own spawn area.
The game does have a limited time span though, and throughout my playthrough I only ever felt like I was killing time. 80 MS points does represent sensible pricing, and as long as your friends buy it too, Chompy Chomp Chomp can be money well spent.
  

   7/10