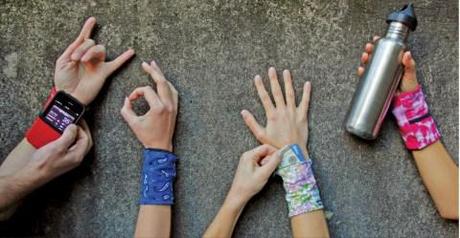 Our latest blogoversary contest is really something special…we are not only going to introduce you to some of the coolest new wardrobe essentials out there, you are going to have a chance to win some products that aren't even on the market yet!!
Sprigs™ was created in 1999 by Val Ciptak Viera.  She came up with an innovative, organic line of apparel based on comfort, function, and style.  Her clothing and accessories have been sold on QVC and were recently featured on the Today Show.  Val and her creative, unique designs have also been on Live with Regis and Kelly, Rachel Ray, and in Shape Magazine, just to name a few.
Pictured above are her original Banjees® wrist wallets.  As the name suggests, they are wallets for your wrist.  So when you don't want to schlep around a big purse you can throw your keys, some cash, your ID and a lipstick into one of these babies and you are all set!  They are large enough to hold MP3 players and cell phones, too.  They come in tons of different colors and styles, and they are reversible so each wrist wallet actually gives you two options.  Here are just a few of the styles offered:
This is the bandanna style Banjee®: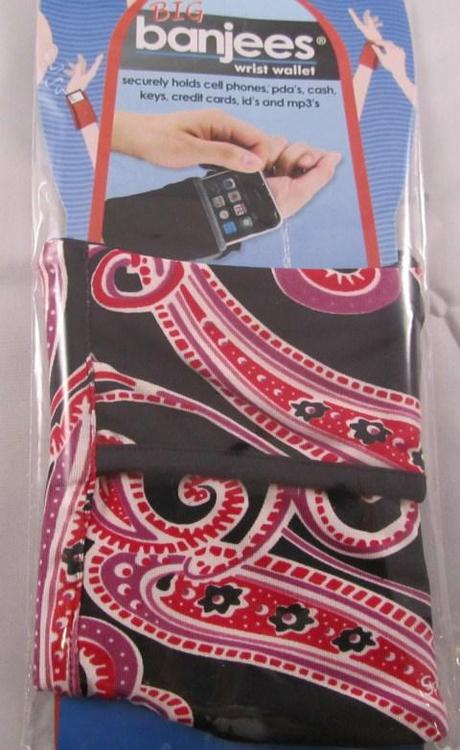 It reverses to solid black.  This is a bigger Banjee®, it can hold a cell phone and personal items as well.  It's a spring/summer type with poly/spandex fabric (they also offer fleece for winter).  Because the fabric absorbs moisture, it's perfect for your MP3 player while you run or exercise.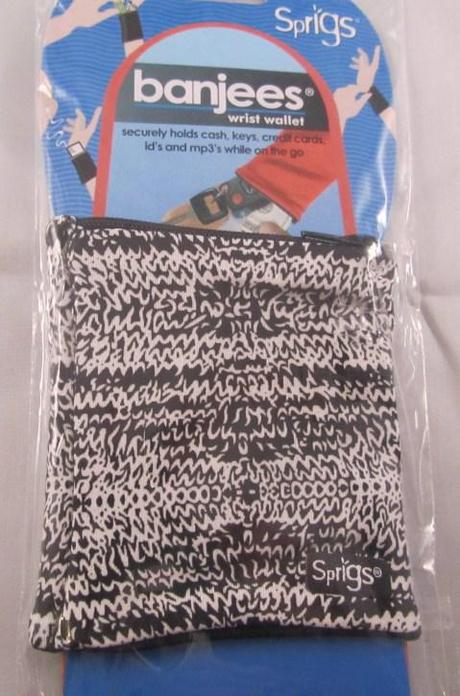 Pictured above is the smaller size.  It can hold smaller style cell phones, and it reverses to plain black.  My son has taken this one from me as you will see in a minute – he puts his MP3 player in it when he runs.  They have zippered compartments, so everything you put in them stays safe and secure.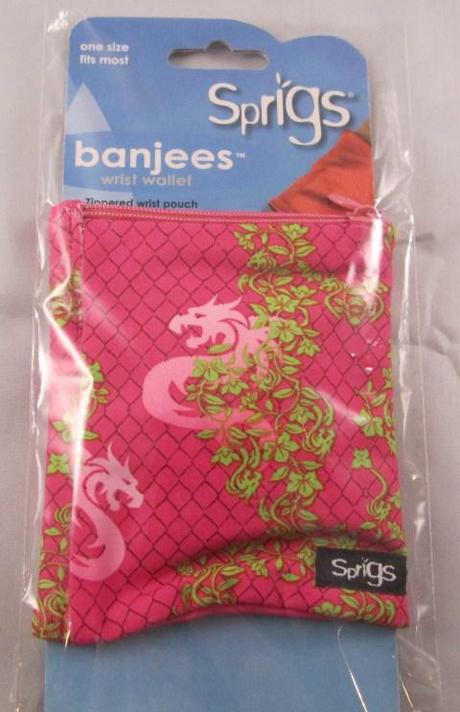 Check out this one in the picture above – it is GORGEOUS.  It reverses to solid pink.  It's so pretty, I like to wear it just as an accessory.  You can even get your Banjee® personalized if you want, the company will do 'personal branding' on any product.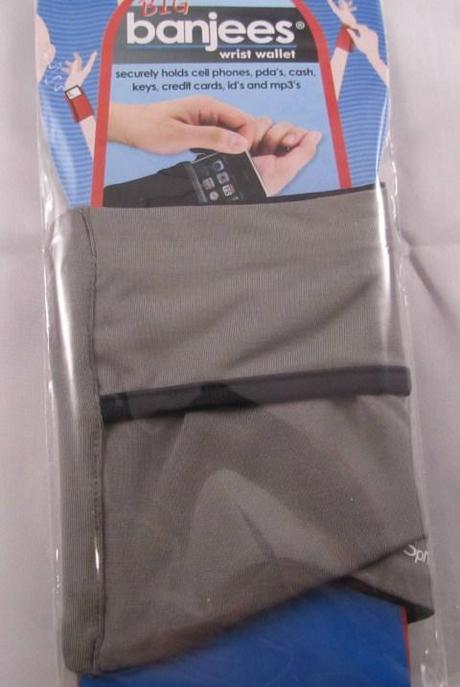 And the one above here is another example of the bigger Banjees®, it also reverses to solid black.  My son wears this as well every time he runs.  He puts his cell phone in this one.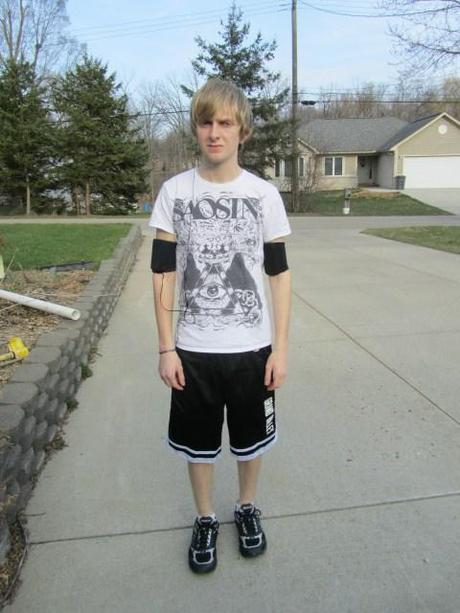 I caught him the other day as he was about to go for run.  You can see he reverses them to the plain black side, and he likes to wear them up on his upper arms.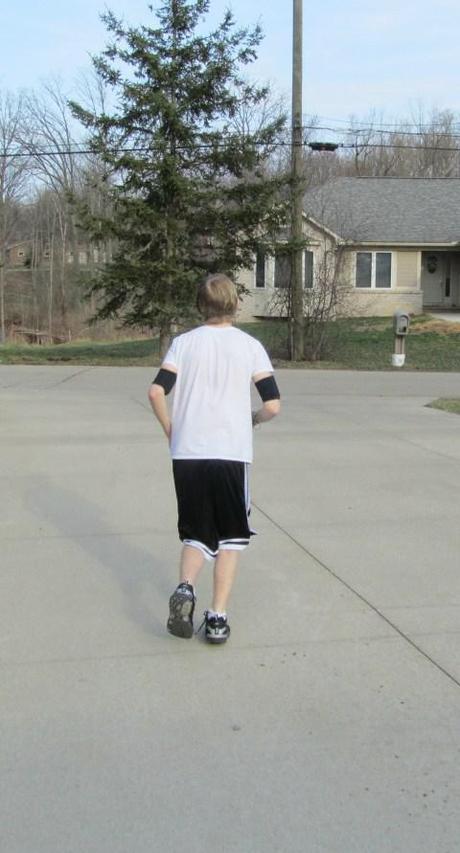 I love that he uses them because I know he has his phone on him as he runs the trails, and I also know that it keeps his MP3 player safe, it's not bouncing around or in danger of falling.
Never did I think I would fighting over my accessories with my teenage son.  Live and learn.  Marcia and I are going to LA for the IMATS in June, and we will both be wearing our original Banjees® wrist wallets because they are perfect for travel – and for having hands free to check out and buy all that makeup!!
A great new item from Sprigs™ are the Organic Infinity Scarves®.  They are organic/cotton multi-use 42-inch scarves that can be worn in many ways.  These aren't on the market yet, but will be in June!
There are many different ways to wear these scarves.  They are connected, they don't hang down like the typical scarf.  It's all about convenience and multi-purpose – there are so many options for wear and for use of these.  Here is one of my favorites, the gray color:
I wear this all the time.  Here I am on before going to work, with one option: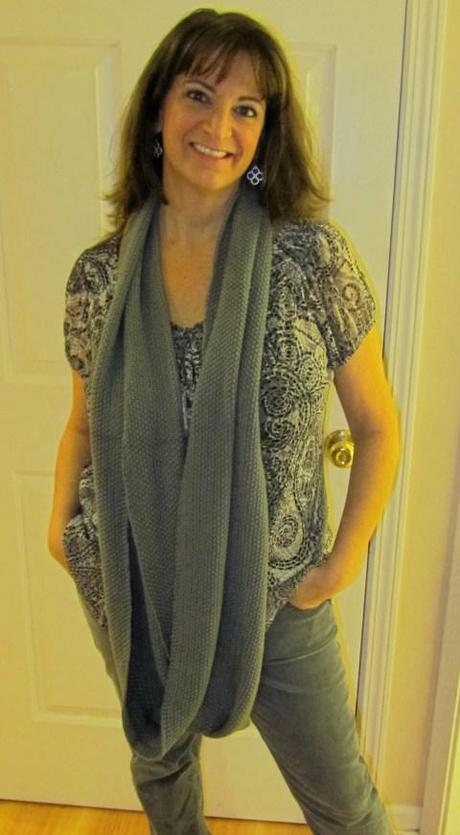 And here's another.  I find I switch it around throughout the day.  I work in an old building and the temperature varies from room to room!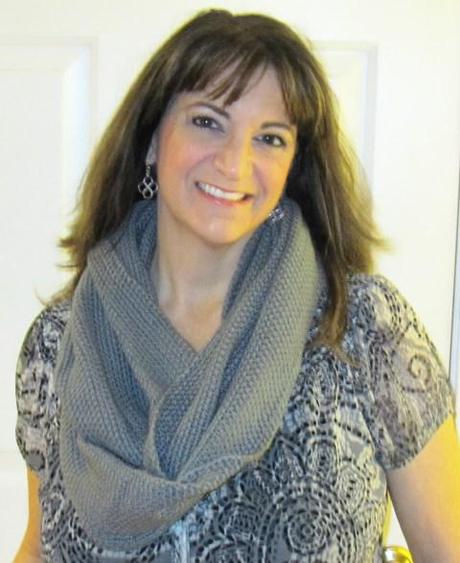 And of course it really comes in handy just as a regular scarf for the unpredictable Michigan weather: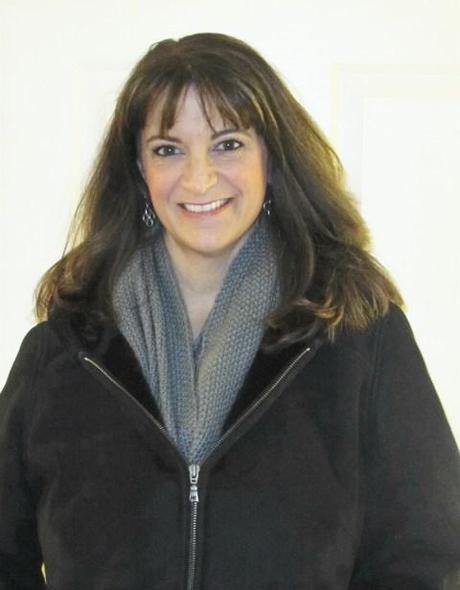 There are so many different rich, vibrant colors.  Below is the dark purple one: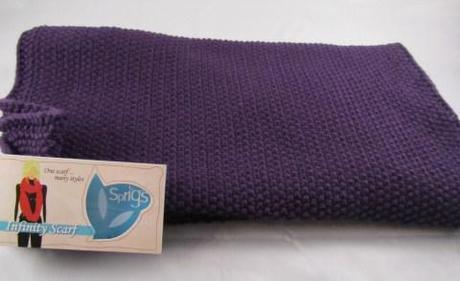 And I really love the lightweight versions.  Again, tons of beautiful colors.  Below is the dark blue: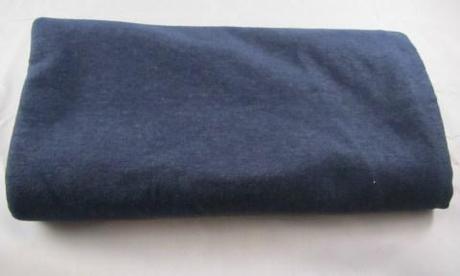 And the mustard color: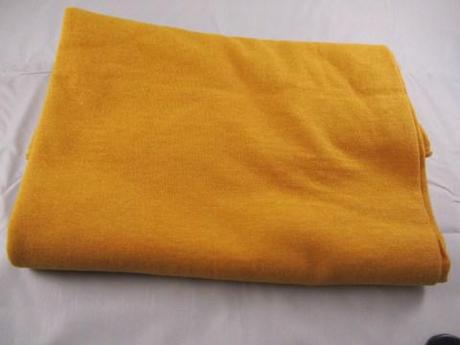 You can see all the different colors and ways to wear the scarves here:
Sprigs™ has a lot of other unique, versatile clothing options.  You can check them out online here, and here is the online brochure.  You can also find them on Youtube and Twitter.
The great news for Beauty Info Zone subscribers is that Sprigs™ is sponsoring a great contest for you!!  Three BIZ readers will win the original Banjees® wrist wallet of their choice, along with an Organic Infinity Scarf® before they even hit the market!!!  Just think how wonderful and convenient these items will be for you – two handed shopping, safe and easy running, hiking, biking.  Perfect for spring, and you really will be the first on the block to have a fabulous Organic Infinity Scarf®.
Entering is very easy.  Just follow these steps:
1.  Be a subscriber to Beauty Info Zone.
2.  Check out Sprigs™ online and post a comment here about what items from the line interest you.
3.  Send us an email identifying your comment, putting "Sprigs Contest" in the title.  And that's it!!  We will contact you if you win to find out what color/style you would like for the original Banjees® wrist wallet.  Sprigs™ will choose an Organic Infinity Scarf® just for you. This giveaway is open until Sunday, May 1st at 11:59 p.m. EST.
U.S. ONLY
Want more entries?  Get them by doing any of the following:
4.  Like Sprigs™ on Facebook.
5.  Retweet this contest on Twitter.
6.  Mention and link this contest on your own blog for an extra four entries!!!
Be sure you email us about your extra entries.