Sometimes working on a painting in my studio feels more like a wrestling match than a creative pursuit of art.  This is what's happening in the revision of an old painting I wasn't quite happy with.  I made some changes I thought would help, but they made the painting worse than it was.
After the canvas dried, I worked on it again. I started by repainting some of the background elements, pushing them into the foreground.  I tried outlining some of the shapes in black, and brushing the lines to blend them.
Then I felt I needed to do something more drastic, and started painting over most of the canvas with thin washes of lime green and peach. Not liking that result entirely, I took a rag and rubbed some of the wash off, leaving the brighter background colors showing in sections. 
My last step was to use a pallette knife to apply a big red X in the center of the canvas with cadmium red light and dark. 
This painting does not want to be tamed.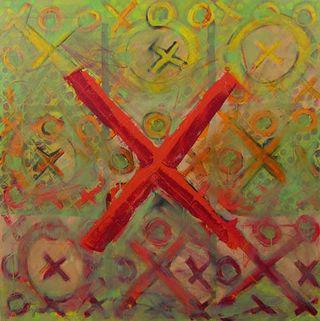 Tic Tac Five, 44" x 44" acrylic on canvas.