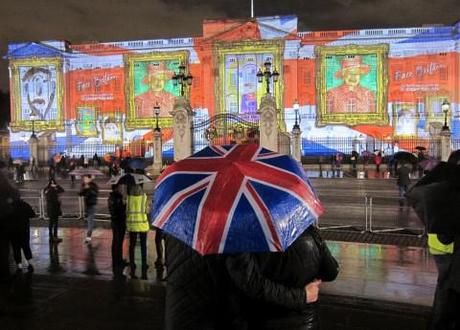 Diamond Jubilee raises Republican row photo: Bex.Walton
The background
As Britain prepares for the Queen's Diamond Jubilee, not everyone is celebrating. The Queen may be more popular than ever before, as The Periscope Post reported, but the Jubilee has raised the hackles of some Republicans.
So is it time to stop celebrating an unelected monarchy or is the Queen crucial to Britain?
Boris Johnson: Queen has seen off Republicans
"After 60 years on the throne she has proved the value of the monarchy in uniting the nation, and she has put the republicans to a spectacular rout," wrote London Mayor Boris Johnson in The Telegraph. Britain has achieved a great deal under Queen Elizabeth II, and we should celebrate how far we've come since she took to the throne. For example, "the crowds on the banks this Sunday will have the best teeth of any generation of Britons," Johnson pointed out.
Take that, snobbish metropolitan elite, says Daily Express
"The widespread enthusiasm for the Jubilee is a wonderful rejection of the values of the politically correct brigade who have dominated our civic culture for too long," said Leo McKinstry in The Daily Express. McKinstry expressed horror that the "snobbish disloyal elitists" of the "metropolitan chattering classes" have been attempting to derail good old British patriotism by claiming the Union Jack is associated with right-wing extremism: "The Jubilee is the very antithesis of everything the metropolitan progressives represent. So they loathe the Union Flag, treating it as a symbol of racial oppression and outdated imperialism."
Let's celebrate democracy, not unelected monarchy
"If any other country were paying homage to an unelected head of state in this way, while the living standards of the majority of the population fall and schools and hospitals struggle with diminishing resources, we would call it 'the cult of the personality' and probably think about invading," wrote Peter Wilby at The Guardian's Comment is Free. But Republicans risk sounding like killjoys if they use this argument at the moment, so instead they should encourage the celebration of democracy: "Why not a party, an extra bank holiday and a pageant to celebrate the 800th anniversary of Magna Carta in June 2015?" asked Wilby.
Monarchy validates inherited privilege
The Queen may have many qualities, said Yasmin Alibhai-Brown in The Independent, but that doesn't negate the case for Republicanism. "Even if this family were saintly and super-talented (and it patently is neither) the system validates the revolting dogma of inherited privilege – that some are born to greatness. It is the antithesis of equality, social mobility and progress," Alibhai-Brown wrote.