Review by
Ria
I came across Shiro Cosmetics on a blog and checked it out.  Shiro Cosmetics is owned and mostly operated by Caitlin, a 21-year-old student with a penchant for geekery and crafting.
The site was very easy to navigate, the products are listed by type and collection. You have the option to buy a sample, mini size and full size. If you buy the whole collection, you get 10% off.
As this was my first buy, I just bought the sample of the whole Tribute Collection, an Intertube sample and a sample each of Badger and Mushroom. No matter how many samples you buy, the shipping charge is just $1.75 all over world.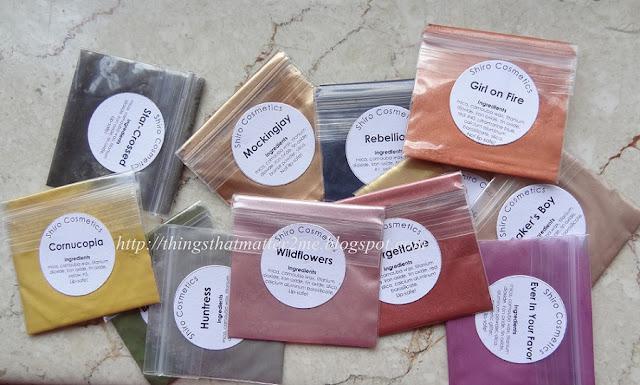 My Review:
There are 12 eyeshadows in Tributes collection. The samples are priced at $ 1 for ¼ tsp. As I got the whole collection, I got 10% off and so I paid $10.80.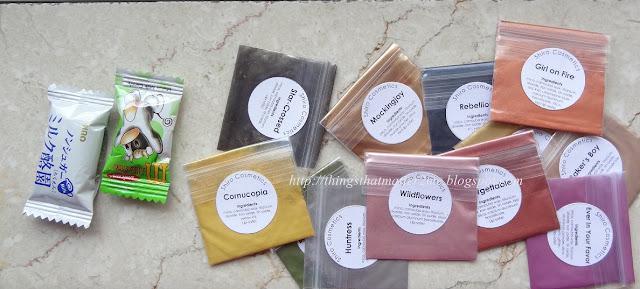 I received my package within 10 days of shipping. I got a confirmation when the order was shipped. The whole package was very neatly packed and I also got two free samples and candies. All the samples had name, ingredients and whether its lip safe or not mentioned.
Now on to the samples-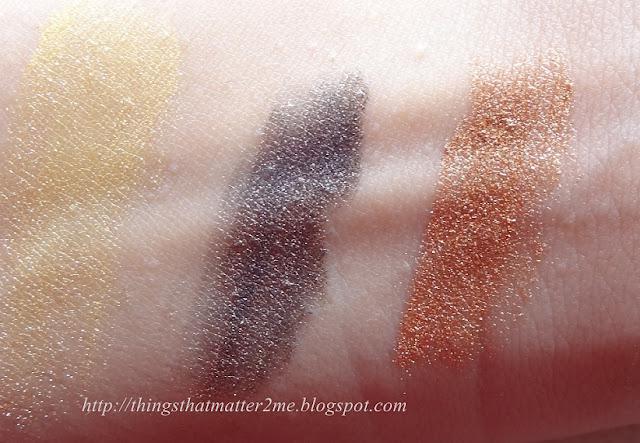 1. Cornucopia: Bright, bold yellow with strong golden shimmer. Lip-safe!
2. Star Crossed: Blackened coppery-brown. Lip-safe!
3. Mockingjay: Shimmery brown-copper-bronze. Not lip-safe.

4. Unforgettable: Hot pink-toned shimmery red with bright red sparks. Lip-safe!
5. Wildflowers: Soft golden pink with green and gold sparks. Lip-safe!
6. Girl on fire: Bright, hot, shimmery orange with golden sparks. Not lip-safe.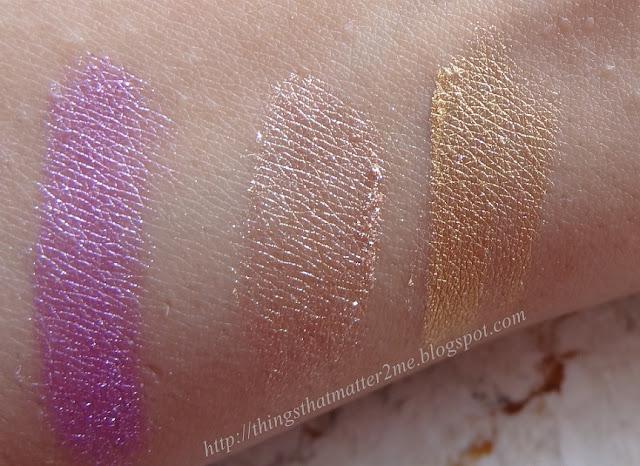 Ever in your favour-Baker's Boy-Remake 7. Remake:

Shimmery gold-bronze with purple sparks. Not lip-safe.
8. 

Baker's Boy: Shimmery light golden brown with blue sparks. Lip-safe!
9. Ever in your favour: Bubbly purple-toned magenta with hot pink glitter. Not lip-safe.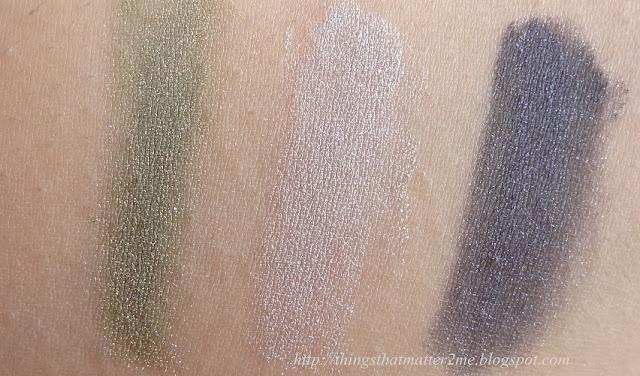 Beyond the fence-Huntress-Rebellion
10. Beyond the fence: Shimmery forest green with subtle brown-gold tones. Not lip-safe.
11. Rebellion: Charcoal black with deep blue shimmer and sparkles. Lip-safe!
12. Huntress: Shimmering silver with a slight greenish cast and bright silver sparks. Not lip-safe.
You can also see the swatches on the site so it becomes very easy to make the decision.
I love each and every color in this collection. The shades compliment each other beautifully. All the pigments are intense, and very easy to work with. The shadows are buildable and blendable. I wear it over a primer so that it stays on for a long time and I am so happy that I found this site.
Pros:
·  
Option to buy samples, mini, and full size
·  
Shipping is very low when just buying samples
·  
Swatches are put on the site
·  
Intense and highly pigmented
·  
Beautiful collection of shades that compliment each other
·  
Very easy to blend
Cons:
·  
None
Rating:

5/5
Verdict:

I am totally loving Shiro cosmetics. They have fantastic collection and I am already planning to buy full size of some shades from this collection. The customer service is superb considering this is handled only by one person.
ETM Edit* Wow! I was not aware of this brand Ria. Sounds good and the shipping cost is 

unbelievable. :D Loved each shade in this collection. Am definitely checking her site out. ;) thanks for letting us know about it and now i know for sure you love eye makeup. ;)