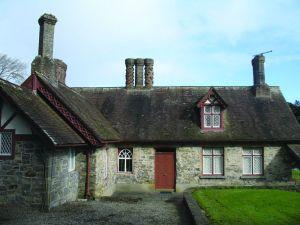 Looking back through my pictures from my recent trip to Ireland, I decided that a good blog topic for today would be Shell Cottage, located on the Carton Estate in County Kildare, Ireland. This little place was absolutely fascinating, aesthetically enchanting, and historically very interesting. As I wasn't able to find a ton of historical research regarding Shell Cottage, I stuck with a primarily visual blog this time. I wanted to show off some of the super cool pictures I was able to take inside of Shell Cottage!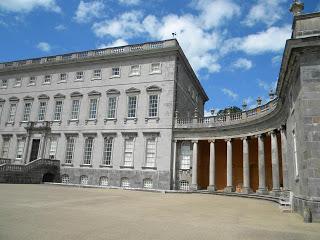 Before taking a closer look at Shell Cottage, it is important to understand the historic property on which it sits - the Carton Estate. Now a really fabulous hotel and one of Ireland's great 'Big Houses,' Carton house was built in 1739 by the 19th Earl of Kildare. The property itself is much older, having been appointed to the Lord of Maynooth in 1170 after the Norman Invasion. The first house on the property was built in the 14th century. (An entire post should really be dedicated to this estate, and I will certainly get to that at some point!)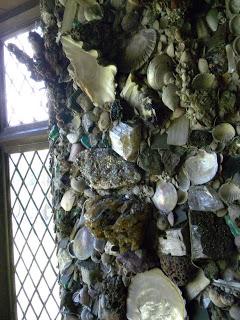 The history of Shell Cottage relates directly to one of the former inhabitanants of Carton House, Emily Fitzgerald. She was the great granddaughter of Charles II, and married James Fitzgerald, the 20th earl of Kildare who resided in Carton house (making her the countess of Kildare). She decorated Shell Cottage with marine life that had been collected from all over the world. When men would go sailing abroad, they would bring back bits of shells, crystals, sea urchins, sea weed, birds eggs, basically any pieces of memorabilia they could gather. She would then fix these items to the walls of shell cottage, creating an absolutely incredibly visual inside this  small cottage. 
"The centerpiece is a beautiful dome lined with thousands of tropical shells of every size. The walls, windows and furniture are all patterned with shells. While Carton House has had many famous residents and guests over the centuries, the shell cottage has made an interesting home also; one resident over the years was the singer Marianne Faithful." (source)

Literally every inch of this room in Shell Cottage is entirely covered in shells, crystals, bits of sea glass, coral, etc.  I'm not sure how anyone could really spend any length of time in there, (its really dusty), but it was absolutely amazing to walk around and just imagine how much time went into the decoration of this room.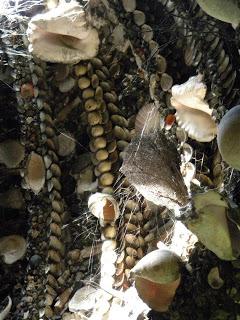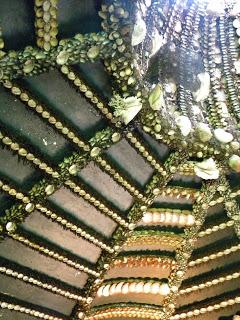 As the quote above mentioned, at the center of the room was a decorative dome with a small occulus that let light shine onto the crystals and shells that covered the ceiling.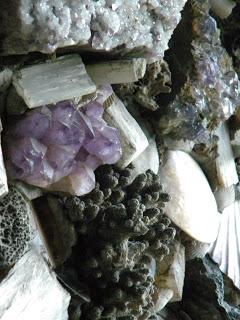 The walls were literally covered with gems and crystals - the worth of which is unimaginable.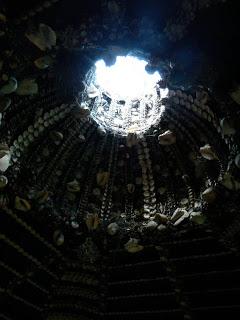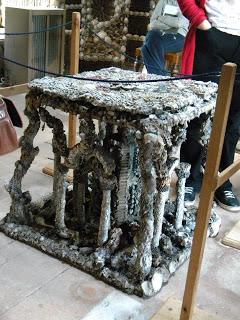 Not just the walls were covered with sea life - the objects in the room were as well! Here is a small table that was at the center of the room, entirely covered in bits of shells, coral and other stuff.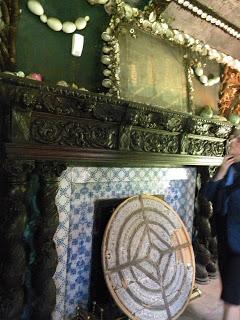 Here is a shot of the ornately decorated mantelpiece. 


Many films have used Carton House and Shell Cottage as sets, which is understandable when you realize that there really aren't many other places quite like this. Not only is the interior of Shell Cottage exquisitely ornate, the exterior cute and country-like, but the grounds are absolutely stunning as well. Shell Cottage sits just above this small lake (pictured below).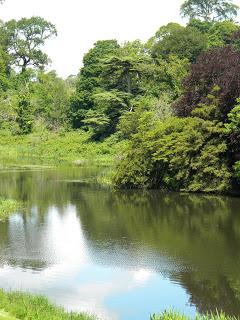 "The  Kildares'  home  in  Ireland  was  Carton House,  where,  mainly  through  the instigation of Emily, planning and working while her husband was away on business,  the gardens took on a more natural appearance, with falling lawns, clumps,  a wilderness and a widened  river, plus such ornamentation as a Chinese bridge, Gothic towers and a flower garden. Emily thought  that the alterations to the river were even more beautiful than Kent,  Brown  or Hamilton  could have devised.  There was also a shell cottage,  inspired perhaps  by  the shell  room  at Goodwood,  where  Emily  assisted  Caroline and the  2nd Duchess  of Richmond." (An excerpt from an article on Landscape Gardening by Michael Symes)


Surprisingly, there is relatively little historical information available regarding Shell Cottage. There is however, a predominance of sources pertaining to Carton House, so expect a blog about it in the near future! Also, being inside Shell Cottage, I couldn't help but be reminded of the scene in the last Harry Potter movie when they go to a place also called Shell Cottage. Here is another blog I found where this connection is further discussed: Re-Do-It Design. 
Further Reading:
- Carton House website
- Emily Fizgerald Wiki
Follow @Paige_Autumn
[A

ll p

hotographsproperty of Paige Doerner Photography]