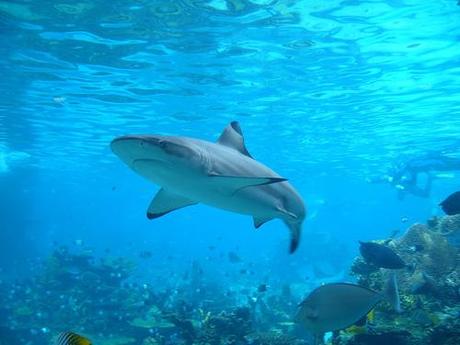 photo courtesy of StormyDog
On Monday 30th July Thierry Robert MP,  Mayor of St Leu commune, Réunion Island made the decision to "act to safeguard the security of goods and people of his town" by authorising and encouraging the fishing and hunting of the bull shark (Carcharhinus leucas). He encouraged their hunting by any means necessary, including spear fishing day and night, with monetary rewards. This decision was made following the death of a surfer last week which was believe to be caused by a bull shark. The Mayor has now been forced to withdraw this decision because it contravenes French law.
Réunion Island is a French-administered territory in the Indian Ocean between Mauritius and Madagascar, and part of its coastline is protected as a marine reserve. Thierry Robert MP said that his town would buy bull sharks that were over five feet, and pay $2 per kilo of live weight for the first thirty sharks brought to the marina. This extreme policy was a reaction to seven bull shark attacks, including three fatalities, surrounding Réunion Island since the beginning of 2011, compared to no reported shark attacks between 2000 and 2010. The initial decision was welcomed by local people, with almost 300 surfers gathering to demand shark fishing to be allowed in the reserve. However, animal rights groups criticised the plans. Alison Perry, shark expert and marine scientist for Oceana Europe said that although the loss of life is obviously a concern for the government, a indiscriminate financially driven killing is worrying as we do not know what the potential impact would be on the bull shark population.
Unfortunately this is not the only recent incident of sharks being jeopardised as a result of shark attacks. In mid July that the Australian government announced that they were considering lifting the protected status of the great white shark (Carcharodon carcharias) following five fatalities in ten months. The Australian government are concerned about the impact that increased shark attacks may have on tourism. Western Australia's fishing minister, Norman Moore, said that he would lift the Great Whites protected status if the federal government did the same. This would allow commercial and recreational fishing of great whites, but would not encourage shark hunting or the setting up of protective nets.
Conservationists estimate that up to 73 million sharks are killed each year by humans, and therefore it is important to keep the rise in numbers of fatal shark attacks in context. In 2011 there were 12 fatal unprovoked shark attacks, and in 2010 there were six. Conservationists have cited an increase in extreme watersports and surfing as a reason for the heightened numbers of attacks. As far as the numbers are concerned we pose a far greater danger to sharks than sharks do to humans.
If you are interested in getting involved with marine conservation visit the Frontier website for information on our coastal conservation projects in Fiji, Madagascar and Tanzania.
By Julia Crabbe