Sbarro Spinach and Cheese Rolls Florentina
An interesting way to start any great occasion specially parties is to have this sbarro spinach and cheese rolls florentina. This is the type of dish where not only you but all your guest will be happy. A great way to entertain yourself on a hot summer day during your other wise so called healthy lunch ideas would be to treat yourself with this spinach and cheese rolls florentina. Now I am not sure where I got this recipe from but most of my guest said that this dish actually taste like the real thing as sbarro spinach and cheese rolls florentina. A double bonus for food lovers, any ways give it a try and tell us your thoughts about this lovely spinach and cheese rolls florentina recipe.
Ingredients:
2* 10 oz. packages frozen chopped spinach (Thawed in refrigerator overnight)
1 lb. ricotta cheese
3/4 lb. shredded mozzarella cheese
2 oz. grated Romano cheese
1/2 teas. black pepper
1/4 lb. (1 stick) butter or margarine, lightly melted
12 lasagna noodles
16 oz. jar spaghetti sauce (thinned with a little water)
Directions:
Cook lasagna noodles according to package directions.
Drain carefully so as not to break noodles.
Rinse and lay out flat on a cookie sheet.
Set aside.
Squeeze the excess moisture out of spinach.
Place in a bowl and add ricotta, mozzarella, Romano, pepper, and melted butter.
Mix just long enough to combine ingredients; the ricotta should not be green.
Evenly divide the spinach mixture among noodles.
Spread mixture evenly over noodles leaving a one inch space on top and bottom.
Starting from one end, roll each noodle up over filling.
Place them seam side down in a lightly oiled casserole dish allowing only one layer of rolls.
Pour warmed sauce over all, cover, and bake at 350F for 20 – 30 minutes or until heated throughout.
NOTE: The spinach mixture is the same as used in spinach and cheese calzones.
Enjoy!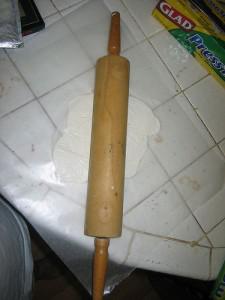 Photo by: andydr