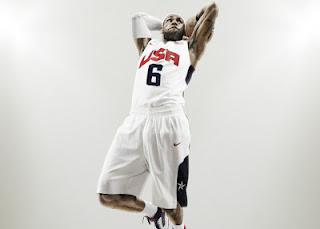 Photo: Nike.com
- Troy Ballard
Hey-Oh!
There were murmurs that with the condensed NBA season and the disproportionate amount of injuries that Team USA would take a step back at the 2012 London Olympics. Talks that the roster would lack sufficient fire-power to punch through some of the tougher teams in the tournament.
That might be a smidgen premature.
Team USA, although not as fundamentally solid as previous olympics, still boasts a wicked roster from top to bottom. There's enough star power to fuel London in an eco-friendly capacity for the entire games, and then some. Here's the full breakdown:
Backcourt:
Chris Paul - PG - Los Angeles Clippers
CP3 earned a nod for the olympics following an immensely productive first season in Los Angeles with the Clippers. His facilitating ability is second to none, and he also can convert to a scorer in a pinch. He's a perfect all-around player and leader to keep the team stable and focused on the court.
Deron Williams - PG - Brooklyn Nets
After rocking the '08 Olympics in Beijing, D-Will was a natural selection for London. Much like Paul, he is an excellent facilitator and can knock down a smooth jump shot when needed. His size provides a huge advantage in the international game and he can cause major problems for opposing defenses.
Russell Westbrook - PG - Oklahoma City Thunder
Possibly the most surprising selection for the team, Russell Westbrook was able to snag a spot to complete the trio of point guards. His official role is yet to be determined, but one could safely assume Coach K is going to give him one job when he goes into the game — score.
Kobe Bryant - SG - Los Angeles Lakers
Five-time NBA Champion. Mamba. Nuff said.
James Harden - SG - Oklahoma City Thunder
Watch out —
The Beard
was able to secure himself a spot on the team by seducing the coaches with quick cuts and smooth passing. The reigning Sixth Man of the Year is very physical and change the outcome of a game in limited minutes. His role is likely going to be minimal, but he is the perfect when-down player and late-game closer.
Frontcourt:
LeBron James - SF - Miami Heat
King James making Team USA was as sure-fire as the sun rising in the morning. Not only is LBJ coming off a red-hot NBA Finals/MVP season, but his versatility can't be understated. Coach K has the option to put James at literally any position on the floor — and he will excel.
Kevin Durant - SF - Oklahoma City Thunder
KD, like James, was a sure-fire selection. Durantala is nasty. He can do it all. His performance this past season was something out of this world, and both he and LBJ are arguably now the two best players in the game today. The offense is there, and the defense isn't far behind.
Carmelo Anthony - SF - New York Knicks
Melo was another player that won gold in '08, and is the definition of a defensive nightmare. The mere idea of LBJ and Anthony flanking each other on offense is something that only a true
Basketball God
could have designed. He will be tasked with scoring, scoring and more scoring. And maybe some defense too.
Andre Iguodala - SF - Philadelphia 76ers
Iggy was another late addition to the team, and his only role on the team is going to strictly play defense out the wazoo.
There's no issue with LBJ, but as mentioned above, Melo isn't exactly known for locking players down effectively. The advantage to having Iguodala on the team is that he can guard both guards and forwards with success.
Kevin Love - PF - Minnesota Timberwolves
At this point, it would have been criminal to not let Kevin Love play on Team USA. K-Love has been a monster in Minnesota, and can do everything. Yes, even hit three-pointers (!?). He's a perfect
x-factor
and should provide a new dynamic to the team with strong rebounding and an even better offensive game.
Blake Griffin
- PF - Los Angeles Clippers
Easily the most interesting selection for the team, as Blake-Blake is still developing his offensive game and has a tendency to be complacent on defense. However, Griffin is still a walking highlight reel and has excellent chemistry with CP3.
Tyson Chandler
- C - New York Knicks
Just like Iggy, Tyson Chandler is going to be given one task — play defense. That's his strong suit, and Chandler should be able to lock-down the paint and cause problems for any team attacking the rim. Due to the fact that he is the only true center on the team, he's going to be handed a big workload. Luckily, that's something he's used to.
Be Sure to follow Beard and Stache on Twitter @BeardAndStache, and also Troy @TroyBallards, like our Facebook page HERE!