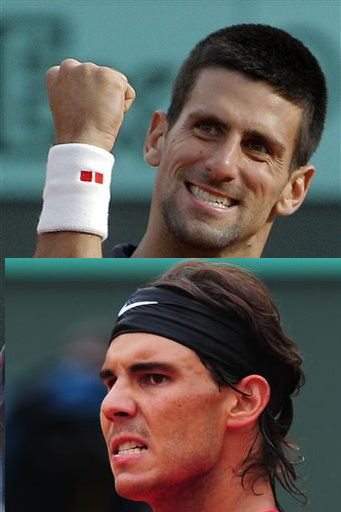 Rafael Nadal vs Novak Djokovic Season II, Part 3 .The men's game is in a great position right now, we have had had some fantastic finals of tennis this past decade and once again  the history writers are at the ready waiting to see which way the game will go. For the forth slam final in a row we have Novak Djokovic taking on Rafael Nadal for the title. Djokovic has won the previous 3 and amassed a series of 7 finals victories against the Spaniard, surely this cannot be discounted? On the other hand Rafael Nadal is in a serious purple patch on his favoured surface the clay and this week has seemed unstoppable.
Novak Djokovic is aiming for his 4th Grand Slam title on the spin a feat last accomplished by Rod Laver in 1968. Nadal on the other hand is looking to break Bjorn Borgs record of 6 Roland Garros titles with a 7th victory.  If we ignore the past 2 months of the European Clay court swing, Djokovic seemed to have Nadal's number, exposing his weaker backhand side and second serve. But two comprehensive defeats in Monte Carlo and Rome have given Nadal fans hope that he can win his 7th title.
Nadal in the words of Federer and many others is the 'overwhelming favorite for the title'. In this past fortnight he has brutalised his opponents with his incessant hitting, pulverising his forehand and making his rivals throw their hands aloft in frustration. Quite simply on this form it seems quite hard to envisage Djokovic taking a set of Nadal. Djokovic needs to raise his game markedly to feature in this final. He did well against Federer and secured a comprehensive scoreline against the 30 year old Swiss. But in earlier rounds Djokovic has failed to live up to his billing as the world number 1. He has looked under pressure at times, burdened by the weight of history on his shoulders. He has become very passive and allowed his opponents to get a stranglehold in the rallies. This is precisely the reason why Djokovic had such a good 2011, by he himself taking the bull by the horns and dominating the baseline exchanges.
Djokovic must stand up and be counted. He knows how to beat Nadal, he must serve well, manipulate the space and use his up the line backhand to open up the court for a cross court forehand winner. He must play out of his skin ,daring risky tennis that could just as easy go wrong. Nadal plays with huge margin of error, and repeats, repeats and repeats until his opponent misses or he can hit a winner. Djokovic must take away the Spaniards' time, strike first and keep him on the back foot. Funnily Nadal has made the exact same comment about what he must do.
Both players have incredible believe and mental toughness, perhaps Djokovic' has been extended a little further than he had hoped. Nonetheless each guy is extremely cool under pressure and able to play at the highest level under the greatest pressure. The weather tomorrow is scheduled to be showery and quite cool for early summer in Paris. With a little more heat and a drier court Djokovic can hit harder and flatter and penetrate the Nadal defences. In cooler conditions his shots certainly travel a little slower.
This match will come down to who can transition from defence to attack best. So far this tournament Nadal is playing as good as 2010, the year he won 3 slams. He has given us no reason to suggest why he cannot sustain that level against Djokovic. Part of me would love to see Djokovic rewrite history; if he does not do it tomorrow history tells us it is very unlikely to do it again.But should Nadal lose tomorrow he will in all likelihood get another chance to lift his 7 th title. There is huge pressure on Djokovic, Nadal is playing the better tennis.I pick the Spaniard to win.