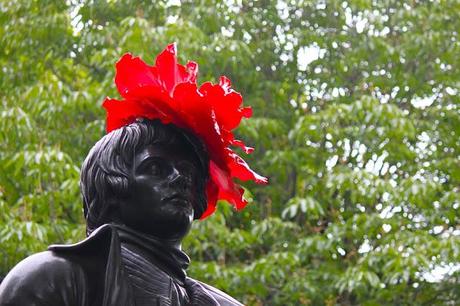 It would seem that Scotland's national poet is as delighted as the rest of us with Andy Murray's Olympic gold medal.
So much so that his hat is like a red, red rose.
(The Robert Burns statue in Embankment Gardens, above, wears this lovely bonnet as part of Fashion 2012, the fashion arm of the London 2012 Festival.)
DURING THE OLYMPICS AND PARALYMPICS THE LONDON WALKS SCHEDULE WILL RUN WITH A NUMBER OF CHANGES TO THE REGULAR PROGRAMME. CLICK HERE FOR OUR SPECIAL OLYMPICS LONDON WALKS CALENDAR.

OUR REGULAR BLOG FEATURES HERE AT THE D.C WILL RETURN AFTER THE OLYMPICS.