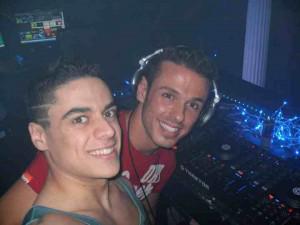 Profile Debutants
For many a moon & in days of old we used to love our bar hooping around Soho,  previous career lives seeing us make this premier gay village very much our post office home, Rupert Street one of the hip & happening hangouts where we often laid our hat, while in more cent times, Friday's became the domain of Profile bar, when a succession of D.J.'s took their turns spinning the sounds, followed by a purple patch period when prolific Phil Marriott performances couldn't keep us away. However, Vauxhall also used to have its say, Thursday's seeing us make virtual weekly homage's to Barcode & Industri, while a weekend warm up before clubbing cavorting here, there & everywhere would never begin without a trip to Albert Embankment & Troy's gaff. But times they do change & with alcohol consumption in Disco Matt land reducing to a trickle,  the penchant for a pint in our local, whether Soho or Vauxhall, diminished decidedly, meaning our trips to Profile & Barcode have become few & far between. But with a fresh new talent on the D.J.'ing scene making his debut at both venues, not least he being the significant other of fabulous friend Steve Pitron, it didn't take much persuading for us to play witness to two prolific performances by one Junior Moura.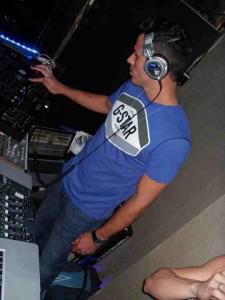 Junior In Action
So, having had our Room Service fill of Mr Pitron spinning the sounds just the night before when Celso aka Junior was standing our side of the decks, come last Friday it was his turn to take control of the tunes, Profile the place & pre-pride partying the name of the socialising game, Steve in fabulous form as we arrived just shy of 8.30 p.m. to a healthy crowd of cavorters warming up for the hectic happenings ahead. And being greeted by the gorgeous Naomi Ruiz with yet another of those "Emperor" curtsey's, added to our excitement which was to be topped when we saw main man Junior Moura behind Profile's decks, already turning out tons of terrific tunes as though he had  been D.J.'ing for years. Grabbing some refreshments while Steve & Naomi tucked into some tapas, we exchanged play for work, popping a postscript on a Pride report, but were soon distracted by the delectable dance devotions Mr Moura was masterminding, a string of superb sounds including what was fast becoming our track of the week, "Pressure", very much hitting our spot, as did "Starry Eyed" & "Stronger" throughout a Junior jamboree of heavenly hits that had a slight Steve stamp to it, but showed a talent in his protégé that saw his set go down a storm, many trading drinks for dancing, while we savoured the captivating company of Steve, all making for one of the most enjoyable Profile pop in's for a long time.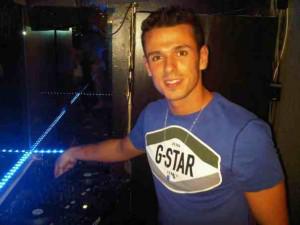 Main Man Making Music
With on gig under his belt, it was next stop Barcode Vauxhall, our Brazilian beaut having succumbed to all the pleasures of The Fire Dance Stage and with only a brief respite at camp Pitron, now faced a full three & a half hours in front of a post pride crowd that were ready to revel in reams of rhapsodies. With a little pressure showing & with liege Steve eager to ensure his Junior was set up & ready to go, we stepped back to the bar & took the opportunity to engage with Bel's new Brazilian beau, Guilherme, merely in London on vacation & returning to his home in southern Brazil in just a few hours, although in this very short time had made such an impact on our tweeting friend, it being no surprise as we found him incredibly charming impressionable. But with Steve back by our side & with Junior now into his musical stride, we sought some fresh air that was to see our night quickly turn into something truly special & memorable, as within minutes the fabulous Jess arrived with friend Alyson who had clearly been indulging during the day & was in playful mood, made all the more boisterous by her latching onto the David Hoyle tale that Mr Pitron shared, the one part of his rendition that was to become the quote & phrase of the night, indeed of the weekend, "I WANT MY PORRIDGE!" invoking a whole series of amorous Alyson advances on us, leaving us a nervous wreck, running & screaming all around Barcode like a frightened little child. With Steve & Jess in complete hysterics & the naughty Mr Pitron egging her pal on, even invoking a duel attack with Bel tweeting's & Alyson's advances, we kept diving for cover, more often than not behind the tall & manly figure of Adam who became our savour of the evening, while Steve kept making matters worse by grabbing our arm & leading us into the Alyson danger zone, our iron lung hardly coping with all the hilarious excitement & that stock phrase, "I Want My Porridge" leaving the whole Pitron posse in stitches.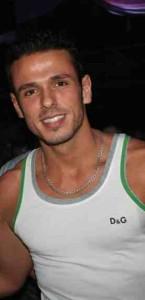 Brazilian Beaut Plays Barcode
So, with all this audacious activity going on, we somewhat lost the plot on Junior's performance, only catching short shots of his superb sounds, although with familiar tunes a-plenty clearly going down well with his captive audience, many of The Brazilian bunch having arrived to lend their support, while Barcode was also filling nicely with a pre clubbing crowd that were lapping up Mr Moura's magnificent music. But with our night of hilarity continuing, despite Adam's insistence that we "man up" (us?!?!), the three & a half hours simply flew, our extrovert exhibitions across the whole of Barcode leaving us worn out & in need of our own respite before what was likely to be one of the most emotional events yet, Beyond's "Super Pride" event beckoning and we conscious that we really didn't want to be over tired & over exerted  for our rapturous return to our most favourite club of all time. So, having found ourselves in the most captivating company, making for one of the most hilarious nights we can remember, we wended our way home to rest our now weary bones & recap on the magical memories made across this exceptional evening.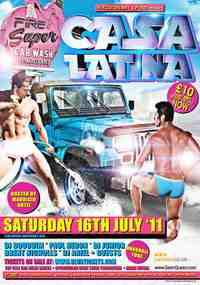 Casa For Junior
There is no doubt that the world of D.J'ing is a hugely competitive place, many vying for their own spotlight in a sea of stages that, especially in the capital, tend to be dominated by established & well known talent. Yet, there is always room for new stars to shine and in Junior Moura we reckon that we have one such star, he having been moulded by probably the best in the business along with a superb support network that should see him go from strength to strength. Having seen him in action across these two days, it is clear he has his own style, the Brazilian beat influence coming through every now & then, while he also knows when to play to his audience, a trick that is all too often missed, even by some of the towering talents around. So, with Casa Latina in two weeks time another chance for Junior to prove his worth, we predict great things for this Brazilian beaut and wish him well with his endeavours, hopefully tracking him all the way to stardom. As for our evening's, Profile proved another one of those purple patch places in time, while Barcode will live in our memories for ever, the Pitron posse, Mikey, Jess, Alyson, Bel & co, plus the man himself proving the best company we could have wished for & that "I WANT MY PORRIDGE" phrase looking to become truly legendary, meaning we cannot wait for the next time we all get together to make more of those magical moments that made this night so memorable. (DISCO MATT)
Postscript
If you didn't manage to make it down to Profile or the Barcode to see Junior in action, then fear not as you can make a date for Casa Latina on Saturday 16th July when Junior will feature large, while he has compiled two podcasts in the short three/four months he has been D.J.'ing, both superb examples of his style & well worth adding to your collection by going to http://djjuniorspodcast.podomatic.com/