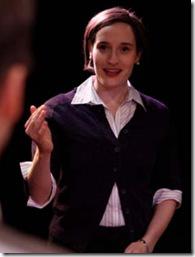 Common Hatred 
Written by Calamity West  
Directed by Karie Miller
at Side Project Theatre, 1439 W. Jarvis (map)
thru July 22   |  tickets: $15   |  more info
  
Check for half-price tickets 
  
  
   Read entire review
  
---
An emotional ride of recognition and remembrance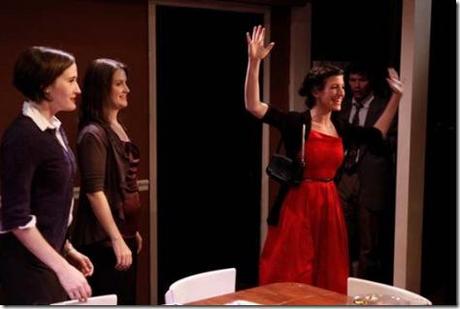 The Ruckus Theater presents
Common Hatred
Review by K.D. Hopkins
The devisers and writers of Common Hatred claim that this production is homage to Anton Chekov. I can definitely see the devotion to Chekov's phrasing and tempo, but it is more gratifying to see the inner demons of an American family from a modern day perspective. What is called dysfunctional is quite the opposite, as members and friends of the Branwell family maintain their roles in the year following a tragedy.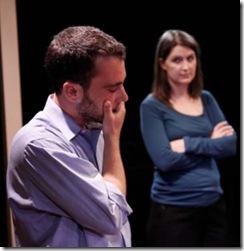 The writing and dialog of Common Hatred is smart and deep without any treacle. References to relationships and memories are given sharp and realistic dialog. This is a study in realism. The differences in what a family is supposed to be and how it manifests are shown brilliantly.
Scottie Caldwell is moving and brilliant as Branwell daughter Olivia. Caldwell projects the enforced restraint that shines a light on family tensions. Neal Starbird does a bravura job as Andrew Branwell. He is the son who did what was expected and became an unhappy and unsuccessful architect. Stirred into the mix is Aaron Dean as Steven, a literary editor who is, of course, a frustrated writer. I love this role and the way that Dean plays it. He speaks the lines of a love struck poet without ridiculous sentiment. He drinks hard and wears his anger and lust bravely. The character of Steven is the truth teller and griot of the Branwell family (in spite of his limited knowledge of them). He barges right in and asks the hard questions and tells the hidden truths. Dean is also quite funny. The character of Steven is that quirky dude that you can't quite get a bead on but you never forget him.
Sean, played by Michael Moran, is the youngest and most successful of the siblings. He is also married to the acerbic Margaret who is in love with Andrew. Moran is wonderful and wrenching in the emotionally charged scenes when the newest family secret is exposed; the scene where he reads his late father's love letters is also beautiful. It will make you remember a grand romance – or long for one. Sean is married to Margaret (Julie Cowden), who is a no nonsense realist. Cowden plays Margaret with what a first seems to be a hard edge but evolves into a self-protecting and fragile shell. Margaret has known the family for years and married the orphaned Sean. It seems that her every move is calculated and in her best interests.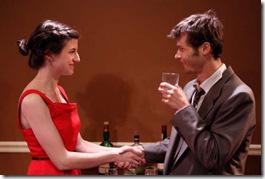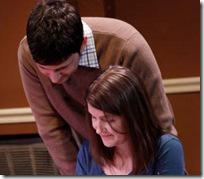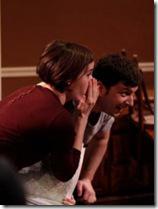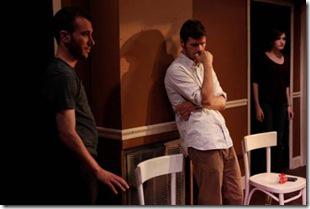 The real Margaret is shown in the scenes with Catherine Bullard as the ebullient and ditzy Leigh. Bullard walks a tightrope with this character. Leigh is excited, overly accommodating, and in love with Andrew, which sets Margaret's teeth on edge. The interaction between Bullard and Cowden is intense. It is a realistic depiction of two women digging in with one openly hostile and the other holding a mask of blithe indifference.
Karie Miller directs Common Hatred with precision and a light touch. The actors are in sync, hitting the tempo perfectly. This play is an emotional ride of recognition and remembrance. What makes old memories sear in one's memory? How do we honor the past while deconstructing it at the same time? I highly recommend that you spend an evening with the Branwells to see how they poignantly struggle for answers to these very questions.
Rating: ★★★½
Common Hatred continues through July 22nd at Side Project Theatre, 1439 W. Jarvis (map), with performances Fridays-Sundays at 8pm.  Tickets are $15, and are available online through BrownPaperTickets.com (check for half-price tickets at Goldstar.com). More information at RuckusTheater.org.  (Running time: 1 hour 40 minutes without intermission)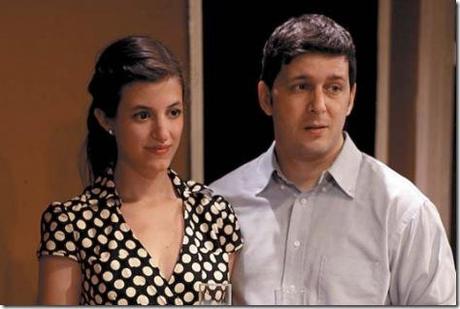 Photos by Gerard Van Halsema
---