Having been besieged by a sequence of setbacks during September & October, one of the many casualties included our "That Was The Week That Was" report, the weekly round-up of the movers & shakers on the scene, a report that picked out the highlights and also allowed us to share with you our moment, our tune & our tweet of the week. However, with the dawn of a new month heralding a much more prolific production period, we are pleased to mark this new found fervent with the return of a more focussed report, looking at the weekend just gone & covering Thursday through Sunday. The links to relevant websites will be back too, as will details of dance diary dates coming up, this coupled with our moment tune & tweet picks.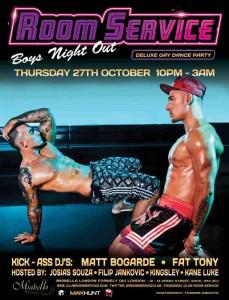 Boys Night Outstanding
So, with further ado, let's get back into the groove and take a look at the weekend that was, Thursday 27th to Sunday 30th October and one that kicked off in usual style with Room Service stealing much of the spotlight with their "Boys Night Out" event, deck duty masterminded by regular resident Fat Tony & new(ish) kid on the block, Matt Bogarde, while the hoard of hosts, Josias Souza, Flip Jankovic, Kingsley & Kane Luke shared these delectable duties, reporting on yet another packed out Diu venue full of scene faces, party boys & girls and, of course, Jodie Harsh. And clearly still smarting from a truly tremendous 1st birthday just three weeks before, added to the fact that Gigolo has disappeared off the scene radar (our report on this coming soon), Room Service seems to be the continuing success story of the boutique clubbing scene that has taken Soho by storm this year, this coming Thursday (3rd Nov) looking to keep that trend going as the team welcome Shoreditch son Kris Di Angelis to the decks, he being joined by Dmitry Strigun for the second "Sextape Shoot" event, director Thomas Knights back in the club to film the next instalment of the Room Service Sextape, while hosts Kingsley, Johanna, Louis Parson & Maria Fernanda will ensure that is another rip roaring party. Plus, not forgetting the fabulous JJ on the door who, for us, is one of the best reasons to make a date with Diu this & on any Thursday night, more info on Room Service & its events can be found by going to http://clubroomservice.com.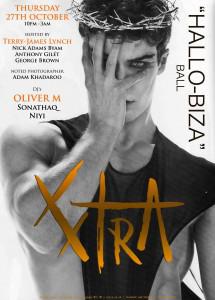 Shadow Soiree
But Room Service aside, Thursday had plenty to offer the scene, particularly in Soho & Vauxhall, two highlights from the former being new(ish) night "XXtra" at The Shadow Lounge, which seemingly wants to grab a piece of this social soiree splendour action and has been making hey while Gigolo is out of action, last Thursday a real ripper as the team held their "Hallow-biza" ball event, resident D.J.'s Sonathaq & Niyi joined by special guest Oliver M, while details on this coming Thursday (3rd Nov) should be out via the XXtra website at http://xxtra.co.uk/anytime now. As for Lo-Profile, there is no doubt that a huge gap has been left by Gigolo, although the venue has attempted a fill with home-grown brand "Society", which has been switched from its original Friday night slot, its Thursday appeal still a little difficult to tell as its only been three weeks since it was swapped, details available by going to http://loprofile.com. . Down in Vauxhall and Gravity enjoyed its last Thursday at Fire, well for a few weeks at least, while the venue is closed for refurbishment & to accommodate licensing restrictions (more on that in our report "In The Line Of …." coming up), so this week you will find Gravity across at Area.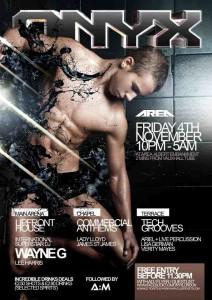 Wonderful Wayne
Moving to Friday and Onyx once again took centre stage down Vauxhall way, very much proving its winning formula of three distinctly different rooms of music, the main very much of the upfront & energetic type, while the second space bears fruit in the form of the legendary Tasty Tim & guests, this week's special entrant being Norbert M who came close to scooping the Ku-Bar D.J. competition crown this year, but has certainly shown his worth with gigs for Popcorn, A:M, Gigolo &, naturally right here at Onyx, this his second appearance for the brand. But with other stars including Lisa German, Ariel, Jonny M & Lee Harris, the theme of "Primal Fear" was very disco bloodbath in its making, plenty of punters making the effort to dress in Halloween costumes & make-up, reflecting that Onyx has one of the most up for it crowds on the clubbing circuit. So, having continued its success story in the hands of its latest promoter Verity Meyes, this week the whole team are pleased as punch to welcome back another iconic D.J., Wayne G returning to the UK for a short stint from his international globetrotting & marking the occasion by announcing an exclusive residency for this fab Friday nighter, Wayne remarking of his decision to lay his hat with Onyx"…I have loved the club from the first time I played there earlier this year. This will be a great platform for me to bring my new studio sounds directly to the London dancefloor, can't wait to rock the club again…". And with a raft of studio remix productions as well as a stable of his own tracks, this is one set & residency you won't want to miss, more details coming up in an Extra Bites recommends post, although its worth visiting http://gayguestlists.com/onyx to get yourselves discounted entry this Friday (4th Nov) .
Porn-tastic Play
As for the other Friday movers & shakers, there were plenty on offer, A:M's "Scream" event kind off kicking off the Trade theme, welcoming one of its original residents to the decks, Steve (Janet) Thomas bringing the house down with a superb set, although this week, with Fire closed, it looks like A:M will take a back seat or may roll on at Area straight after Onyx, more info available athttp://fireclub.co.uk while we will bring you news as soon as we have it. Over the river in Soho, Shadow Lounge held a Halloween "Therapy" session, Jodie Harsh rolled out a "Gothic" Circus party at Cafe De Paris, although it was Lo-Profile that kept it horny with their "Playtime" outing, scene favourite Brent Nicholls sorting the sounds, the eye candy provided by Hustlaball Berlin award winning porn star, JB Dubois, who short of stole the show & attracted plenty of admirers. With "Playtime" gaining mounting momentum, host Jay Roberts has told us that"…every Friday Lo-Profile will be transformed into a red light district wonderland where only the hottest of the hot strut their stuff, while I get to meet & greet all the pimps, hookers, muscle boys, glitterati, disco freaks, gogo boys and creatures of the night that want to party with us in true Gaydar Style, plus I will also be controlling just who gets to party the night away in our special Playtime Bedroom with our Super Hot Stars…", this Friday (4th Nov) seeing Randyblue.com's stars Gabriel Cross & Gio Cruz titillate your taste buds, so well worth a trip down Wardour St way, more info on Lo-Profile out at http://loprofile.com.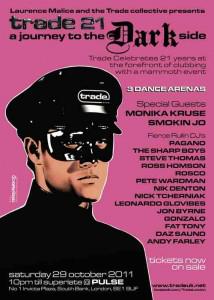 Turning Twenty One
To Saturday and for once it proved to be the biggest night of the weekend on the club scene, not least as the mother of all clubs Trade took the scene by storm with their 21st (yes you heard it right) birthday down at Pulse in Southwark. Now, we devoted a special preview to the event which is still worth a read by going tohttp://discomatt.com/web/2011/10/previews-mothership-of-clubbing-re-docks-trade-21-a-journey-to-the-darkside-saturday-29th-october/, while having missed out on this momentous occasion in the clubs history, it seemed we missed the party of the year, as Pulse was well & truly packed with Trade babies old & new, along with a who's who of the clubbing scene. Plus, with a towering line-up of D.J.'s, we heard special guest Monika Cruz was a huge highlight among a cast that included the likes of Steve Tomas, Pete Wardman, Nick Tcherniak & Pagano in the main room, our Italian stallion having to extend his set as the crowd simply wouldn't let him finish. Mind you, just like Trade's 20thbirthday a year ago, Fat Tony was very much in the lite lounge spotlight & once again pulled out all the stops with a scintillating set, lie lounge originals The Sharp Boys also doing their brilliant bit. And it seemed that the organisational might of The Orange group also sealed the success of this spectacular showing, main man Tom Fuller certainly making his mark with yet another smoothest of smooth entrance, very much akin to those halcyon days back at Turnmills, while inside, the production was simply spectacular, plenty of Trade mobiles resurrected from days of old & newer to give Pulse a fabulous feel. Now, we know there are already a couple of video's knocking around, although with no links to hand, we hope to bring you these in next week's round-up, but it's worth keeping an eye on the trade website at http://tradeuk.net for these, as well as news on the Christmas day party.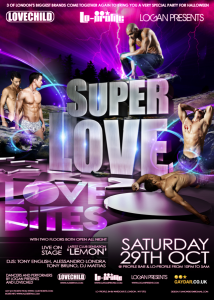 Brilliant Bite
Our other Saturday showstopper was back in Soho, the combo of Logan Presents, Lovechild & Lo-Profile proving irresistible for those not of the Trade persuasion, Alex Erfan reporting on a much healthier turnout for the second "Superlovers" event, this one having been given a tad of a Halloween twist, the theme of the night being "Love Bites", although the real star of the show being new club P.A. sensation, Lemon, who gave one of the most prolific performances seen in Profile & Lo-Profile ever. Plus, with a dynamic D.J. team that included Tony English, Alessandro Londra, Tony Bruno, Phil Hewson & Marco Gee, both floors of this Wardour St wonder were packed right through till the 5 a.m. finish, this Saturday slot proving a winner for all concerned. So, it is highly likely that we will be seeing "Superlovers" return for more soon, although all eyes are now on Lovechild proper, which comes back at ya in just two Saturday's time, next weekend (12th Nov) to be exact, Pulse the place to be and a "Roma" theme to the event, we waiting with anticipation for press release details which we will, of course, share with you in a focus post, while itshttp://alexerfan.com where you can find out more about both Lovechild & "Superlovers", a quick mention also going to co-promoters of the latter, Logan Presents, who have announced the date for their 3rd Anniversary party as 17thDec, special guest George Michael no less a definite draw, more info on this available at http://loganpresents.com.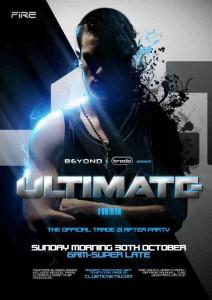 Afterhours Amalgamation
So to Sunday and with Trade hardly over, the team picked up where they left off, combining forces with awesome afterhours club Beyond, this colossal combo creating a one-off event at Fire in Vauxhall, "Ultimate" perhaps not achieving the roadblock status of certain big Beyond bashes, but by all accounts attracted an up for it crowd that, in the tradition of Trade parties of old, wanted to party deep into Sunday afternoon & way past the 1 p.m. finish. And with the likes of D'Johnny, Hifi Sean, & Alan K flying the Beyond flag, while Nik Denton, Lee Yeomans & Guy Williams traded their Pulse shoes for the Fire variety on behalf of Trade, the jam in the superb sandwich being the star of both clubs, Gonzalo Rivas, treated both Trade & Beyond faithful to a scintillating set that well & truly rocked the place. Plus, with four rooms of fun, this certainly proved a prolific package to accompany the previous birthday bash and to add to the event, Lee Yeomans laid down a podcast which is well worth checking out by going to http://orangenation.podomatic.com/entry/2011-10-26T10_28_44-07_00. Fast forwarding a week and beyond will be back to itself, well in a "Midnight" format over at Area, the impact of Fire's closure meaning that The Orange Group's crown jewel of a brand holds an extended event to mark Guy Fawkes Day, no less than 12 D.J.'s across three rooms, treating us to a spectacle in true Beyond style, the team telling us to "…expect massive bangs galore, with rockets, confetti burst, sparks & more…" further hints of what to expect out athttp://orangenation.clubtickets.com/gb/2011-11/06/beyond-afterhours and a party we suspect should see us returning to our spinning spot.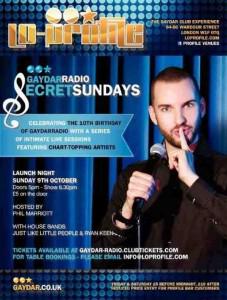 Special Sunday's
With lots of other usual suspects filling out Sunday, S.L.A.G.S/Chill-out at The Royal Vauxhall Tavern one, it was actually Lo-Profile up in Soho that once again received a rapturous reception, as the sequence of "Secret Sunday's" sessions, celebrating Gaydar Radio's 10years in operation, continued, although with an extra special guest causing a roadblock queue down Wardour street. So, it came as no surprise that last year's X Factor winner, Joe McElderry caused a real stir & attracted a considerable crowd, the news having leaked out at the appropriate moment over Gaydar Radio's waves, making this THE place to be & be seen on the scene, further cementing Lo-Profile's position as the premier & hip happening hotspot in town, well on a Sunday at least. However, if, like us, you were one of the unfortunate ones to have missed out, fear not as there is a YouTube video out, well worth a look by going tohttp://youtube.com/watch?v=QHmZf7_JUwg, along with a vox pops video out athttp://youtube.com/watch?v=yie79qnyP9s that completes the picture on this special Sunday soiree. And this coming weekend the team do it all again, they already getting us guessing with a silhouetted picture of the next "Secret Sunday" star, although have given us a clue by telling us that "…our next surprise performer has written tracks for Kylie Minogue & Diana Vickers…" (heads already scratching), meaning there's only one way to find out by making a date with Lo-Profile & having ears glued to http://gaydarradio.com.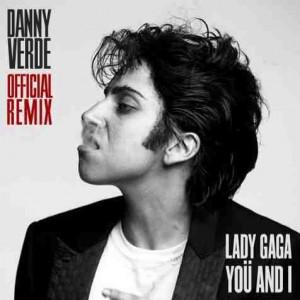 Majestic Mix
With our highlights of last Thursday through Sunday pretty much sown up, we turn to our moment, our track & our tweet of the week, two of the three pretty tricky as, having been laid low again with our stubborn shoulder strain, we have no nibble size review or other tweets to draw on and moments looking at our four walls wouldn't prove that interesting. So, that leaves our track of the week, this being a simple & straight forward decision, as Danny Verde's remix of Lady Gaga's "You & I" gets the vote, outstripping other contenders hands down and in the process zooming up our 2011 chart. We featured it in our Music special feature, "Protégé Players & Producers" and then also shared a superb YouTube video to accompany the track, very much celebrating the male form & the perfect picturescape to this dubbed Danny dream of a track athttp://youtube.com/watch?v=Wokw8JMTedc, while you can catch this tremendous track in full vocal remix form by going to thttp://soundcloud.com/holabstudio/lady-gaga-you-and-i-danny.
Right that's just about it for what was originally planned as a shorted & more succinct version of our former That Was The Week That Was round-up, but for this first "Weekend" edition has proved much more lengthy. However, with our planned return to the clubbing circuit, taking in Onyx on Friday (4th Nov) and Beyond on Sunday, coupled with plans to make future round-up's more inclusive, we should be back into the usual grove by next week, although leave you by saying that you that that if you want us to shout out for your favourite bar, club or event that rocked & rolled over the coming weekend, then link into us via our main Facebook page at http://facebook.com/discomattlondon and plaster our wall with your details or then drop us a line now at matt@discomatt.com. And if you see us out & about then please do come say hi & join us by making your mark on That Was The Weekend That Was. (DISCO MATT)