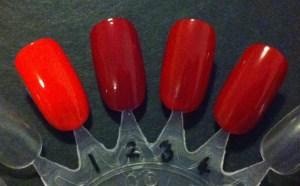 With the party season approaching, what better way to showcase your talons than with a coat of Red polish to give that festive feel.  I've selected 4 of my most favorite red nail polishes from my collection to share with you.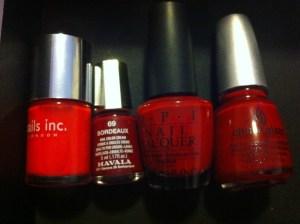 From L-R
Nails Inc St James, Mavala Bordeaux, OPI Big Apple Red, China Glaze Ruby Deer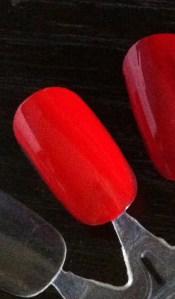 Nails Inc St James  (£11.00) is one of my most favorite Reds, it's pillar box red in shade and is such an amazing classic color.  I find the polish dries to opaque in two coats and has a lasting time of approx 3 days before starting to chip and that is when wearing a topcoat.  Because the lasting time on this polish isn't fantastic it really is more of a party polish than a week-long work polish.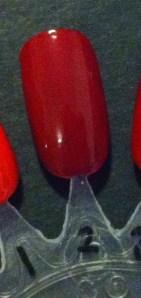 Mavala Bordeaux (£3.50) Is a beautiful rich red that dries to a beautiful glossy sheen in two coats.  I always use a base coat when using this polish as it does have a tendency to stain the nail.  The Mavala polish is not as bright as the Nails Inc St James meaning it could happily be worn to the office.  I usually get 4 days wear before chipping starts with this particular formula.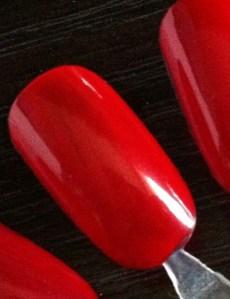 OPI Big Apple Red (£11.00) is one of the most beautiful red colours I own and a must have in any collection.  What I love most about this color as it's not too in your face as far as reds go, it's not a typical fire engine red as it has a great deepness to the color .  2 coats are all you need for 7 yes 7 days of nail polish wear.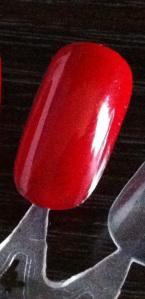 I've been a bit naughty by including China Glaze Ruby Deer as my last polish as it's very difficult to get hold of now so ebay or a blog sale is probably your best bet but believe me when I say you will be glad you searched for it!  This polish is a bright creme red that looks amazing on any skin tone.  like all of the other polishes I've selected to showcase, 2 coats is all you need.  The China Glaze is probably my favorite formula out of all 4 polishes and is also the longest lasting at 9 days with a base and top coat.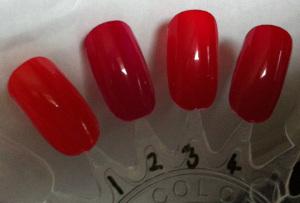 Do any of my selected reds come under your list of favourites?  What is your current favorite red for the festive season?