For scrumptious starters there is an ample appetizer of awesome afterhours autonomy, followed by a majestic mains mountain of scintillating Spanish supremacy, this three course clubbing colossus picture completed by a dream of a dessert, cream of the crop filled captivating clubbing collaboration. Yes, it's Easter, which can only mean one thing "The Big Ticket" is back, Disco Matt delving into the detail of this most prolific & popular of packages.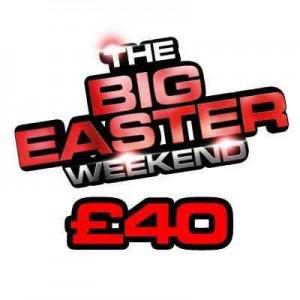 There are a small handful of dates in our disco dance diary across any given year that are just that, a given certainty that we will be stepping significantly out onto the capitals clubbing circuit, Christmas & then New Year naturally close to the top of the tree, while the trio of bank holiday weekends, the two in May & the one in August, generally tugging hard on our house music & scene strutting strings. Then of course, there is Pride weekend, and while it does not boast an extra day off work, we tend to throw ourselves into a packed weekend of parties regardless, while as we cast our eyes into 2012, we see a brace of other examples where stepping out on the scene will be a given, The Queen's Jubilee one, and, The Olympics another, both sure to prove hedonistic highlights for many, or at least a great excuse to capture a collection of clubs. But when it comes to those special stepping out onto the scene weekends, Easter is difficult to beat & better, not least that the weekend here genuinely starts on a Thursday night and, if you are so inclined, it can carry you through to the flowing Tuesday without your feet touching the homeward bound ground.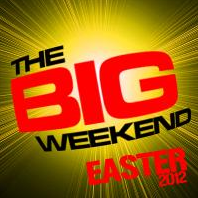 So yes, Easter is right up there with the best weekends of the year, probably topping our tree of choices, but with so much going on and four, sometimes five days to soak up the splendours of the scene often means a substantial & sometimes severe hole can be burnt in the pocket, after all its not just the drinks that cause a dent in your dollar, but racking up six, seven or even eight clubs can be a very expensive experience indeed. However, we are pleased to say that one section of the clubbing community has recognised that fact, a corporation that pretty much holds sway on the capitals circuit this Easter, with no less than eight events stretching from Thursday to Tuesday, although acknowledge that Sunday & Monday are the precious prizes in the clubbing calendar on this holy weekend of the year. So, having launched their hugely successful "Big Ticket" package back in 2010, have brought it back with a bang for this coming weekend, combining a trio of clubbing treats into just one entry pass, a ticket that gains you access to three of the biggest bashes in London, not only offering a delightful discount, but negating the need to carry a collection of tickets in your pocket, your purse or your wallet.
Now that's the concept, but what the "The Big Ticket" offer you this Easter? Well, when we make mere mention of Beyond, WE & As One, you will probably recognize these as the premier picks in any weekend, let alone Easter, ach one having proved, time after time, roadblock events and very much THE places to be & be seen stepping out on the scene. So, with just one ticket, this towering three course clubbing collective is right at your fingertips and all for the singular price of just £40, yes pretty much the deal of the century when you consider just how colossal these clubs brands are, WE riding a worldwide wave crest that has left the likes of its Spanish compatriots SuperMartXe & Matinee very much in the shade, while what we have said about Beyond in the past still holds true, this breathtakingly brilliant brand having ridden its own wave crest for as long as we can remember, proving that, even on regular weeks, all roads lead to its doors. But then we turn to As One, a concept born a little over two years ago, but stormed the scene from the outsight, the bringing together of clubbing minds, spirits & souls the epicentre of its success and, having forged a new path this NYD, sees some of the biggest names in capital clubbing come together in a capitavting combination that, just like this Easter weekend, is hard to beat or better. So with the sales pitch definitely driven home, we know you know that "The Big Easter Ticket" option makes complete sense, meaning its just now a case of clicking on this online link and securing your pass to this towering trio of treats, http://orangenation.clubtickets.com/gb/2012-04/07/the-big-ticket-easter-weekend the place to go and for just £40, it is really a bargain you cannot beat, but this unbeatable bargain it doesn't stop there, as "The Big Ticket" gets you free entry to both Onyx & A:M (more on that in a mo), meaning that, in reality, it's a quintet rather than a trio of treats. However, if you prefer to grab one in person, fear not, as the same £40 package is available at Soho outlets Prowler, Clone Zone & 50.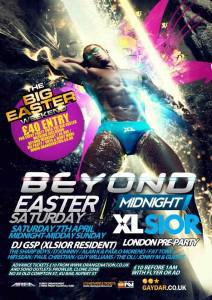 Now that's "The Big Ticket" itself, what about the trio of treats? Well, in the tradition of a fabulous three course meal, let's kick off with the starters first, but this is no small portion, rather a most ample appetiser, as Beyond is the brand to kick start this towering three course clubbing collective, the team not only pleased as punch that the brands backyard is back in business, Area already benefitting from some nip & tuck changes, but will be extending the clubs offer this Sunday to their now famed "Midnight" format, that means our (yours too we are sure) favorite & most awesome of afterhours gets going this Saturday (7th April) or as we prefer to call it, zero o'clock on Sunday (8th April), running a full twelve hours till midday on Sunday, showcasing the best that the brand has to offer in is terrific team of London D.J. residents, promoter Steven Sharp having confirmed the line-up exclusively to us, which includes Hafiz Sean & Paul Christian in the "Beyond RAW" room (formerly the Chapel space) with the welcome return of our Seville showstopper, Gonzalo Rivas, But it goes one, as in the "Beyond Da Disco" room (formerly the terrace), we cannot contain our excitement, as Jamie Head makes a welcome return (please not at the same time as Steve Pitron), while The Oli & Fat Tony will rock the space to its foundations, oh and Jonny M will be there too. All that said, the main room will be the main attraction and you better get there early, well before 5 a.m. at least as Steve Pitron makes a resplendent return after a break of over a month with a special classics set to mark his award winning "Ultimate DJ" status and has already warned us to expect complete emotional destruction (you know how it goes…tears, floods & tweets). Then, sandwiching special guest D.J.GSP, who will be flying the XLsior flag with a bunch of euro style & uplifting tunes (check out his podcast at http://orangenation.podomatic.com/entry/2012-03-26T13_16_13-07_00), will be two dynamic duo's, The Sharp Boys & then Alan K  & Paulo Moreno going b2b, this starter segment looking simply spectacular, those without "The Big Ticket" able to grab singular entry either in advance online at http://orangenation.clubtickets.com/gb/2012-04/08/beyond-midnight-easter-saturday-xlsior-pre-party or via Soho outlets Prowler, Clone Zone & 50, more details a click away at http://facebook.com/beyondclub.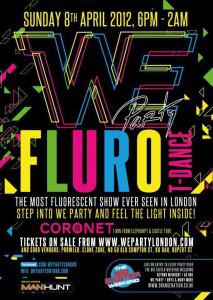 To the second installment or should we call it the magnificent mains meal of this trio of treats and it is the magnificent & massive WE party that takes center stage with a t-dance style turnout that proved ever so popular on New Year's Day, hence the team repeating the winning formula that is sure to prove just as popular as last time. And with a D.J. line up that includes the might of Gonzalo Rivas, Jamie Head & Steve Pitron, it should fulfill all expectations, not least that London is once again showcasing the newest concept in the WE Party pack, "Fluro" the theme & one for the senses, as we have been told to expect the best in visuals, effects & lasers that host venue The Coronet has ever seen, this being no mean feat as previous parties "Pharaoh", Safari" & "Disco" were prolific enough, while "Candy" still remains a high benchmark that keeps both the Spanish & London promotions teams on their toes. And talking of that London tea, with the likes of Tom Fuller, JJ Clark & Ben Kaye on hand, it is strong enough, although with Aaron Elder having very much grasped the nettle in recent events, WE London under his steership is going from strength to strength, the inclusion of Room Service in the prolific package adding to the appeal. But WE Madrid still have their say, promoter Victor Pallas employing his newest resident D.J. Raul Ortiz, a pretty much unknown talent but one that is sure to sparkle under the spotlight. Add to the music magnificence, we have been told to expect "…incredible visuals and stage production, mind blowing special effects, and more gogos and dancers on stage than ever before…" and given just how amazed we were with "Safari" on NY, as well as the fabulous feedback we received about "Pharoah" we can believe it. But it doesn't stop there as room two is all about Room Service, yes Jodie Harsh & her terrific team are back, the dynamic duo that is Kris Di Angelis & Fat Tony on the decks and Jodie even spinning a few sounds herself, while Johanna will be hosting as only she knows best, leaving the main "Fluro" arena in the very capable hands of Ben Kaye & JJ Clark, these two gems also seeing you guestlist lot in as smoothly as possible on the door. And talking of doors, WE "Fluro's" open at that t-dance time of 6 p.m. this Sunday (8th April), running through till 2 a.m., single ticket entry available of course, priced at £18 both online at http://orangenation.clubtickets.com/gb/2012-04/08/we-party-london-easter-t-dance & at the usual Soho outlets, Prowler, Clone Zone & 50, as well as Ku Bar (Lisle & Frith St), while entry will be available on the door, naturally magnificently managed by Tom Fuller, but expect to pay more. And don't forget that every great WE party has a pre-party and its Room Service this Thursday (5th April) that plays host, more info on this out at http://facebook.com/events/305906092809366/, while for further details on "Fluro" itself, go direct to http://wepartylondon.com/.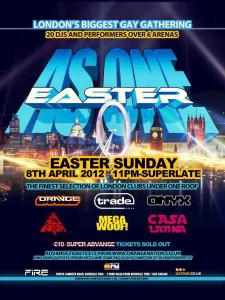 So to dessert, but what a plump pudding it is  although while we may be billing it as the dessert in this three course clubbing collective, it actually has all the credentials for a massive mains meal of majesty, as the captivating collaboration that is As one, pulls together a band of brilliant brands that includes, Orange, Trade, Casalatina, Megawoof, Onyx, & TheMenWhoFellToEarth, all across the expanse is the duo of club spaces that now form the massive complex on South Lambeth Road that many call Fire, but actually includes the separate club Protocol, this new(ish) addition to the Orange Nation empire proving really popular with our straight cousins, not least that the swanky separate bar space & bespoke services fit the bill perfectly. So with The MenToFellTo Earth boys taking up Protocol's intimate second space, Megawoof will be doing their best to steal the show in the Lightbox with Daz Saud & special guest Max Sanna, who played brilliantly b2b with studio recording partner Steve Pitron last weekend, so is very much in the groove and while Protocol is considered separate to Fire, it will be very much part of the action come Monday morning. But naturally it will be the three rooms of Fire that will be the main attractions, not least that the might of Trade, Orange Onyx & Casa Latina will be playing their part in this colossal collaboration and when you consider that the D.J. talent extends to the likes of Nick Tckerniak, Guy Williams, & Rosco flying the Trade flag, while rising star of the scene Junior Moura will head up the Casa team, supported by Doug Silva, Orange being represented by Fat Tony The Sharp Boys & Gonzalo Rivas and Onyx has gender bender's Tasty Tim & Lady Lloyd on the decks. Plus, promoter Steve Sharp keen to point out that across this six room splendour (that includes the Protocol VIP space!) we can expect "…music ranges from pumping house, to deep and techy, commercial anthems, and so much more, with gogos, live performances, fire shows and special As One production…" and given what a simply superb job he did with the last party, giving the As One brand a fresh new feel with these added big & alternative brands, we are very much looking forward to this colossal collaboration to round off our Easter weekend in scintillating style. So, with hosts Chrissy Darling, Elektra Paris, Danny Boyce & Mauricio Ortiz looking after your every whim from doors opening to closing, these timings being from 11 p.m. through till 7 a.m., as with the other two in this trio of "The Big Ticket" treats, singular entry to As One is available, tickets priced at £18 on sale both online via http://orangenation.clubtickets.com/gb/2012-04/08/as-one-easter-sunday or in person by popping into Prowler, Clone, 50 & both Ku-Bar's and while there will be tickets available on the door, due to the popularity of this event, expect to pay much more. However, we have spotted that online early birds for As One are still available, so get in quick & you can grab one for just £15, more info (should you need it available at http://facebook.com/events/323974380990951/.
So, that's "The Big Ticket" offer and with brands Beyond, WE & As One in the package for just £40, you know it makes sense, especially when you consider that with free entry to Onyx "Holy Trinity" & A:M "Headliners" too, it's definitely best to go BIG this Easter, our post "The Pricing Picture" coming up, re-enforcing this truly outstanding Orange Group offer. (DISCO MATT)