We finished the last year on our recommends newsletter right foot, so had to start the New Year on it too, looking at our best choices for where to be & be seen on the scene across Soho, Vauxhall & Shoreditch. But who, what & where top our tree in this part one? Well there's only one way to find out….
Having savoured the best start to a New Year ever, our NY weekend starting with profile on the Friday & also including Beyond, WE "Safari" & As One on NYD, we are most definitely in recovery mode this coming weekend, not least as we catch up on reviews of all four events, along with our 2011 music & club special posts. However, while we may be dipping out of the scene, there is plenty on offer to tempt you out, picking out our top choices across Soho, Vauxhall & Shoreditch with all the detail you need to know along with those all important website links.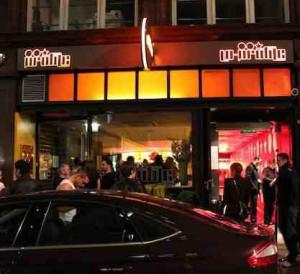 Dynamic Duo
So, with both "recovery" & "resolution" being the bywords of this weekend, we head to Soho first with our top of the tree choice going to Profile & Lo-Profile, both venues very much recovering from a hectic NY weekend, yet having stated as the mean to go on in 2012, have a sparkling line-up of D.J.'s both old & new and experienced & fresh faced, although what they all have in common is descending devotion to their art. And Profile leads the way in both venues three day weekend which starts tonight (Thurs 5th Jan), scene stalwart & swinger Brent Nicholls spinning most likely a blend of beats that includes his trademark nu-funk & disco, while on Friday its new boy to Profile Andy Mac's turn to trip the tune fantastic, this relative unknown quantity out to prove his Profile worth. However, it is Saturday (7th Jan) that gets our biggest thumbs up as our very own protégé player, Junior (Celso) Moura takes to the decks, this following a superb showing last Friday, he hitting our magnificent mark with a majestic mound of music that packed out Profile from the 8 p.m. spinning start to the extended 11.30 finish, so is sure to do the same this weekend, bringing with him his Brazilian "biiiiicha!" bunch who make any party a carnival. Then you add in the drop dead gorgeous bar team, along with some of the best food the scene can offer, not to mention a drinks & cocktails list that is hard to beat and Profile is a brilliant way to both start & finish your weekend in style & sophistication, not forgetting their fab Sunday lunch, served each week from 1 p.m., further details of all these & other yummy pickings available by hitting their website link http://profilesoho.com.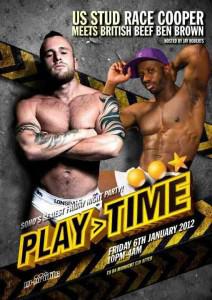 Playful Porn
Then we turn to bigger sister Lo-Profile which really came into its own last year, not least helped by superb social soiree Gigolo. Yet while The Hart's may have moved on, the legacy they have left behind means that Thursday's in the form of home grown brand "Society" are fitting nicely into this now very popular starting night to the weekend, tonight seeing the delightful Doug Silva joins fellow Brazilian Ale Amaral on the decks, both sure to mix up plenty of Brazilian come euro-style beats with more uplifting house hits. But naturally, the weekend proper begins tomorrow night (Fri 6th Jan) with "Playtime" the saucy, sexy & steamy night hosted by the handsome & hunky Jay Roberts, a night which stepped into "Society's" shoes just a handful of months ago, but has really transformed Friday's, record numbers of party people making "Playtime" their preferred choice. And by starting 2012 as they mean to go on,  in D.J. duo Brent Nicholls & Alessandro, the team have two D.J.'s with dynamically different styles that actually gel quite well together, their individual music styles fitting the night quite well, while the eye candy by two porn stars, our own Ben Brown joined by US hunk Race Cooper, both sure to be flaunting their wares both on the podiums & in Jay's backroom boudoir which, if you play your cards right, can be your special bonus to the bravado. Then on Saturday (7th Jan), we find international playboy D.J. Paul Heron very much in birthday mood, although earning a crust spinning some sounds along with playing & close pal Nick Evans, the two working off each other like an absolute dream, so this is one Saturday session you won't want to miss. Now, with each night's doors opening at 10 p.m. & running through to 4 a.m. (3 on Thur's), entry just £5 before midnight each night & guest list options available, for more details on these nights & other happenings, go to http://loprofile.com.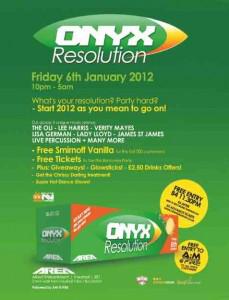 Area Antics
Right to Vauxhall now and our top tree choice simply had to go to The Orange Group, although wading through the choices of parties in the rick pickings that make up their weekend schedule was pretty tricky, should it be Friday foray Onyx, the refreshed & revitalised A:M, the breathtakingly brilliant Beyond, the afternoon audacity that is Later or the club that started it all, Orange?. Well, while we could have picked on all of them, we just don't have the room so with both "Recovery" & "Resolution" part & parcel of our post, the choice became quickly clear, Onyx getting first bite at the cherry tomorrow night (Fri 6th Jan) with their, yes you guessed it, "Resolution" party, the team certainly resolute to make 2012 a play & party hard year, starting 2012 as they mean to go on by re-introducing the very popular £1 shots as one of many glorious gambits to get you in that party mood too. And those gambits certainly extend to the music, as the team have had a little shake-up for 2012, welcoming two towering talents in the form of Hifi Sean & The Oli, both sure to pull a crowd as well as you onto the dancefloor with their brilliant beats, both being Beyond boys too which is a good enough excuse in our books. Joining them in the main room is regular Lee Harris, the pint sized powerhouse that has turbocharged tunes to match his mates, room two is all about pop with Lady Lloyd & James St James, while girl power players Lisa German & Verity Mayes steal the show in the terrace space their harder house & tougher tech tones always going down a treat. Add to & the best managed door entry in the land, masterminded by the terrific Tom Fuller, along with larger than life hostess Chrissy Darling, who will be handing out free Smirnoff Vanilla shots to the first 200 customers through those doors, that along with £2.50 drinks offers and you have plenty of excuses to make Onyx one of your first clubbing resolutions of 2012, "Resolution" kick-starting your weekend from 10 p.m., the club running through until 5 a.m., with entry free before 11.30 p.m. with flyer, ad or guest list entry (details at http://gayguestlists.com/onyx), while advance £5 tickets are available at http://orangenation.co.uk.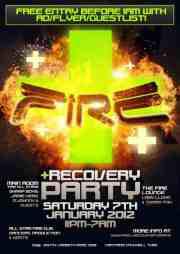 Recovered & Ready
So with "Resolution" covered, it's time for "recovery" to take its turn and in Fire on Saturday (7th Jan) we have just that, as not only can we celebrate this iconic venue being well & truly back among us, we can do as they are doing when they say, "…at Fire we don't have the January blues, rather it's all about the good times…" the still surely smarting from those so called "good times" following the truly amazing As One, which was the busiest one yet, promoter Steven Sharp pitching the party perfectly,  not least pitting Orange against Trade which ended up a marriage of minds that worked like a dream and for the second time in a week at that. So, in what has been become a post bank holiday weekend tradition, Fire will be swinging open its doors for another "Recovery" party, asking you to launch yourselves into 2012 as you mean to go on, D.J.'s The Sharp Boys, D'Johnny, & Jamie Head sure to do just that, while a yet undisclosed guest line-up will add to the superb set of sounds that will surely make this a party to pull in the punters, the lighting, the pyro's and those sparkling stage shows courtesy of Elektra Paris & Shaun Capewell along with their drove of delectable dancers making their captivating contribution. Plus, in the spirit of caring & sharing in what is always a tight first monetary month of the year, Fire is extending their free guest list offer that usually accompanies their "Recovery" events, a simple click onto http://tinyurl.com/2012recovery sure to secure your entry although you will need to get in fast as they have, naturally, limited the free passes. Mind you, if you weren't around at any of the NY parties & grabbed a ticket, then watch out for the boys in & around Soho this tomorrow night & Saturday, while you can always just grab a £10 ticket online or at the usual Soho outlets, the online link being http://orangenation.clubtickets.com/gb/2012-01/07/fire-new-year-recovery-party (wow what a big one!), doors opening at 11 p.m., with the event running through till 7 a.m. and don't forget that a £10 ticket purchase will get you into Beyond for free, yippee!!!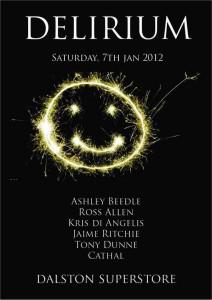 Shoreditch Son Show
So to Shoreditch and a switch from City Road to Kingsland High Street, at it is The Dalston Superstore (DSS) that gets our Best Bite choice this weekend, and for good reason as our very own Shoreditch son, Kris Di Angelis, is treading the DSS boards on Saturday, while a firm Friday favorite also returns for another madcap meet tomorrow night (Fri 6th Jan), while no Sunday would ever be the same without a trip to "Tutti Frutti" with D.J. Squeaky & friends. But it is the other two that get our focus and Friday first as "Blondie" returns for its inaugural outing of 2012, Liz Bisoux heading up a team of Hi-NRG, electronic & disco D.J.'s downstairs, they also throwing in a bit of garage house music for good measure, while upstairs in the hands of Grizzle, its pop classics all the way, that along with the infamous "Blondie Bar Top Cabaret", not to be missed, plus, with it being free entry all night, that's from 9 pm. till 3 a.m., this is no bank breaker by any means. Then on Saturday Kris Di Angelis brings back the debaucherous "Delirium" to the DSS, with, as our angelic (not) Kris saying "…what better place to break your New Year's resolutions than everyone's favorite disco honeypot, The Dalston Superstore…." he adding of Delirium itself "…is back with quite frankly a banger of a line up…", Kris being joined by fellow resident Jaime Ritchie, while guest jock for this outing is Ashley Beedle, all three spinning electro disco come tech. But, as with all DSS parties (well most) this is a two floor affair, upstairs being in the hands of Tony Dunne & Cathal, with special guest Ross Allen. With proceedings kicking off at 9 p.m. Kris adds, "…it's free before 11pm (£5 after) so even if you've blown your load over Christmas and New Year you can still come and join the fun…" and we couldn't have said it better ourselves, while these events aside, don't forget that The DSS makes for a great food fuel stop off during the day too, all information on offers, menu's & other happenings available by going to http://thedalstonsuperstore.com or by watching the boys tweets at http://twitter.com/dsuperstore.
Right, that's it for our Best Bites on this first full weekend of 2012, but watch out for part two of our newsletter coming up next, when we Short Shout for a dozen or so delights, giving you plenty of other choices of where to lay your partying hat this weekend, whether it be in Soho, Vauxhall or Shoreditch, thereby making sure you "Go There! Be There! (DISCO MATT).