There was the Big Ticket and now there is the Golden Ticket, a pass to not one or two, but three prolific parties on New Year's Day, Beyond, WE "Safari" & As One all pulled into one perfect package for clubbers to concede to, Disco Matt devoting a special focus to each element of this outstanding Orange Group offer.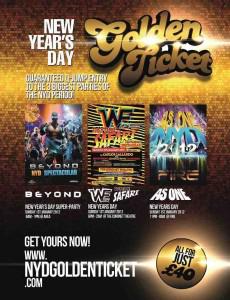 Gigantic Gilded Gambit
If there is one element of the scene that has been a superb success during 2011, it has been the outstanding offers The Orange Group have complimented the capitals clubbers with, plenty of discounted entries to a whole wealth of wonders throughout the year that have maintained its position as the premier gay clubbing promotions machine across the London landscape. Yet a further element that has proven a runaway winner is the ticket combination that has manifested itself across all the extra length weekends of 2011, Easter, Gay Pride & the August Bank Holiday three examples where the so called "Big Ticket" has rolled two/three club offerings into one and at an exceptional reasonable price at that. But what this concessionary combo has also achieved, is a fast-track entry to all the clubs involved, along with the dispensing of that need to hold individual tickets for each event, an idea in its conception that has proven a fantastic formula for a ferry load of folks flocking to the feast of forays on these extended party weekend's of the year. So, with New Year's Day on our doorstep and with the "Big Ticket" now becoming the "Golden Ticket", it was a fore drawn conclusion that this delightful deal would get our devotion & recommendation, delving into the detail of the package & its offering, then giving you that all important online link.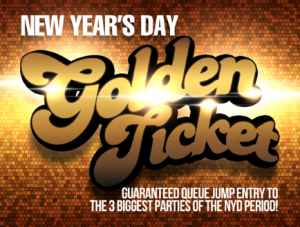 Hottest NYD Ticket In Town
So, what does this "Golden Ticket" actually offer? Well, in the words of its sponsor, The Orange Group's primary promotions director, Jonny Marsh, has told us that "…it represents the hottest ticket for the New Year 2012, not least as it combines three of our most prolific parties of the period…" that of course being Beyond NYD, WE "Safari – Daytime" & As One, the latter returning after a s slight re-shuffle (more on that in a minute), Mr Marsh adding that this "Golden Ticket" "…gets you guaranteed queue jump access to all these events this NYD and offers exceptional value for money at close on "early bird" prices that you cannot beat…". And we certainly aren't arguing with any of that as in Beyond, WE & As One, you have three premier parties that are sure to draw roadblock crowds, especially given their prolific performances throughout 2011, that fast track pass becoming your essential entry, or as the team prefer to say it, "…your golden ticket…" to these gigantic gatherings. But how exactly does the "Golden Ticket" work?, Well, it's pretty simple really, you make your online purchase at http://orangenation.clubtickets.com/gb/2012-01/01/the-nyd-goldent-ticket-2012, and when you arrive at your first event, swap your online ticket printout for your "Golden Ticket", which we are reliably informed will be in the form of a credit card sized golden plastic ticket for you to fit neatly in your wallet, purse, ciggie box, etc, leaving you to party away to your heart's content from Beyond start to As One finish, safe in the knowledge that that important queue jump at each event will secure your speedy entry and all for just £40.
Scintillating NYD Start
Now, while £40 may sound quite a lot, when you compare it to regular New Year prices which can be £15, £20 or even £25 for just one event and with this "Golden Ticket" you get three parties for one, the first being the brilliant Beyond, the "all roads lead to afterhours" that has continued to ride its wonderful wave crest during 2011 and looks set to start 2012 in superb style, meaning it will definitely be THE place to be & be seen as New Year's Day begins to unfold. And, the team will be drawing on one of the most powerful team of resident D.J.'s for this first event of NYD, the usual three rooms of fun swinging open to recapture the thrill & excitement that Beyond has delivered, week in week out for the last twelve months (and more!!) Mr Marsh remarking that "…this party last year was one of the biggest ever, boasting a capacity crowd, and three rooms of incredible music…" adding "…miss this year's and you will definitely miss out…". So, having done just that on last NYD, even the flu attack we are suffering with won't keep us away, not least that the main room will be sporting the likes of The Sharp Boys & Alan K, along with superstar Steve Pitron who will surely be sending us on that rollercoaster ride of tearful emotions with his terrific tunes. But with Gonzalo Rivas, Hifi Sean, Paul Christian, Fat Tony The Oli & Jonny M involved too, as well as a the dream team of dancers headed by the enigmatic Elektra Paris, this is one Beyond we cannot wait to savour & succumb to from start to finish, that start keeping to the regular time slot winning formula, as Area's doors will be opening at 6 a.m., the event running through to a planned 1 p.m.finish, while should you opt out of the "Golden Ticket" then fear not, as separate advance tickets at £12 are on sale at the usual Soho outlets, Prowler, Clone Zone & 50, as well as online at http://clubtickets.com.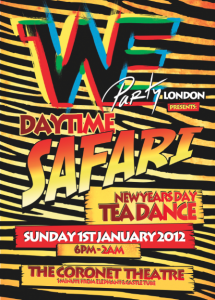 Safari Sure To Sparkle
Then there is the second slice of the "Golden Ticket" threesome and what a second slice it is, as is the award winning WE is back, the party that launched in London just over 12 months ago, but literally took the scene by storm, fighting off the snow clasping the capital at the time to show the way for a succession of superb shindigs. With the NYD "Attacks" event still planted firmly in our memories, not least due to pulsatingly prolific performances from Spanish resident D.J. Carlos Gallardo & P.A. Peyton, whose showing's were simply superb, we are pleased as punch to see Mr Gallardo in the line-up for this year's NYD event, "Daytime Safari" the theme and a t-dance timing the shifted slot, while with The Coronet as the host venue and that winning formula of dynamic & incomparable LED displays, exceptional effects, lasers & pyro's package are all pretty much unchanged, meaning this should be yet another WE party to remember & add to the captivating catalog that includes "Candy", "Heroes" &, of course "Disco". And it seems that with a main room D.J. team that includes a returning & resplendent Gonzalo Rivas who has devoted a podcast pressing to the event (check it out at http://soundcloud.com/gonzalo-rivas/we-safari-nyd-2012), along with Beyond boys Jamie Head & Steve Pitron, we will be hard pressed to avoid this event, especially as social soiree splendour Room Service also returns to take over the upstairs space, Jodie Harsh & co bringing back residents Kris Di Angelis & Fat Tony to the fore. Add to all that a special guest PA (we are wondering already!) and this is definitely looking like another magnificent meet, although please note that WE will be opening, not at its usual time, but earlier at 6 p.m. this Sunday (1st Jan), the club running through to a planned 2 a.m. finish, advance tickets priced at £18 available via http://wepartylondon.com while those usual Soho outlets will also being selling too. Plus, no party would be a party without a pre-party, the "official" one taking place tonight (Thurs 29th Dec) at Room Service, more info on that available by going to http://clubroomservice.com.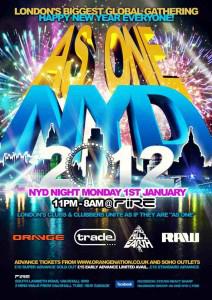 Amazing Amalgam
And so to the final element of this gigantic gold gilded gambit, the awesome As One, a colossus of a collaboration that has its roots in New Year's Day, having stolen the NYD show when it was launched two years ago. The brainchild of prolific promoter Alex Erfan, we deluded earlier to a slight re-shuffle and while we are saddened that Alex is no longer part of the As One promotions picture, we couldn't think of a better man to fill his substantial shoes than Steven Sharp, the man behind Orange  & A:M and an individual that, for us, held the reigns of Beyond brilliantly, bringing us the legendary (we don't use that word lightly) "Tokyo" event, very much paving the way for successive promoters of our favorite club of all-time to follow in his fantastic footsteps. So with As One is a safe & capable hands, what does this latest collaborative combo command in terms of clubbing brands? Well, if you happened to miss out on the magical "Citric Chrimo Combo" (review on its way!) then you can get a second bite at the cherry, as Trade returns to join Orange (which includes a special "RAW" room), together with the beef-tastic Megawoof & East Ender, The Men Who Fell 2 Earth, this As One amalgamation spreading itself right across host venue Fire and into the new(ish) smart & swish Protocol. Orange will be assuming control of Fire's main room, sporting a D.J. cast that includes residents Fat Tony, The Oli & The Sharp Boys, although the exciting news is the inclusion of special guest Smokin Jo, Steven commenting on her inclusion "… we are proud to be inviting her back to Fire following an incredible DJ debut at A:M back in October…" he adding "…Jo really needs no introduction having been a tour de force in the Global dance world for the past 20 years delivering her take on all things House in every corner of the planet; from Ibiza to Hong Kong,  Australia to South Africa  & China to Clerkenwell (Trade!), while the "RAW" Orange element at As One will be masterminded by three magnificent music men, David Jimenez, Hifi Sean & Severino, this fab threesome merging into one with a "..three way play-off of disco tech delights like never heard of before…".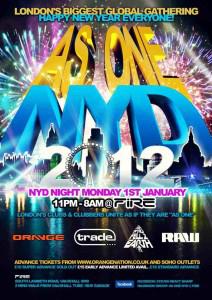 And Again
Then we look at the mothership of clubbing, Trade, returning to once again delight us dynamic drops of dramatic dance delectations, Nick Tcherniak, who absolutely nailed a pulsating performance last Sunday, returning to do it all again, he joined by Lee Yeomans and special Trade guest Anderson Noise, playing an exclusive set for the brand. However, while all these D.J.'s will be craving for our attention, it will be Gonzalo Rivas's own Trade reunion that will command our appearance on our spot, all those magical memories of the Turmills days surely coming back in leaps & bounds, this especially given we missed out on the clubs birthday in October when, as Steven painfully reminds us, "…London's clubbers were out in force when this legendary afterhours celebrated the incredible achievement of 21 years in the business…" he also adding that "…Trade has joined forces with the Orange Nation team on many occasions in recent years including the award winning "Orange Trade" parties and most recently with "Ultimate…" , meaning the second match up in a week should prove a dancing delight. But the As One pitch of players continues, with Megawoof & The Men Who Fell 2 Earth, the former sporting Daz Saund & Micky Galliano, while special guest Mark Moore (of S-Express fame) spearheads the latter, while there will be a special As One hosted VIP space within the Protocol section of this event, although easy passage between all six spaces will be available. So, quickly running down the detail, As One opens its doors at 11 p.m. this NYD (Sunday 1st Jan), running through to a planned 8 a.m. finish, with separate tickets to this event on sale both online at http://orangenation.clubtickets.com as well as across those Soho outlets, priced at £15, although we suggest you get one quick, as last year was a sell-out before the day & this year the early bird tickets sold out in record time.
So, that's the "Golden Ticket" package pinned down (with more info if you need it at http://nydgoldenticket.com) and a final reminder that this £40 option represents great value for money, especially when you consider that even if buying advanced tickets for the three events separately, you would need to fork out much more. But moreover this golden pass gets you that all important fast track entry that we all want on New Year's Day and for that & that alone it makes perfect sense. (DISCO MATT)