It ruled the clubbing waves throughout the nineties, continued to make an indelible impression throughout the noughties and, having come of age back in October, Trade starts the Olympic year with a prolific party that looks set to re-write its own unwritten rules, as from the tunnels of Turnmills, the arches of Arcadia & the modesty of Ministry, it hits the enormity of Electric, Disco Matt delving deep into the delectation that is "A Tainted Love Affair" with this brilliant brand.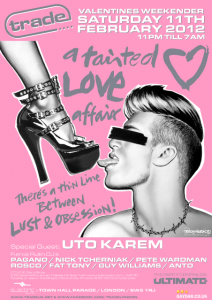 Electrifyingly Exciting
With the capitals clubbing circuit the magnificent melting pot that it is, with the passing of every year comes a bevy of brands that either sink or swim with the tremendous tide change that seems to continually sweep the scene, all this meaning that a mere handful of hopefuls become semi-permanent placements in the ever changing cycle of clubbing fads & fancies that are an undeniable feature of the diversity that is London. So, looking at those heavenly happenings that occupy a space in our hearts, we obviously count our favorite club of all time, Beyond, right up at the top of our select list, while brands such as Matinee, Orange, Later, A:M, & Hard On! rank neatly below, all having the same thing in common, being brands & events that have stood the test of time. Then, more recent times have seen the likes of Lovechild, SuperMartXe & WE find a prominent place in our dancing devotions, although with two seemingly sidelined, while the third rides a wave crest, the jury is out as to whether they will also attain the test of time status of their clubbing counterparts.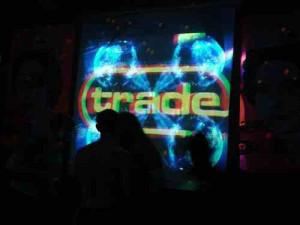 Towering Trade
However, there is one club that, undoubtedly has passed that time test with flying colours & also has reached a prominent place, the nineties seeing its occupy virtually every weekend of ours, while the noughties saw it continue to make a splash on the scene with a sequence of special events, just last year the club celebrating a virtually unrivalled 21 years in the business. We are, of course, talking about Trade, also known as the mothership of clubbing, the trendsetter that is, in reality, made the capital's afterhours clubbing scene what it is today. Yet, having lost its historical seat, the legendary Turnmills in Farringdon, the legendary brand that is Trade has hotfooted it around the capital, landing on the likes of Arcadia, Ministry Of Sound, The Egg & The Renaissance Rooms, even teaming up with Fire for a trio of Orange/Trade treats, while the recently formed brand, Ultimate, has seen our favorite club Beyond, join forces with Trade, the second showing taking place this weekend. But, Trade continues to sport itself on the scene and in Brixton Electric has found a new spot to spin, the much talked about "A Tainted Love Affair" event taking place this Saturday (11th Feb).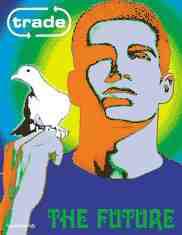 Terrific Trade Mark Touch
So, naturally we could let this momentous moment in the scene schedule pass without focussing on this Trade affair and giving our take on how the change from the tunnels of Turnmills, the arches of Arcadia & the modesty of Ministry will transpose into the enormity of Electric, a theater style venue that, on paper, is not a natural fit to the Trade style of party pitching. Now, for those of you that were around for Brava back in August will realise, this venue is Brixton, formerly known as The Fridge, didn't have the most magnificent of starts, the place far from finished, so what was supposed to be the bright new future of clubbing in Brava, a collaborative concept between the promotions teams of Beyond & WE, fell much more that a furlong short of expectations. However, with the Orange Electric event in November, the tenfold improvements were evident for all to see and so it was just a matter of when as opposed to if, that we would see another showing by one brand or another at this iconic venue. So while it came as no surprise that Trade would be the next brand to brave it in Brixton (we actually thought it should have been Matinee), given the venues this mothership of clubbing has chosen before, Electric was a little surprising, not least due to the enormity of the main room & the obstacles that this will clearly present the team when deploying the usual Trade production. That said, in terms of size alone, the fit is perfect, as Trade events usual attract equally enormous numbers and "A Tainted Love Affair" looks like continuing that trend, while the team have promised that as far as Electric is concerned, they will be "…transforming the main room with new state of the art production, effects and visuals…".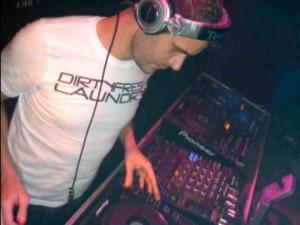 Towering Talent Mr Tcherniak
All that said, for us, Trade has always been about the music, yes Trade Mark's artwork, those mystifying mobiles & other production bits are part of the picture, but without that trademark music, Trade would not be the brilliant brand it is. And for this "Tainted Love Affair" event, the team have pulled in some heavyweights, not least our very own Italian Stallion, Pagano, while other entrants across the two spaces include the legend that is Fat Tony, lite lounge boy Guy Williams & Trade iconess Lady Bianca, while newish boys Ross Homson also features. However, as far as the headlining main room D.J. is concerned, we leave it to the Trade collective in positioning this premier player when they say,  "…embodying the club's forward-thinking music policy Trade has invited special guest Italian Techno DJ UTO KAREM. Who in just a short period of time has produced hit after hit with forward thinking dance tracks that are fast becoming staples of DJ's everywhere. His productions have found him fans that include the likes of Dubfire, Richie Hawtin, John Acquaviva, Marco Carola, Chis Liebling and many more…". All sounds impressive & we are sure he will be, but for us, the star of the show looks like being Nick Tcherniak, the man who stole the spotlight at both Orange/Trade on Xmas day & also on the Trade room at As One, but more than that, as for this "A Tainted Love Affair" event, our Mr T has laid down the first official Trade podcast, which is an absolute corker, very much hinting towards what to expect from his set, so well worth a listen & download at http://tradetheoriginal.podomatic.com/entry/2012-01-31T07_29_52-08_00 (apparently also available via Orange Nation's podcast page, why?????).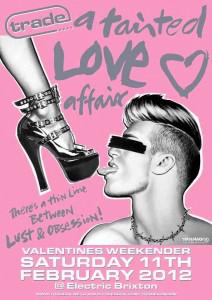 Perfect Poster
That's the music so now to the detail and this Trade "A Tainted Love Affair" in a nod to Valentine's Day, takes place this coming Saturday (11th February) at The Brixton Electric, doors opening at 11 pm. and the event running though to a planned 6 a.m. finish. This is a ticketed event, advance $£15 ones available online at http://www.clubtickets.com/gb/2012-02/11/trade-a-tainted-love-affair, while Soho outlets Prowler, Clone Zone & 50 are selling the hard versions at the same price (sadly all early birds went ages ago), while we think you will be able to get entry on the door, although expect to pay much more (we reckon £20), so you know what to do, that is buy before you try. And naturally, this "A Tainted Love Affair" has an afterparty, Ultimate seeing brilliant brand Beyond join forces with its afterhours auntie at Area from 6 a.m. Sunday morning (12th Feb), joint tickets for both events available via that online link and at those Soho outlets. Plus, we have to mention that this event also marks the official launch of Pagano's "Official" Trade compilation (it's not a podcast folks!!) "Trade – The Dark Side", we hoping that a privileged copy will be coming our way, although watch this space for the download link, we suspect via Kult or Beatport. (probably http://toolboxdigitalshop.com/ too), with more info (should you need it, via the events page at http://facebook.com/events/186695398094718/ or a click away at http://tradeuk.net.
So that pretty much sews up the deal of the dynamic do and needless to say, the music is going to be just awesome, the team will surely pull out all the stops and Brixton Electric will be packed, packed, packed, the "…often copied but never equalled…" Trade sure to thrill from start to finish, meaning that you simply have to "Go There! Be There! (DISCO MATT)