With the social soiree scene mover & shaker of 2011 starting the New Year as it means to go on, Disco Matt takes a last minute look over the contribution that brilliant brand Gigolo will be making when it combines with Salvation at Café De Paris, this very important promotions team hosting the VIP area & balcony.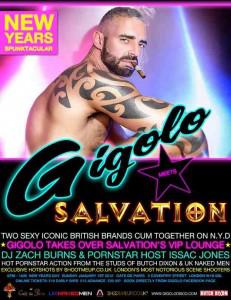 Creative Cafe Combo
When it launched to an adoring audience back in March this year, superb social soirée splendour Gigolo raised more than just eyebrows, the club quickly attracting a fervent following not to mention helping to make Thursday nights the clubbing hot date in the capitals clubbing circuit diary, starting the weekend a night earlier than many other folks, the hip & hop thing to do in the hands of both this & competitor brand, Room Service. Indeed, while some saw Gigolo as just that, competition for its nemesis, what it rather proved was a penchant for partying and both clubs ended up relatively comfortable bedfellows, until, with little or no notice, Gigolo fell off our radar, having lost its seat at home Lo-Profile on Wardour St, rumours rife of brand battles (not again!) forcing promoters David & L.a. Hart to withdraw. However, with colossal calling cries for its return, literally the day after, ringing in their ears, it was just a question of when as opposed to if that Gigolo would be back, its "Cumback" event earlier this month paving the way for a start to the New Year in creative combination with another brilliant brand, hence Gigolo Meets Salvation was born.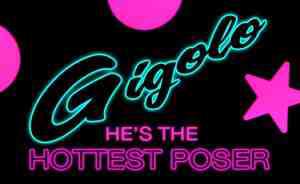 Mover & Shaker Social Soiree Splendour
Always having served up lashings of style & sophistication matched with sexual seduction, the marriage of both Gigolo & Salvation is one that ties a tremendous knot between the two, like the bedfellow situation we mentioned before, this another example of just how well Gigolo sits with its clubbing compatriots, the brand David & L.a. have built, now sitting on pretty firm foundations in terms of both appeal & draw. So, joining forces with a club such as Salvation seems to be a win win situation, both for the two teams involved as well as the capital's clubbers and while comparisons to another connection over in Elephant & Castle will undoubtedly be drawn, Gigolo seems to have made a pretty good decision in laying its hat at Salvation's doors, not least that the style & sophistication that both ooze, should sit very prettily together, host venue Café De Paris the perfect place for Gigolo to flaunt its considerable wares, while we are sure that exceptional lens of David & his ShootMeUp credentials will be working overtime to capture every inch of the incredible images that will surely be abundant in leaps & bounds come tomorrow night.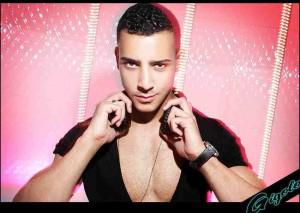 Irresistible Inclusion
So, the photography aside, what is Gigolo bringing to the Salvation NYD party table & what the deal on access to their, VIP area, or what we would prefer to call it, the very impressive part of proceedings? Well, having spoken with L.a. about their contribution to this prolifc party, he went into lengthy detail (we love a bit of length) on what to expect, not least "…a full blown decadent disco orgy with London's hottest & sexiest men…"  we attempting to cool the heat under our collar when he went on to say that "…Gigolo's room will be hosted by porn star Issac Jones and a hot load of gay porn star meat courtesy of UK Naked Men & Butch Dixon…" and having seen them in action for the brand before, you will definitely want to get your slice of this sex pit of porn-tastic play, not least the opportunity of getting snapped with your pick for the stars of this Salvation sideshow, although to be fair to Gigolo, it will hardly need to steal Salvation's spotlight to make a splash, rather compliment the cavorting in the creative clubbing combo. But no Gigolo gathering would be complete without mounds of majestic music and what better a person to fulfill that role that the cute but commandingly capable Zach Burns, our protégé player of 2011 that saw him as the star turn at Gigolo's launch, he being a feature ever since, not least at the last "Cumback" event when he nailed a simply stunning set that had even our weary WE & Beyond worn legs doing the Disco Matt magnificently. With a bag brimming with brilliant beats, Mr Burns has also treated us to a taster of the tons of terrific tunes he will surely turn out tomorrow, his podcast pressing at http://soundcloud.com/djzachburns/dj-zach-burns-gigolo-salvation an absolute must listen as well as addition to your compilation collection and one we love from minute one to seventy seven, so sure you will too, along with his Sunday set at Salvation, Gigolo style, tomorrow.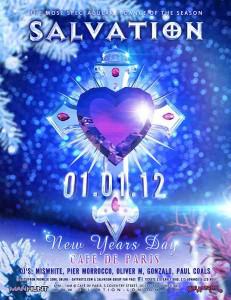 Salvation Serving Gigolo Style
Well, need we say more, apart from run over the dynamic detail of this prolific party, Gigolo taking its place by Salvation's side tomorrow (Sunday 1st Jan), at Café De Paris on Leicester Sq (nearest tube Piccadilly Circus), doors, including Gigolo's VIP ones, opening at 6 p.m. and this magnificent marriage of a meet running through until a planned 1 a.m. finish, although with this Gigolo "Spunktacular" element of the event being held in Salvation's VIP room, area & balcony, you will need a ticket to ride, the VIP package nevertheless one of the best value options around at just £20 (that's only an added £5 to the standard ticket), this also getting you fast-track entry & a free coatcheck, not to mention all the other perks we have covered off & comes with Gigolo very impressive part of proceedings. So, to grab your pass to porn, as L.a. aptly puts it, "…the place where the tunes are pumping and the hunks are humping…", do not pass go or even go directly to jail, rather get locked up with Gigolo at   https://facebook.com/pages/Gigolo/161685023893371?sk=app_156218351098324, that or pop into Prowler in Soho, where the VIP Salvation tickets are also on sale, while for more information on Salvation's servings tomorrow, check out our Recommends post "Spiritual Sunday Soiree" right here, or go to http://salvation-london.com.
So, it certainly looks like we will be taking in this superb Salvation serving, reserving our spot with the Gigolo scene glitterati so if you see us in our select spot, then make sure you come up & say hi, naturally ensuring that you, "Go There! Be There!" (DISCO MATT)