After a pretty topsy turvy summer season which started & ended with hospitalisation, that on top of writing prospect promises that failed to materialise, we point ourselves towards the autumn with renewed vigour, this new found furver in our footsteps seeing the return of our weekly recommends newsletter which we now plan to extend into Thursday's as it seems the weekend does actually start here for many. Plus, while we did experiment with an all encompassing version "Bar Bites & Club Cuts", a move dictated by a certain weekly magazine rag, now that ties have been severed, we are pleased that our best format is back & here to stay.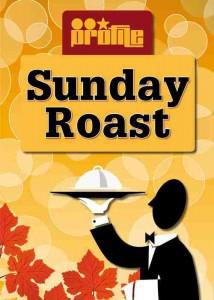 Fabulous Food
So, let's crack on and take a look at Soho first, our top of the tree choice here going to Profile & Lo-Profile, that latter having seen a bit of a shuffle while we were off air, but more on that in a minute. As for Profile, well, it's business as usual down Wardour St way, the ever friendly & gorge bar team making for the most hospitable welcome we know and with plenty of special offers up their sleeves, like the Tuesday "Steak Night", the Wednesday "Burger Bonanza" & their exemplary Sunday roast, we couldn't think of a better place to take a snack or even dive into their considerable menu, the lunch offer of two main courses for £10 looking particularly tempting, while it is worth noting that everything is prepared on the premises from fresh local sourced ingredients. Equally appealing is the weekend music entertainment as the bar boasts regular residents that include Jamie Head, Nick Evans, Nathan Six & Zach Burns, while this Friday (7th Oct) the team are banking on new boy James Whalley to pull in the punters, while on Saturday, regular D'Johnny is highly likely to be in WE Party mood as he warms up the WE worshipers before heading down to E&C himself. So, we think there are more than enough reasons there to entice you to pay Profile a visit sometime this weekend, not forgetting their fab happy hour which kicks in from 4 p.m. daily & now includes cocktail pitchers at just £15, further details out at http://profilesoho.com.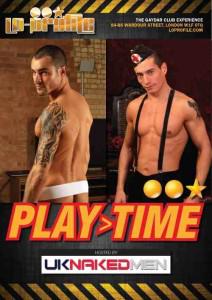 Naughty New Night
Now to Lo-Profile and as we touched on earlier, it's been all change on Friday's while we have been out of action, the weekly social splendour "Society" having given way to new night "Play Time", this very much upping the ante on the raunchy side, with the addition of a bevy of gorgeous go-go's, plus a roving commission of sponsors, this week seeing English Lads play host, while on the decks the exceptional experience of Jamie Head will be complimented by the fresh faced looks & music of new to Lo-Profile, Renato Porto. However, the clubs weekend will have already started thanks to Thursday night thriller Gigolo, the Hart boys David & Lambros bringing another edition of this increasingly popular boutique style brilliance, this week the theme being "Heat" and the musical heat definitely on max with man of the moment, Zach Burns, kick starting the night, Mykonos Xlsior festival superstar George Spiliopoulos jets in add to plenty of Greek heat to proceedings. Then jumping through to Saturday, Lo-Profile assumes relative normality with Nathan Six & Alessandro Londra serving up the sounds, although the weekend is far from over as Sunday (9th Oct) yet another new night hits town, as Gaydar Radio's Phil Marriott hosts a sequence of "Secret Sunday" sessions to mark the radio station's 10th birthday, the night kicking off from 5 p.m. with live shows each week from 6.30 p.m. from house bands, this week Just Like Little People & Ryan Keen featuring, while Mr Marriott will be jumping on the decks too. With advance tickets at just £5 on sale at http://gaydar-radio.clubtickets.com, while entry is also available on the door, this should prove a superb way to end your weekend in superb style, info on this & all happenings out at http://loprofile.com.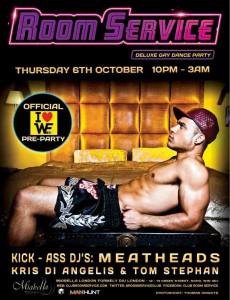 Meat Men
Now to a couple of Short Shouts and first, with our extension to include Thursday's, we give a plug to Room Service, who continue to pull in scene starlets & celebs at host venue Diu, tonight (Thurs 6th) seeing D.J. duo Kris Di Angelis & Tom Stephan give the night a meaty feel ahead of "Meat" which has its monthly meet on Saturday. Also acted as WE's pre-party, Room Service looks like being another heavenly happening, more details available at http://clubroomservice.com.
Other our Soho Short Shout goes to Rupert St who continue to pull in the punters, despite the current downturn in consumer spending, the pink pound apparently still quite buoyant, either that or a sense of escaping from reality still alive & kicking. And to help the happy mood are its resident D.J's that play out each Friday, Saturday & Sunday, this week seeing our foxy female D.J. Minx sort the sounds on Friday, while its Alessandro Londra that steers both Saturday & Sunday, more info on the bars food & drinks offers out at http://rupertstreet.com.
Right let's move down to Vauxhall and with the lion's share of activity it will come as no surprise that The Orange Group get our Best Bite devotion this week, the launch of new club night Le Boy one of the more exciting prospects and one which we covered in a Weekend Focus post, all the detail out at http://discomatt.com/web/2011/10/recommends-false-start-fixed-le-boy-the-launch-friday-7th-october-weekend-focus/. But while Le Boy steals some of the Friday spotlight, Onyx have their own bite at the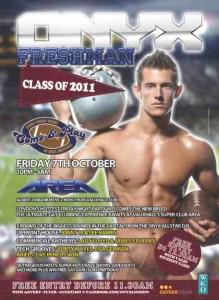 Friday Fresh
cherry with their "Freshman – Class Of 2011 Freshers Party" very much aiming at drawing in those student types that are about to knuckle down to a term of study but need a Friday fling to get them in the mood, D.J.'s Jonny M & Lee Harris pumping the main room, while Onyx's own Verity Mayes joins Lisa German & Ariel in The Terrace, The Chapel space all about pop with Lady Lloyd & James St James. Jumping to Sunday and, as usual, all roads will lead to beyond, not least tempting those WE Party boys & girls that want to continue their cavorting, this weekend marking the resplendent return of Beyond's very own Steve Pitron which can only mean one thing for us, yes you guessed it, that emotional rollercoaster ride, so watch this space for a special Extra Bites post due out on Saturday morning devoted to Steve's return. But the offer across the weekend also includes Gravity tonight (Thurs 6th Oct), Later on Sunday & Orange on Monday morning, although Booster no longer takes place & Saturday will be given away to WE (more on that in a min). Full details of all these parties can of course be found by going to http://fireclub.co.uk/gayparties, as well as adding your preferred club option to http://gayguestlists.com while http://clubtickets.com is also worth a trawl for advance tickets & event details. However, how could we forget Queer Nation who celebrate their 21st birthday on Saturday (8th Oct), pretty much a record on the scene, Fire the venue where it all happens, our second Extra Bites post of the week devoted to this momentous occasion, so watch this space for that.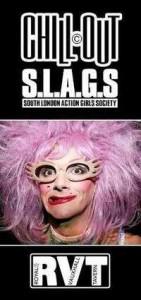 Sunday Sensation
To a couple of Short Shouts now and the venerable institution that is The Royal Vauxhall Tavern (The RVT) getting our first shout, a weekend packed with entertainment kicking off with "Rooster" on Friday (7th Oct), a night for "…art makers & bedroom porn stars…" and with Jonjo & Timberlina in the driving seat, anything could happen, while regulars "Duckie" on Saturday & "S.LA.G.S./Chill-out" on Sunday will surely find their fabulous followers, more info on the full seven days of activity available by going to http://thervt.org.uk.
For our second Short Shout we venture just down Kennington Lane where we find The Eagle who also have a weekend full of engrossing events, the manly "Tonker" on Friday & the madcap "Horse Meat Disco" on Sunday (9th Oct) sandwiching new(is) night "Goodfellas" on Saturday, a our foursome of fella's on the D.J. decks sure to hit the mark, Leonardo Glovibes, Micky Galliano & Severino being joined by Nico de Ceglia, plenty of Italian & Latin influence sure to pump up some passionate action in this raunchy resting place, further details of all three nights out at http://eaglelondon.com.
Now, moving onto our alternative choices and whilst not alternative in nature, given its location in Elephant & Castle, WE Party certainly sits here in our rundown of happenings, their "I Love WE" event taking place on Saturday (8th Oct), our Weekend Focus post "Banking On Brand Buoyancy" telling all at http://discomatt.com/web/2011/10/recommends-banking-on-brand-buoyancy-we-party-london-i-love-we-saturday-8th-october-weekend-focus/, leaving a clear path to Shoreditch splendour, East Bloc, to grab our Best Bite slot. And for good reason too, as not only did the venue celebrate its first full year in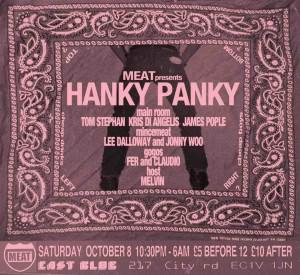 Hankies At the Ready
operation last Friday, no mean feat in the tricky trading tide its finds itself within, but with big brand Gutterslut now firmly established at this Old Street operation, the venue's owner & promoter, Wayne Shires, couldn't be happier, a chance meet on the street just yesterday confirming that. But this weekend, it's all about another brilliant brand which East Bloc boasts and one home-grown at that, as the magnificence of "Meat" returns for another of its monthly sessions, the theme this time round being "Hanky Panky", not that they really needed to as plenty of that goes on usually anyway. However, as co-promoter Kris Di Angelis explained to us, "…the deal is that we hand you a hanky and then you have to do whatever the hanky say's that you are into…", which in our case could include a multitude of sins, but will certainly throw plenty of extra spice into this already meaty meet. And that "hanky" theme will also extend to those that are familiar with its calling sign, for instance "…if you're a top, wear it in your left back pocket, if you're a bottom then it's the right…." while Kris also adds, "…into oral? light blue is your colour, cross dressing? light lavender, size queen? mustard yellow, military man? Khaki, food play? lime green, no limits? orange, spanking? fuchsia, cigar play? tan…..and so on…", so it seems the usual hanky panky will be even more so, although the music is also pretty much guaranteed to be top draw, Messrs Di Angelis & Stephan (that's Tom) will be joined in the main room by James Pople, while over in the "mincemeat" space (we love that!), Jonny Woo & Lee Dalloway entertain. Kicking off at 10.30 p.m., check out all the detail via http://facebook.com/event.php?eid=271734846182429, while take a look that the latest monthly video at http://youtube.com/watch?v=nGjCdTy6s44 which spells out the hanky panky!!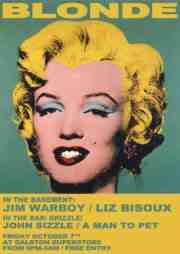 Blonde Bombshell Bash
Right to a couple of Short Shouts and firstly to the Dalston Superstore up in, yes you guessed it, Dalston, the team turning out a weekend full of events, Friday seeing "Blonde" take charge, the likes of Jim Warboy & A Man To Pet on the decks, while on Saturday (8th Oct) the Sink The Pink crew are back with the ever popular "Happy Shopper" with one of east end's best, Prince Nelly, on the decks among a host of others. Then to finish off the weekend, Squeaky pulls in loads of friends for "Tutti Frutti", details of all three events available by going to http://thedalstonsuperstore.com.
Our final Short Shout for this newsletter goes to Exilio, the Latin niche night that has been going now for an impressive 15 years, such is its fervent following, so the team mark this momentous occasion with a special celebration down at Guy's Bar on St Thomas St, London Bridge, salsa, meringue, cumbia & plenty more on offer. Plus being relatively early doors, starting at 9.30 p.m. this Saturday (8th Oct), WE enthusiasts can kill two birds with one stone, but be prepared to fork out £10 for this birthday bash.
So that's just about it for our newsletter return, while as for our weekend, well it looks like Le Boy on Friday, Meat on Saturday and then, without question, Beyond on Sunday morning, we already having been put under starting orders by Mr Pitron so will be on our spot ready for his set. So, if you see us out, come up & say hi, but whatever you do & wherever it finds you, have a great weekend & remember to "Go There! Be There! (DISCO MATT)