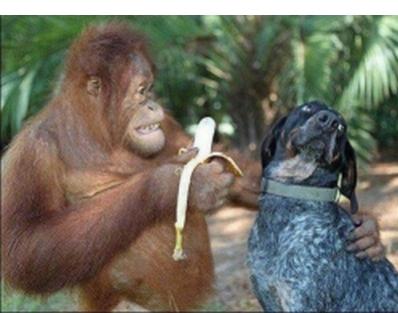 It would have been enough to say "I'm vegetarian" twenty years ago, and the subject was left at that. Now, however, hearing "I'm vegetarian" is akin to someone stating their taxonomic kingdom (animal) rather than theirspecies (Homo sapien). 
We need to know what species of vegetarian they are before we pitch our culinary skills against their dietary requirements and invite them to dinner. They can be third generation ultra orthodox, or fashionably vegetarian for art gallery premiers; and maybe your dinner party.
Who can match the vegetarian term with what they can or can't eat?!
"You made my meal next to the butter container? Sorry, I can't eat that; I'm vegan."
"I'm lacto ovo vegetarian, unless I'm ovulating. Then I'm just lacto vegetarian."
" I'm omnivorian. Half-caf de-caf flexitarian, not shaken but definitely stirred." 
...something like that.
ONE CAN CATEGORISE VEGETARIANS LIKE I WOULD PAST BOYFRIENDS

Boyfriend exhibit A: The uncommitted:
Flexitarian :  Vegetarian on week days, and meat eater when they dine out, or go to Grandma's Sunday Roast.
Pescetarian : Vegetarian but they eat fish.
Pollo Vegetarian : Vegetarian but they eat chicken.
Lacto Vegetarian: Vegetarian but they eat dairy.
Ovo Vegetarian : Vegetarian but they eat egg products.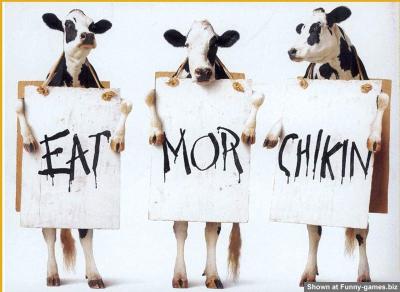 Lacto Ovo Vegetarian : This is the common species of vegetarian. They eat a plant-based diet as well as dairy and egg products.
Boyfriend exhibit B: The radical idealist, but attractive because he's so interesting:
Vegan : Vegetarians who eat no animal products whatsoever, which eliminates most restaurant food, wines*, liquor, pasta, bread, and desserts.
Boyfriend exhibit C: And the "he was exotic at first, but now he's freaking me out!":
Fruitarian : Vegetarians who only eat foods that qualify as fruit.  And, after the fruit suicides by taking the great leap from the tree independently, lest the fruitarian would have to commit murder and harvest the fruits from the plant.
Who has time for the uncommitted? To hear them explain why they choose to eat dairy but not eggs though sometimes on the full moon, fish is ok. Or if its chicken burrito night, then yeah, chicken is cool.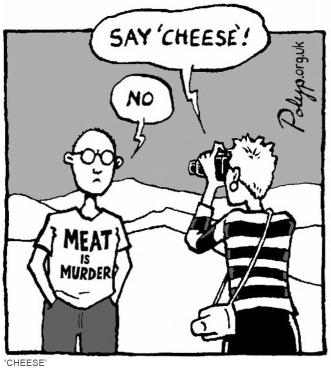 As for the other end of the vegetarian spectrum, fruitarians are the rarest of all species.  If I ever met one, they would indeed be one of the most radical people I encounter. Stalking vegetarians, who wait for the sound of that next Thud! : the promise of another meal!
And vegans? I embrace them like my long lost child.  These days it's a much easier existence and so they flourish. Middle Eastern and Asian-style cuisines are accommodating, as are café's with soy-based beverages, such as cappuccinos, dandelion and chai lattés.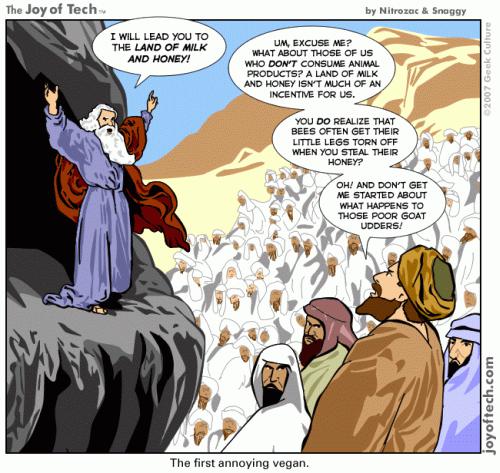 The RAAAA! Food Diet

One vegetarian diet that has been trending for the past few years is that of the raw food persuasion.  The meat eaters' version of this would be the Paleo diet, but that's a fleshy story for another day.  Raw food vegetarians believe that it was nature's intension to eat only raw fruits, vegetables and sprouted grains.  Personally, this way of eating makes me drool, but I don't think that I am of the same mold as others.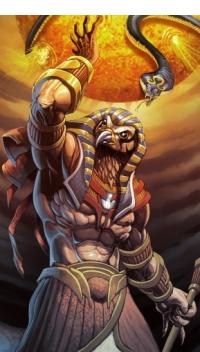 Egyptian Sun God, RaActually, the word raw goes back to the Egyptian term, Ra – which is the name of their sun god. In ancient times it was understood that when people ate raw food, they ate foods relative to the season.  To eat Ra, or Raw food, one harmonized the viscosity (fluidity) of their blood to the earth's seasonal temperatures through their diet. 
In warmer months our body moves blood quickly, and disperses internal heat through perspiration. The quality of our blood is more fluid, orviscous.  And by "coincidence" the produce that is in-season is characterised by its high water content; nature's way to replenish body fluids lost by the summer heat.  Think watermelon, cucumber, grapes and salads.
As the season cools our blood flow becomes slower, denser. Food that grows in these seasons are also denser and don't hold a lot of water.  Because of this, these foods are meant to be heated by fire, which traps the heat and brings warmth to the body. Think root vegetables and dense, low-lying vegetables such as pumpkin, squash and zucchini.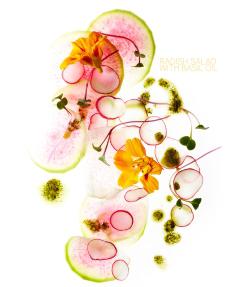 Eating locally grown, in-season produce ensures that we maintain our health as the seasonal demands on our body change.  Having said that, we can still find seasonally-adjusted ways to eat uncooked vegetables and fruit every day, to top up our mineral stores and maintain the ever-important alkaline digestive system. 
By this definition, I am a pinkie vegetarian raw foodie.  Or, on that one irritable day every month, a RAAAA! Foodie!
 *Wine often contains one or more of the following additive:
Isinglass: Special gelatine made from sturgeon fish bladders.
Gelatine: The normal stuff. Made from boiled cows and pigs hooves.
Albumin: Egg white.
Caseins: Milk protein.
Cows Blood: Seriously. This ingredient was banned following the European Mad Cow's Disease outbreak; but word on the Spannish streets is that its not enforced.
That glass of red sounds tasty doesn't it? Who came up with the idea of adding these ingredients to beautiful, pure, fermenting grapes? Did a sommelier in France say one day, "You know François, I think if you just added a drop of sturgeon fish bladder, your vintage will taste heavenly".