Ever since I heard about Pure Food and Wine on Irving Place in Manhattan, I have been dying to try it.  I have been to their retail food store, One Lucky Duck, in Chelsea Market, and have entertained guests using their cookbook, but until last weekend I had never been to the restaurant.  You know how sometimes, when you wait so long to do something, it doesn't live up to the hype? Well, this did!

Pure Food and Wine's boasts a raw vegan menu.  Nothing is heated above approximately 118 degrees in order to preserve vitamins, minerals, and enzymes.  During winter months the restaurant seats 64 indoors and 20 in the back dining room, but in the spring and summer you can enjoy the private back garden which is where we dined. 
It was so hot on Sunday that the first thing I ordered was from their shake (they offer 12) and juice (they offer 10) menu.  I had Swan Greens - cucumber, spinach, dandelion, pear, grapefruit, tarragon, spearmint and yuzu.  Seriously green, seriously refreshing.
On Saturday and Sunday from 12-4pm you can order off the brunch menu...items like broccoli & cheddar cashew quiche, crepes with hazelnut cacao spread, cauliflower and corn cheese grits or a fruit parfait with hempseed, buckwheat, dried fruit, granola and compotes...they all sounded good but just not what I was in the mood for.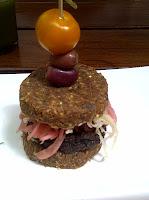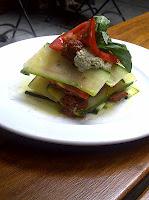 There are 9 salads on the menu, plus a make your own option with awesome ingredients like arame, hijiki and sweet pea shoots.  My cousin and husband had the taco salad with cashew sour cream, spicy taco crumble, and cilantro lime dressing - I was happy to stick my fork in it (a few times.)  My other cousin got the zucchini and tomato lasagna with sun-dried tomato sauce, pistachio basil pesto, and a pumpkin seed macadamia nut ricotta...yeah, I sampled that one too.  Delish!
I ordered the portabella and hempseed burger (slider): sprouted manna bread, caraway kraut, lapsang souchong tea smoked cashew cheese, house made mustard and pickled pink onions.  It was incredibly satisfying despite its small size!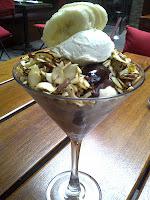 For dessert we got a sundae with nut-based ice creams, chocolate sauce, sliced bananas and plenty of slivered almonds and also shared the moon pie, a chocolate brownie vanilla cream sandwich.  Take any vegan or raw food skeptic there...they won't be anymore!
The restaurant has been featured twice in New York magazine's "Top 100 Restaurants" list and has appeared 5 years in a row in Forbes magazine's list of "All Star New York Eateries."  It was easy to taste why!