the phrase "get calm and carry on" has taken on a life of it's own.
it is everywhere you look these days.
to be honest, i don't get it.
i haven't found that phrase comforting in a time of stress or panic.
i think it's because i need a better understanding of the history.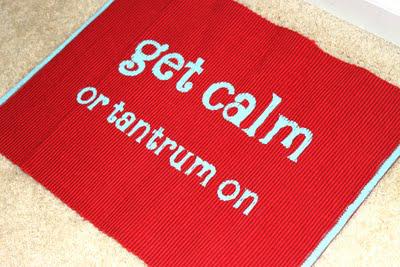 with that said - i am
finally
jumping on the band wagon.
bubs is turning two which means the "terrible twos" are right around the corner.
if there is such a thing - i'm not convinced it is any different than one
i have wanted some kind of "naughty" spot for awhile.
i want one spot where he can sit, stand, flail around on the floor, whatever!
i took the infamous "keep calm and carry on" and changed it to "get calm or tantrum on".
it was really easy to make.
i took a place mat that i got for $1.99 at target and painted the words using freezer paper as my stencil.
this was my first freezer paper project and i am very impressed with how well it adhered to my place mat and how easy it lifted off.
i used regular acrylic paint but fabric paint would probably work best.
it took about three coats with the acrylic.
just use your best judgment.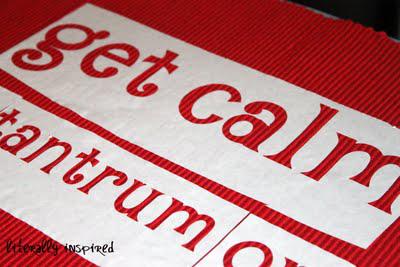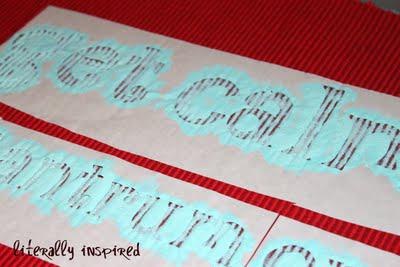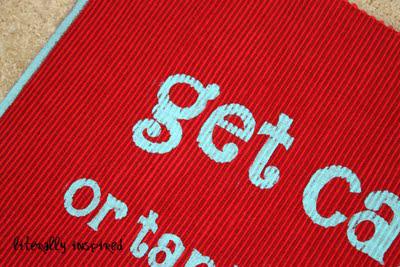 what are the chances of him actually sitting on here for timeout?
i asked him to sit on it for the sake of photos and i got a giant "eh ah" which means no.
thank you so much for stopping by!
i hope you enjoyed this quick, easy, and inexpensive project.