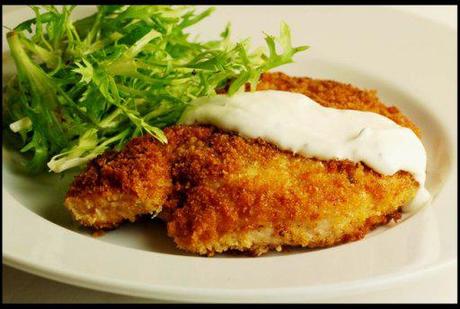 We're going to keep it quick and easy today with a German theme as a nod to the weekend's Eurovision festivities. Were you watching, what did you think? If it's been a trying day at the office and you're tired from a Saturday night euro-party, stick this in the oven with some chips and you're golden.
You Need:
1. 2 eggs , beaten
2. handful sage leaves, finely chopped
3. 140g dried breadcrumbs
4. 8 boneless pork chops , fat trimmed
5. 4 tbsp butter , melted
Schnitzel in the hizzle
1. Tip the sage leaves and breadcrumbs onto a plate, then mix together with a little seasoning. Pour the eggs onto another plate. Pat the pork dry, then coat each chop in the egg mixture, letting any excess drip away. Then dip in the breadcrumbs until well covered. Cook or wrap in cling film or freezer bags and freeze.
2. To cook, defrost completely if frozen. Place the chops on a lightly greased baking sheet and brush with a little of the butter. Cook under a medium grill for 7-10 mins until browned. Then turn over, brush with more butter and cook for a further 7 mins until crisp, browned all over and cooked through.