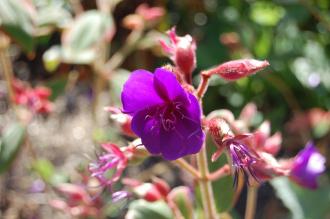 Tibouchina urvilleana Flower (08/09/2012, Kew Gardens, London)
Position: Full sun
Flowering period: Summer to early autumn
Soil: Moist, well drained
Eventual Height: 4m
Eventual Spread: 2.5m
Hardiness: 9b -11
Family: Melastomataceae
Tibouchina urvilleana is an evergreen bushy shrub with a lax habit. Its mid green leaves are opposite, ovate with entire margins, softly hairy, up to 15cm long and 4cm across. Its purple flowers are up to 10cm across. Its brown fruit is spherical and up to 1cm across.
Tibouchina urvilleana, commonly known as the Glory Flower, Lasiandra, Purple Glory Tree or Princess Flower, is native to Brazil. Tibouchina urvilleana is synonymous with Tibouchina semidecandra.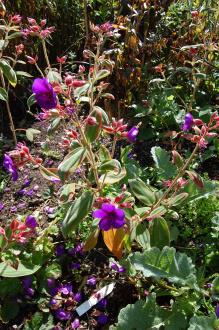 Tibouchina urvilleana (08/09/2012, Kew Gardens, London)
The etymological root of the binomial name Tibouchina is from the Guianese name for another member of this genus. Urvilleana is named after a French naval officer J. S. C. D. d'Urville (1790 – 1842), he was also a botanist.
The landscape architect may find Tibouchina urvilleana useful as a summer bedding plant. It is more usually grown as a conservatory plant. It may be grown as a shrub in frost free areas of the UK. Where climate permits, it may be grown as part of a mixed shrub border. Once established this shrub is drought tolerant.
Ecologically, Tibouchina urvilleana is unattractive to UK wildlife.
The Royal Horticultural Society has given Tibouchina urvilleana their prestigious Award of Garden Merit in 1993.
Tibouchina urvilleana prefers moist, fertile, well-drained soils. It tolerates most pH of soil, although it prefers slightly acidic.
Tibouchina urvilleana requires little maintenance. Pruning may be carried out to keep a tidy appearance.