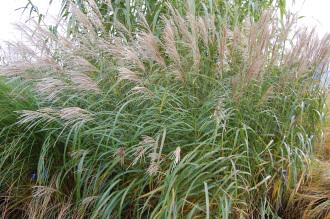 Miscanthus sinensis 'Silberfeder' (20/10/2012, Kew Gardens, London)
Position: Full sun
Flowering period: Late summer to autumn
Soil: Moist, well drained
Eventual Height: 2.4m
Eventual Spread: 1.2m
Hardiness: 5a – 9b
Family: Poaceae
Miscanthus sinensis 'Silberfeder' is a deciduous, perennial grass with a clump forming habit. Its mid green leaves are narrow, arching and bears a vertical band at the center of each leaf. Its leaves turns a light tan color in late autumn. Its silver flowers are fan shaped panicles and appear above its leaves. These persist on the plant through the winter months.
The species, Miscanthus sinensis, commonly known as Japanese Silver Grass, Chinese Silver Grass or Eulalia Grass, is native to much of eastern Asia including Korea, China and Japan.
The etymological root of the binomial name Miscanthus is derived from the Greek miskos meaning 'stem' and anthos meaning 'flower', referring to the stalked spikelets. Sinensis is derived from the Latin meaning 'from China'.
The landscape architect may find Miscanthus sinensis 'Ferner Osten' useful as a low maintenance, tall grass. It looks good when planted en mass in windy sites as its foliage and flowers sway in the a breeze. It can also form a component in prairie style planing. Once established it is drought tolerant.
Ecologically, Miscanthus sinensis 'Silberfeder' may attract various species of birds that will use it as cover from predators.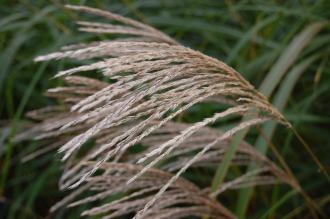 Miscanthus sinensis 'Silberfeder' Flower (20/10/2012, Kew Gardens, London)
The Royal Horticultural Society has given Miscanthus sinensis 'Silberfeder' their prestigious Award of Garden Merit in 2001.
Miscanthus sinensis 'Silberfeder' prefers moist, fertile, well-drained soils. It tolerates most pH of soil. It will not tolerate wet soils during the winter months.
Miscanthus sinensis 'Silberfeder' requires little maintenance. It may be cut down to ground level in late winter before the new foliage appears. Large clumps may be divided in spring.