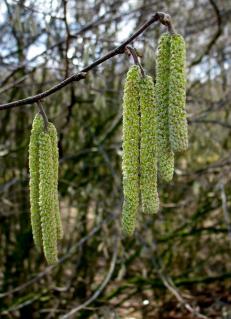 Corylus avelana male and female flowers (15/02/2009, London)
Position: Full sun to partial shade
Flowering period: Early Spring
Soil: Moist, well drained
Eventual Height: 10m
Eventual Spread: 5m
Hardiness: 4a – 9a
Family: Betulaceae
Corylus avellana is a vigorous, deciduous large shrub or small multiple stemmed tree. Its mid green leaves are alternate, cordate with a double serrate margin, finely hairy on its upper and lower surfaces, up to 12cm long and broad. The leaves turn yellow before falling in autumn. Its bark is pale brown with shallow ridges. Its flowers are monoecious, the male being yellow catkins and up to 12cm long, the female flowers are largely concealed with the only part visible is the red styles which are up to 3mm long. Its fruit is a nut, are roughly spherical, have a smooth shell, are up to 2cm long and broad and are commonly known as Hazelnuts or Cobnuts.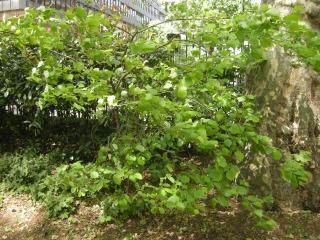 Corylus avellana (30/05/2012, London)
Corylus avellana, commonly known as the Common Hazel, is native to Europe (including the UK), North Africa and southwest Asia. In its native habitat it forms a component of mixed woodlands, as an understory plant, at woodland edges and glades. This tree has a long history with man, being coppiced for its flexible straight wood, grown a hedging plant and grown for its nutritious nuts.
The etymological root of the binomial name Corylus is from the Latin name for this tree. Avellana is named after the Italian town Avella, selected by Linnaeus as the species was described as the 'Wild nuts of Avella'.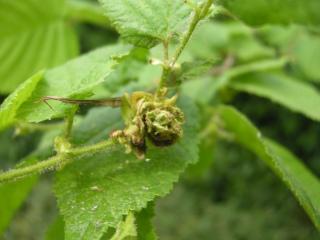 Corylus avellana Pollinated female flower (30/05/2012, London)
The landscape architect may find Corylus avellana useful to specify as part of a native woodland mix. It may also be specified as part of a native mixed hedgerow. It may also be grown as part of a wildlife garden.
Ecologically, C. avellana leaves provide food for may moth and butterfly species. The fruit is an important source of food for numerous invertebrates, birds and mammals.
C. avellana prefers moist, well-drained soils. It tolerates most pH of soil. It will tolerate occasionally waterlogged soils.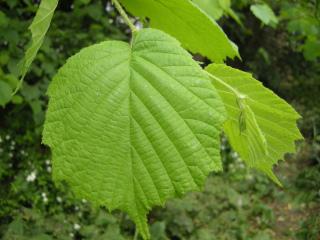 Corylus avellana Leaf (30/05/2012, London)
Corylus avellana requires little maintenance. Hedge maintenance should be carried out during the dormant months outside of the nesting season.