From the backwater of Bermondsey to the vibrancy of Vauxhall, the scene's longest running & surviving weekly marks fourteen years of citric clubbing splendour tonight (Sun 11th Nov) meaning that the orbicular outing that is Orange simply had to make it to our "Pick Of The Day" choice, all the event detail a banner selection away opposite or an image click below, while we marking this outstanding occasion with our own overture beneath.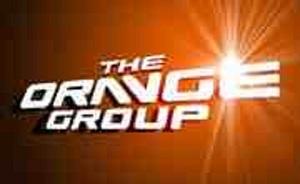 What started out as an alternative to DTPM and amidst a time in the capitals clubbing history when partying outside the usual Friday or Saturday night parameters was very much vogue, the then cavorting minnow that today is not just the longest running weekly club on the scene, but is undoubtedly the recognised & symbolic starter of the clubbing organisation we now know at Orange Nation (formerly The Orange Group). And while the beginnings were very humble indeed, Bermondsey the initial backwater choice and a traditional pub at that, the switch of suburbs prove the crowning glory & catalyst for Orange and all the other club brands that were soon to follow, A:M, Beyond, Gravity & Later, like their citric commandant, surviving while many other have fallen by the wayside, the likes of Salvation, Factor 25, Sherbert & Warriors all having made their Sunday mark but have fallen into complete capital clubbing circuit obscurity. Yet through passionate promotion, a fervent & faithful following plus a an indelible list in incredible ingredients that have remained part of the clubs award winning recipe through its history, Orange has not only survived, but for a substantial slice of its existence, thrived, meaning by marking its 14th birthday, there is much cause for citric champers celebration.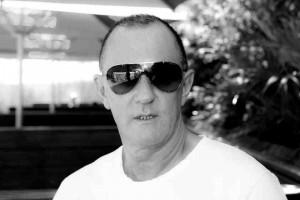 So, having adopted the name for his now considerable conglomerate, the Nation's head cheese, Craig Elder, remains as fond of the brilliant clubbing brand that is Orange as he was when it all started fourteen years ago, Craig remarking that "…Orange is very special to me, it's where it all started, back in a small pub in Rotherhithe called the Prince of Orange…" this clearly the inspiration for the club's name, while he continues, "…I am very proud that it is now London's longest running weekly party and although it has evolved so much over the years Orange remains at the forefront of cutting edge house music, and even in these days of economic crisis it just amazes me how our loyal crowd just keep coming every Monday morning, proving that London is indeed a 24 hour city…". And Craig is spot on, both with his reference to the music of Orange and that, more than any other afterhours on the capital's circuit today, it exemplifies everything that is indulgently addictive about a club that week in week out re-writes the rules to the conformist start to the working week. Indeed, having succumbed to the club's citric splendour on a score or more of Sunday's, it has been Monday morning, sometimes afternoon before the routine reality has taken over, Orange still being able to achieve this fabulous feeling fourteen years down the line.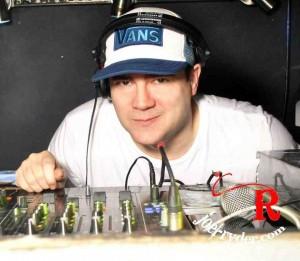 Therefore, it seems wholly appropriate for us to sin the clubs praises from the rooftops as well as make it our pick of the day, and in so doing, share some of the event detail with you here, this "14 Glorious Years" event cracking open the celebratory champagne from 11 p.m. tonight at Fire, the home that is the cornerstone of it & its owning organisation Orange Nation. And while we could go into our own oratory Orange event detail, there surely is no-one better than its most prolific promoter to date, the superb Steven Sharp, to let you in on what this captivating club means & what this exceptional event will deliver when he say's "…Orange is an incredible thing, a perfect combination of people and house music, love and history, future, friendship and fierceness that has proved its place in people's hearts and as a founding father of the London scene. This Sunday brings together true DJ legends that we are proud to call our residents, representing this city with that unique, forward thinking and uplifting Fire main room soundtrack that has put Vauxhall on the map. Celebrate 14 years with all of the Orange family including Tonnic on live vocals, historic hosts and promoters, and most importantly – you, the children of this fine fruit!…".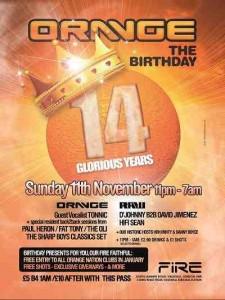 And those D.J. legends, well it's The Sharp Boys, Fat Tony, & The Oli, George & Steven playing a classics set, while special guest Paul Heron will join forces with Oli for a one-off back-to-back set, while no Orange celebration of this stature would be complete without the iconic playing & performing partnership that is Tony & Tonnic. But it doesn't stop there, oh no, as RAW returns with one half of its founding duo, David Jimenez, he joined for another back-to-back set showing by D'Johnny, while we are sure the thoughts & well wishes of all the team, Orange customers & cavorters, as well as ourselves, reach out to Hifi Sean who was very much looking forward to being part of partying proceedings tonight, but remains laid up in hospital following operation complications, you surely joining us in wishing him a speedy recovery. While Sean will be sadly missed, other fabulous & familiar faces from within the Orange family will be there, hosts Hr Minty, Louise Port & Danny Boyce looking after you both inside & out, while the terrific Tom Fuller masterminds the Orange operation including the door, which as we said, opens at 11 p.m., the club running through till a planned finish of 7 a.m. Monday morning, entrance on the door just £5 before 1 a.m. (£10 after). And with special birthday presents for the Orange faithful (are you one), drinks priced at just £2.90, shots at £1, and an exclusive membership offer than includes free entry to all Orange Nation clubs during January, all up for grabs before 1 a.m., early id definitely better than later, more info if you need it out at http://orangenation.co.uk.
So, with a resounding attendance recommendation as well as wishing Orange a very happy 14th birthday, we both concur with as well as leave some of the last words to Craig Elder who say's "…I want to thank all the DJs and loyal fans that have supported us over the last 14 years, making Orange the Monday morning phenomenon it is. Here's to the next 14!…", definitely hip hip hooraying that & finishing by simply saying, miss this birthday bash and you will definitely miss out, so make sure you "Go There! Be There!" (DISCO MATT)