There is something quite special about a Friday frolic & of late nowhere better in our books than Play>Time at Lo-Profile, but when you then add the incredible D.J. ingredients in Steve Pitron & Zach Burns, it is no wonder that it has made DM's pick of the day, the detail on tonight's event a banner click away opposite or an image click below, while DM goes personal on his players & Jay Roberts on his porn stars beneath.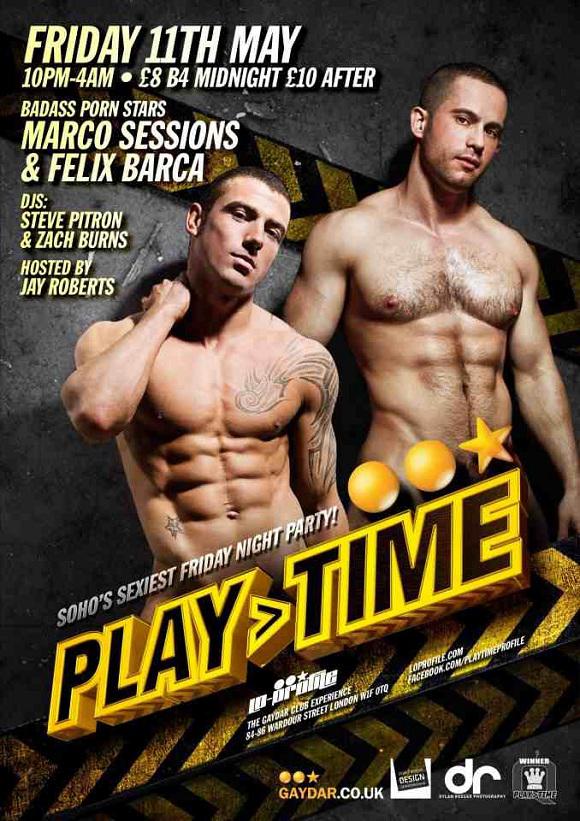 Time @ Lo-Profile – Friday 11th May – Pick Of The Day" title="Playtime - May 2" />
DM reaps his personal reflections on the D.J.'s…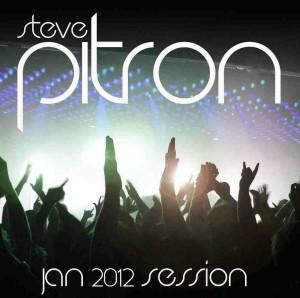 Time @ Lo-Profile – Friday 11th May – Pick Of The Day" title="Steve Pitron Jan 2012 Podcast Cover" />Steve Pitron – Well, what can we say that we haven't said about Mr Pitron, our premier player that, without fail, pitches perfect performances time after time, whether it be Beyond, WE, Fire, Matinee, Orange, Room Service or right here at Play>Time, no words enough to describe just what emotions he draws out of us, countless occasions when we have left (in his words) totally destroyed by his delightful dance delectations. And we highly suspect that tonight will be no different, the anticipation of what he has in store already killing us, a whole host of new tunes under his belt, some of which we have soaked up in the last two weekends of Beyond, Steve sure to throw in a handy dollop of classics for good measure, as we nibble size tweet the whole experience form what is sure to be a very select spot by the D.J. booth. So what of these new tracks? Well, having been sworn to secrecy on the actual tracks themselves, we can share a couple of artists names, this of course in anticipation both of you hearing them for yourselves when you arrive tonight and that as yet completed but so heavily anticipated new Pitron podcast, the names in the frames being Taito Tikaro, Avicii, Anthony Pappa & Flaxen Beats. That said, if you can't make it tonight (why not??), then you can always pop a Pitron podcast on by going to http://stevepitronsessions.podomatic.com, his "Jan 2012 Session" simply stunning!!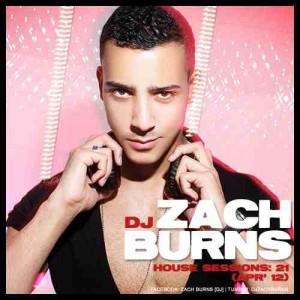 Time @ Lo-Profile – Friday 11th May – Pick Of The Day" title="Zach Burns April Podcast Cover" />To the other player tonight at Play>Time & a favorite of Lo-Profile, Zach Burns virtually part of the furniture & generally at Play>Time even if he isn't D.J.'ing either there or upstairs. Indeed, it was just one of those occasions a few weeks ago when he came to the rescue a management mishap, filling in for the vacant D.J. slot after a Steve Pitron performance that kind of sowed the seeds for the two to be billed together and so we have it. But Zach won our affections at the very same spot, Lo-Profile, although it was his set at Gigolo's launch party that propelled him onto our player list, indeed having since shown his salt in numerous occasions, it comes as no surprise that we label him in our tweets & posts as our "Premier Protégé Player", not least that, similar to Mr Pitron, Zach knows exactly how to press our musical buttons, his performance at Play>Time a few weeks ago, Easter in fact, his set was quite spectacular, while his performance at Gigolo over New Year was truly towering. So, we are sure that he will be once again pressing all our buttons tonight, especially if he plays this track which has become a bit of a Burns/DM anthem, so a second set not to be missed, while a trip to http://djburns.podomatic.com/ should be enough to whet your appetite.
Click here to view the embedded video.
Jay Roberts say's of the event & his porn stars & the event…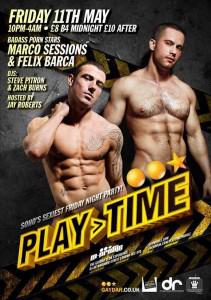 Time @ Lo-Profile – Friday 11th May – Pick Of The Day" title="Playtime - May 2" />Tonight (11th May) is truly a PLAY>TIME just as you requested. You told us you wanted these guys back, so PLAY>TIME is giving you what you want, two of your favorite piggy porn PLAY>MATES: MARCO SESSIONS and FELIX BARCA.
Marco Sessions – Romanian he-man Marco Sessions is tough, tattooed and talented! If Marco looks menacing in his snarling muscular splendour, it's because he's a dynamo whose work for UK Naked Men and FreshSX has proven his dedication to reeling off naughty and raunchy porn. He's the kind of badass PLAY>TIME loves to celebrate, because the crazier the crowd, the wilder Marco gets. 
Felix Barca – Anyone who knows German porn company Cazzo knows the men are dirty, daring and dark in what they do for the cameras. Beefcake Felix Barca has made quite a name for himself at Cazzo, turning in performances that are nothing less than astounding, a versatile Superman. You've seen how much Felix can stretch in the movies, watch him do it for you live all night long at PLAY>TIME. 
Event Summary….
PLAY>TIME
Date: 11/5/2012
Time: 10pm-4am
Place: Lo-Profile, 86-88 Wardour St, Soho
Door Tax: £8 before 12 p.m. / £10 after
Host: Jay Roberts
D.J.'s: Steve Pitron & Zach Burns
Porn Stars; Marco Sessions & Felix Barca
More info at http://lo-profile.com &/or