The city of Hong Kong has recently been hit by record breaking smog. According to the Friday edition of the Hong Kong Standard:
Hong Kong choked under one of the worst smog levels ever recorded in the city yesterday – the second day running that air pollution indexes topped 200.

And there's more bad news: the smog and very hot weather will continue today.
Business Insider is reporting that conditions in the city were exasperated by Typhoon Saola, which lashed Taiwan on Thursday before moving on to the Philippines late in the week, where the storm reportedly killed 45 people.
To show just how bad conditions in the city were, Business Insider re-posted a picture Eleanor Miller from the NYT Global had taken and tweeted out. Welcome to the Pearl of the Orient everyone.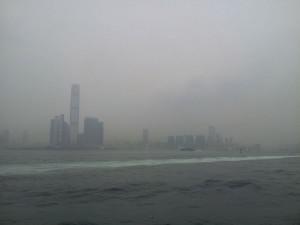 The skyline of Hong Kong shrouded in smog.